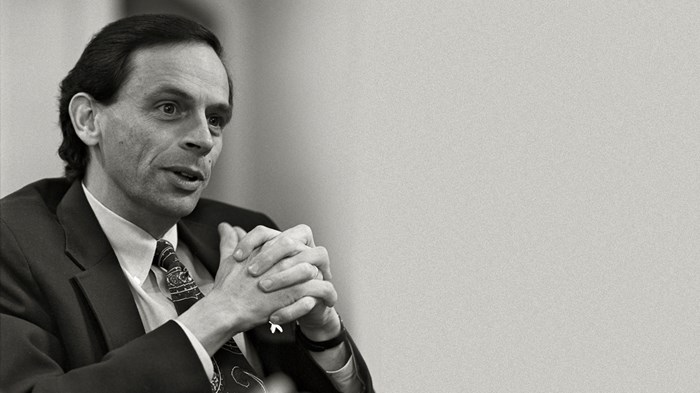 Image: William Koechling
I first met the late Ed Dobson when he was a columnist for Fundamentalist Journal, a publication published by Jerry Falwell. I was raised not far removed on the theological spectrum from fundamentalists, so I read each issue of the publication with great interest—and a tinge of fear. Would they represent the fundamentals in a positive or a cringe-worthy manner?
I came to depend on Ed Dobson's column as one place you could always find clear biblical convictions—as you would expect from one of the architects of the Moral Majority—but articulated with great compassion. To Ed, people weren't just souls to be won (and tallied for their PR value), or voters to be recruited, but individuals to be loved as Christ loved.
When Ed became pastor of Calvary Church in Grand Rapids, Michigan, it wasn't long before I was tapping him for Leadership Journal (LJ).
I was impressed that some of his first contacts in Grand Rapids were with local leaders of Planned Parenthood and the National Organization for Women. This certainly wasn't in any pastor's manual at the time. But because Dobson took Jesus's words so seriously, he was determined to seek out such leaders to determine how he could be a good neighbor and "love his neighbor as himself." He sought ways to find common cause even with those he disagreed with politically and theologically.
The exchange below comes from a 1993 LJ interview, when I asked Dobson about his efforts to, in good conscience, find common cause with the gay and lesbian community. –Editor, Leadership Journal, Marshall Shelley
Dobson: One way our church has attempted to love homosexuals is by extending love to those who have AIDS. I began by calling the national hotline on AIDS and asking how I could become involved. They referred me to a secular agency in our city that is basically run by the homosexual community.
I walked in one day and said, "Hi. I'm Ed Dobson. I'd like to know what our church can do in this community about the problem of AIDS."
The person sitting behind the desk replied, "The first thing you need to do is talk with the pastor of the Metropolitan Community Church."
So I called the pastor of the Metropolitan Church and offered to meet with him, at either his office or mine.
"Let's meet at your church," he replied. "I've always wanted to walk in there."
When he arrived at my office, I invited him in and said, "I know where you are coming from on the subject of sexuality, and I'm sure you understand where I'm coming from. Let's set aside that issue right now. Let's talk about what we can do as a church in this community to deal with AIDS."
That began a three-year involvement on our part that resulted in an invitation for me to appear on a radio talk show hosted by a member of the gay community. The subject for the day was compassion. He introduced me on air by saying, "Our guest does not believe what we believe on issues of sexuality. But I've invited him to appear because there are many people suffering with AIDS who attend his Saturday night services. While his congregation disagrees with us on sexuality issues, they love people and stand with us on the AIDS issue."
Shelley: How difficult was it to convince your congregation to become involved in the AIDS problem?
Dobson: It was not an easy sell. When we first began moving in this direction, I received letters from church members expressing their fears our congregation would be overrun with gays. I decided to respond to these concerns on a Sunday morning. I said, "If the church gets overrun with homosexuals, that will be terrific. They can take their place in the pews right next to the liars, gossips, materialists, and all the rest of us who entertain sin in our lives."
I concluded by saying, "When I die, if someone stands up and says, 'Ed Dobson loved homosexuals,' then I will have accomplished something with my life."
We now have people coming on Saturday night to our worship services who are openly gay. They understand they could never join our church given their present sexual behavior. But I see the Spirit of God working in their lives, and I'm confident he will convict them of the truth. That confidence allows me to put aside protest and condemnation, and opt for tangible expressions of love. I think it's paying off.
Recently, in order to help find housing for people with AIDS who had no home, I had to call one of the leaders of Planned Parenthood in our city. As we talked about the issue of AIDS, she said to me, "Everywhere I go I bump into someone who has been touched by your church. I don't know what you're doing in that church, but you're doing something that's impacting and changing people's lives."
How can we be truly Christian when dealing with social issues? We need to drop the bad language, we need to consider the difference between a person and the choices they make, and we have to extend love without compromising our values.