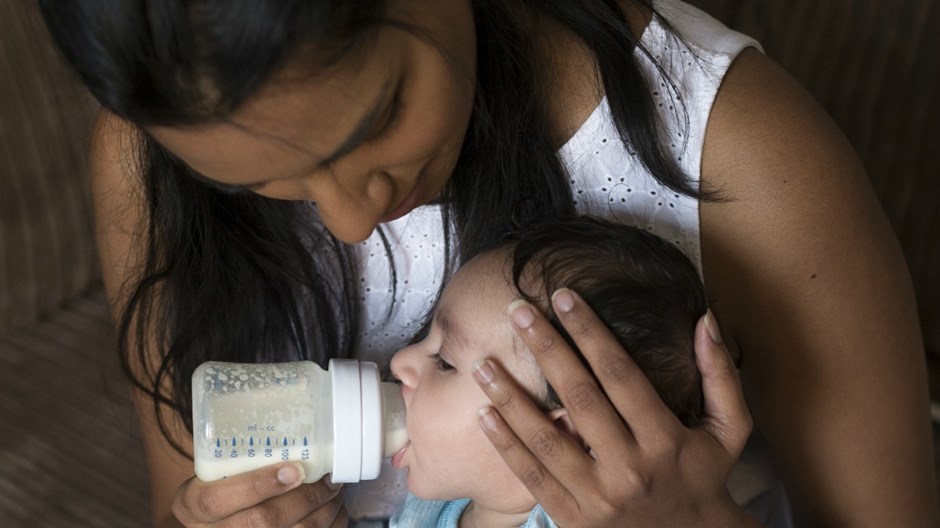 Image: DGLIMAGES / SHUTTERSTOCK
I closed the book loudly and threw it to the floor in an outburst of frustration. Though I yearned for the spiritual experiences it described, it was so not my life.
The book, a classic text on disciplines, described sustained time alone with God spent in contemplative prayer and solitary retreats, deeply connected relationships with other Christians, life-giving Scripture study and meditation, silence, meaningful worship, simplicity, and more. It resonated with my own deep spiritual longings.
Yet as a brand-new mom, my actual life consisted primarily of late-night feedings, hardly any sleep, roller-coaster hormones, endless diaper changes, and repeatedly wiping spit-up (and other gross substances) off my clothes. There were moments of great, overwhelming joy, and moments filled with crying (often the baby but sometimes me, too). And every so often there was a sadness: a quiet, hidden-away grief for my old life—spiritual, relational, intellectual, physical—that seemed to be entirely gone.
Hidden Opportunities
Becoming a mom means facing a jolting realization that life is now utterly and completely different. Though it's amazingly joyful and essentially good, for many Christian moms, it's also tinged with a sense of spiritual loss. Motherhood is full of so much giving to another and so little time for one's self that many of the spiritual practices of our old, pre-kid life become nearly impossible.
Or so it seems.
I began a journey that day, seeking out for myself what deep spiritual growth could look like in the real, everyday life of a mom, and that journey turned into a book: T he Busy Mom's Guide to Spiritual Survival. What I began to learn as a brand-new mom—and what I'm still learning thirteen years into parenting, now with three kids—is that motherhood is saturated with hidden opportunities for profound spiritual growth. Often those opportunities are hidden directly behind the most stressful, frustrating, and toughest parts of parenting. But with some spiritual determination and a bit of creativity, we can find them.
Here are a few tucked-away opportunities for growth that I've discovered over these last thirteen years of parenting:
Commune with God—Any Time, Anywhere
Right along with that little bundle of joy comes a stark reality: You now will hardly ever have a moment to yourself. (And when you do? You'll often need to fill it with work, to-do-list tasks, or even much-needed sleep.) For many, this dramatic shift often spells the loss of the "quiet time"—extended and uninterrupted spans of time alone to pray, study Scripture, and connect with God. But hidden behind this challenge is the opportunity to commune with God differently: through practicing the presence of God.
As 17th-century monk Brother Lawrence described it, this is simply developing a "habitual, silent, and secret conversation of the soul with God." After all, God is with us in every single moment (see Joshua 1:9 and Matthew 28:20). This spiritual habit, Brother Lawrence explains, is simply choosing to "accustom ourselves to a continual conversation with Him in freedom and simplicity" and to "recognize God intimately present with us [and] to address ourselves to Him every moment."
While extended quiet times may be few and far between in the mom-life, short snippet prayers can abound! We can foster a different type of intimacy with God by connecting with him throughout the day, creating an interior dialogue with God about the little and big matters of our everyday lives.
Live in Holy Reliance
From that first night away from the hospital nurses (Can I really do this?) to the knotted up anxiety of watching your child walk through heartache, motherhood almost immediately serves up the opportunity to be desperate—to feel helpless, unprepared, ill-equipped, and out of your league. Our intense love for our kids brings us to our knees in floundering and helplessness, again and again.
The good news is, this desperate place, though it can hurt acutely, is right where we need to be. Hidden behind the how-the-heck-do-I-do-this moments of motherhood is an invitation into humility, brokenness, and grace-empowered God-reliance.
Motherhood reminds us of how little we have, drawing us to our abundantly generous God.
It scares us, spurring us to run to our only trustworthy Refuge.
It hurts us, inviting us to limp or crawl our way into the arms of our Healer.
Those desperate, empty, frightening moments of parenting—when life and love have pulled the rug out from under us—sand away our pride and self-reliance, shaping within us a more authentic faith. Through them, our very lives learn to say, like the psalmist Asaph, "Whom have I in heaven but you? I desire you more than anything on earth. My heart may fail, and my spirit may grow weak, but God remains the strength of my heart" (Psalm 73:25-26).
Receive God's Parental Love
Feeding a baby—whether bottle-feeding or breastfeeding—is a humbling task. It's one of the first and most basic callings of a parent: to nourish, to sustain, to provide for your child. The means of provision multiply as a child grows, from dealing with medical issues to aiding with homework to providing guidance for tough choices. All of these callings of parenthood point us to our own divine parent—to our God who provides for, shelters, nourishes, and sustains us.
I remember a particular night, awake in a dark room, nursing my new baby. Admittedly in a haze of sleepy delirium, I had a slow spiritual epiphany: Like I was feeding my baby, God feeds me. God gives me life. God tenderly comforts me! In a deepened sense of understanding that's hard to put into words, my view of God and how God relates to me shifted in that moment. I started to grasp that my own motherly love for my child was just a small glimpse of God's parental love for me. In that moment, and in all the provisions of parenting since, I've been learning and relearning how much I, God's child, am loved by my Maker who says to me, just as he said to Jerusalem, "As a mother comforts her child, so I will comfort you" (Isaiah 66:13).
As mothers, in all our working and giving and serving and providing for our own children, we're given a divine privilege: a glimpse, a small sliver of experiencing God's unconditional, intimate, abundant, grace-filled love for us.
Live on the Lookout
The practices of our faith may look a lot different in motherhood—but they don't need to disappear! With a bit of creativity and imagination, all of the classic spiritual disciplines—like worship, prayer, silence, solitude, community, evangelism, Bible study, fasting, and more—can be re-imagined in ways that fit into real-life motherhood. You can have a deep, spiritually rich life even in the realities of "mom-life."
As moms, we simply need a determined mindset, seeking to discover the hidden opportunities before us that invite us into deeper intimacy with God. So live on the lookout! Those faith-deepening opportunities are there in your life—they may even be hidden away in parenting's hardest moments. Keep searching. Behind even the exhaustion and frustration, God is there, beckoning you ever closer.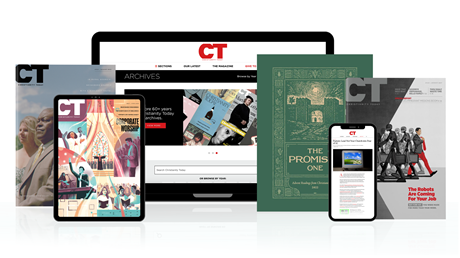 Annual & Monthly subscriptions available.
Print & Digital Issues of CT magazine
Complete access to every article on ChristianityToday.com
Unlimited access to 65+ years of CT's online archives
Member-only special issues
Subscribe
Dishes, Diapers, and a Deeper Faith
Dishes, Diapers, and a Deeper Faith