In John 17, Jesus expressed this desire for his followers: "I pray ... that all of them may be one, Father, just as you are in me and I am in you. … I have given them the glory that you gave me, that they may be one as we are one—I in them and you in me—so that they may be brought to complete unity" (vv. 20–23).
But as we consider unity and oneness, we cannot avoid the reality of evil and injustice in our world. We may think about this from an individualistic perspective, like when our spouse cheats on us or our employer demotes us or our friends turn their backs on us. But we also may think about it from a collective standpoint, such as the perspectives of indigenous people, African Americans, Japanese Americans, refugees, and so many others. In the United States, we remember those who have suffered great offenses in this country but have not been extended a full apology or an offer of reconciliation. In a global context, we remember survivors of the Holocaust and the Rwandan genocide, and we remember the stories of Syrian refugees, and so many others.
When a mother's child is murdered and the killers go free, what then? What is the role of justice in these situations? And what is the responsibility of people of faith? Is forgiveness more important than justice?
Two chairs
One day I asked these questions to a group of my friends, and one of them gently pointed me to a website where I could register for a weekend retreat called "The Gift of Reconciliation." I signed up, and a few weeks later I packed my suitcase and headed to the retreat, which was led by Father Mauritius Wilde.
At one point during the weekend retreat, Fr. Mauritius set two chairs at the front of the room. He invited us to consider one chair to be the seat of justice and the other the seat of mercy. Both seats, Fr. Mauritius told us, belong to God, and he is a God of both justice and mercy. However, we often perceive him as sitting only on the seat of judgment, high above us and looking down his nose in our direction, seeking to catch us in an act of sinfulness. So we think the judgment seat is where we belong too.
When we face a situation that makes us estranged from another person, Fr. Mauritius offered that we might consider the incident an opportunity to hear and embrace God's invitation to us to move from the seat of judgment to the seat of mercy when viewing the other person. And then Fr. Mauritius did just that. He looked out at the group of 20 or so of us gathered in that room with the light shining in the windows and the two chairs at the front and said, "Who would like to try it?"
An older woman softly said, "I'll give it a try." And Fr. Mauritius stepped forward to welcome her to the front of the room.
Redefining justice
When we set out to exact justice, there is always the risk of miscalculation. Driven by our emotions, we may mete out more than what is required to even the score. Rarely, if ever, do we really want justice that only measures out evenly. When someone does us wrong, we want them to experience the pain and hurt we experienced, plus a little bit more.
When we begin from the seat of mercy, however, we move ourselves out of the way, and we make way for God's perfect administration of justice. Moving to the mercy seat does not indicate a willingness to ignore justice altogether. No. Moving to the mercy seat acknowledges the truth that only God can administer justice perfectly.
Justice is not a prerequisite for reconciliation and oneness. Instead, justice flows forth from the two, as the natural consequence and gloriously defiant result of the fulfillment of Christ's prayer in the garden (John 17:20–23). The unified body of Christ—its individual members reconciled to themselves, to God, and to one another—is the exactly unique and perfectly equipped environment for the incubation of justice so many of us crave.
In his book No Future Without Forgiveness, Bishop Desmond Tutu writes about the work of the Truth and Reconciliation Commission of South Africa. Bishop Tutu is careful to make the distinction between retributive justice and restorative justice. Retributive justice, he says, is justice "whose chief goal is to be punitive." He goes on to say,
We contend that there is another kind of justice, restorative justice ... Here the central concern is not retribution or punishment ... the central concern is the healing of breaches, the redressing of imbalances, the restoration of broken relationships, a seeking to rehabilitate both the victim and perpetrator. ... [J]ustice, restorative justice, is being served when efforts are being made to work for healing, for forgiving, and for reconciliation.
Let's not get suckered by the glitz of retributive justice, when we are people of the God of restoration. Let's not settle for an eye-for-eye form of justice when Christ has clearly taught us something more (Matt. 5:38–48).
Christ died for us while we were yet sinners, not after we got our act together. He prepares a table before us in the presence of our enemies. He is not only our rescue, he is also our refuge. Long before the dust settled—in the absence of reparations and in the wake of our long disobedience and casting off of our affections toward him—God sent his Son so that we might be justified. When retributive justice was our reasonable inheritance, we were given grace instead. What we deserve is a justice that is punitive, but what we receive in its place is mercy.
The mercy seat
The woman at our retreat lowered herself to the mercy seat, and then Fr. Mauritius took one step back and turned to face her. "So," he said to her gently, "what might you be thinking, there on the mercy seat?"
In a quiet voice, she said she had been holding on to a grudge for decades. But now, in just the few minutes she'd spent looking at a decades-long conflict from the vantage point of mercy, she said, "This whole thing has probably affected her as well." And just like that, we could see that God had led her to exactly where he wanted her to be.
God does not ignore our broken hearts when he invites us to consider mercy. He isn't even telling us to choose mercy instead of justice. But where we are often geared toward revenge and payback in regard to our version of justice, God is always working toward restoration. Moving from the seat of justice and into the seat of mercy has the power to short-circuit hatred, hostility, and hopelessness. Choosing to view a person or a situation through the lens of compassion (which is another way of talking about mercy) makes space for the possibility of oneness and unity.
It is true that very real and present dangers exist in this world. The work of those who would seek wisdom and discernment is not to love our lives so much that we cannot love our neighbor. We make things right when we see things right. We move with compassion when we view things and people through the lenses of grace and love.
Deidra Riggs is the author of One: Unity in a Divided World and Every Little Thing. Riggs is also a speaker and contributor to DaySpring's (in)courage community. Learn more at DeidraRiggs.com. Adapted from One: Unity in a Divided World © Deidra Riggs, 2017. Published by Baker Books, a division of Baker Publishing Group. Used by permission. www.BakerPublishingGroup.com.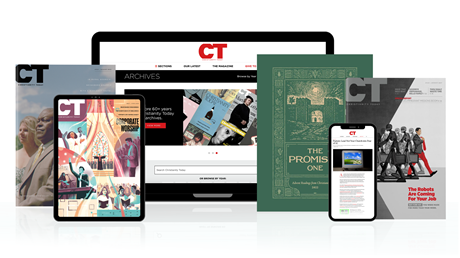 Annual & Monthly subscriptions available.
Print & Digital Issues of CT magazine
Complete access to every article on ChristianityToday.com
Unlimited access to 65+ years of CT's online archives
Member-only special issues
Subscribe
Read These Next
Trending

American Christians Should Stand with Israel under Attack

While we pray for peace, we need moral clarity about this war.

From the Magazine

I Studied Christianity with the Hope of Debunking It

A decade later, I became a Christian.

Editor's Pick

Don't Miss These African Christmas Hits

Jam out this season to highlife, Afrobeats, jazz, a cappella, R & B, rap, dance, and hip-hop artists from Nigeria, South Africa, and more.
When You've Been Wronged
When You've Been Wronged