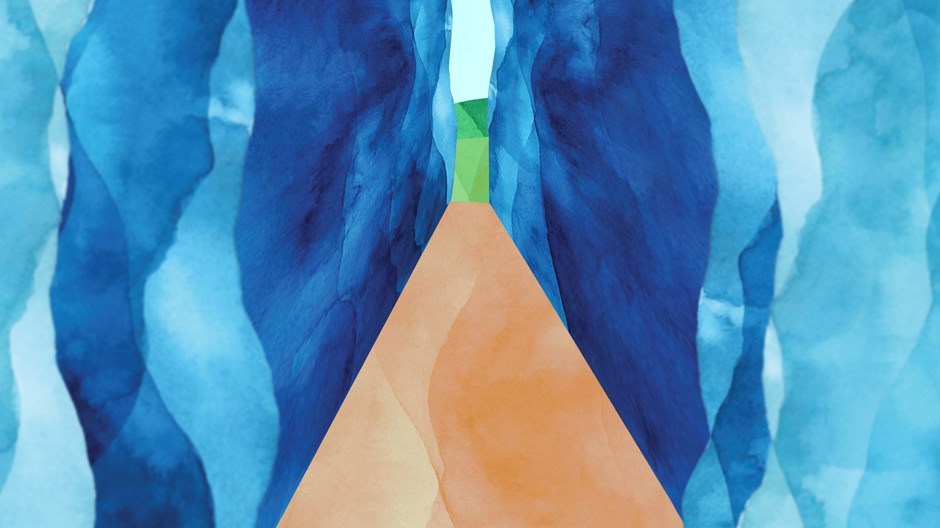 Image: Illustration by Mallory Rentsch / Source Images: saemilee / Getty Images
The following is the latest in a series of daily meditations amid the pandemic. Today's installment comes from Daniel Harrell, our editor in chief. For our musical pairing, we introduce you to Scottish fiddler Hanneke Cassel and her compilation of joy from fellow fiddlers worldwide, "Pure Dead Brilliant Livestream Finale." All songs for this series have been gathered into a Spotify playlist.
"Brothers and sisters, we do not want you to be uninformed about those who sleep in death, so that you do not grieve like the rest of mankind, who have no hope. For we believe that Jesus died and rose again, and so we believe that God will bring with Jesus those who have fallen asleep in him."
1 Thess. 4:13–14

Meditation 22. 2,761,121 confirmed cases, 193,671 deaths globally.

When you've lost someone you love, the grief books say to make plans for holidays and birthdays and other important dates. Be ready to be overwhelmed by emotion and memories and the throbbing pain of loss.
When it came to my first wedding anniversary after my beloved wife, Dawn, died of pancreas cancer, I wanted to mark it well. Dawn and I differed on how to do this when she was alive. I was always a "celebrate the actual date" person while she was more of a proximity celebrator: Wait for the weekend and the babysitter to do it right. At the same time, right did not necessarily mean extravagant. Dawn was both Scottish and the daughter of missionaries. Doing it right usually included doing it cheap. Not me. I liked to splurge. Fancy dinner out. A show, a trip, something new, flowers and earrings, rent a convertible, dress up, make it memorable.
Dawn was usually game and always a good sport—but deep down she longed for more than any singular moment would provide. She craved continuity, integration, connection, emotion, and internality. As I read through her journals after she died, I saw she wrote and wrote about her passions and core loves, her spiritual crests and crashes—but not one single sentence about our "memorable moments," no mention of an anniversary, birthday, or holiday. The deeper places were where the significance lay.
I remember a sermon on the Israelites crossing the Jordan in the Book of Joshua—a moment in time with potential for either transformation or tragedy. Bewildering is how much the Promised Land on the other side of the river can look just like the desert side left behind. (This is true, I've seen it while in Israel. It's desert on both sides of the Jordan.) The sermon went on about our need to move forward despite the lure to turn and go back. With death and loss, there is no going back, no matter how much you'd give for just one minute more of the way life was.
Søren Kierkegaard wrote, "Our life can only be understood backwards, but it has to be lived forwards." In contrast to dreams and ideals, Kierkegaard (as an existentialist) emphasized existence: What is real and painful is more important than any ideal.
Though disposed toward despair, Kierkegaard nevertheless saw life's hard reality as an invitation to faith. Not faith in the positive thinking or even the doctrinally coherent, but faith as that passionate commitment to Christ in the face of uncertainty, a risk of belief that demands loss of self for love's sake. True love aims at the actual people in your life, not imaginary conceptualizations of how you believe or might wish these people should be. True love earnestly absorbs disappointments and overcomes faults as Christ has done in his love for us.
This requires a constant discipline of forgiveness. My wife wrote, "Forgiveness is agreeing to live with the consequences of another person's sin. You are going to live with those consequences anyway whether you like it or not, so the only choice you have is whether you will do so in the bondage of bitterness or in the freedom of forgiveness. No one truly forgives without accepting and suffering the pain of another person's sin. That can seem unfair and you may wonder where the justice is in it, but justice is found at the foot of the cross, which makes forgiveness legally and morally right."
On what would have been our 16th anniversary, I kept it cheap and quiet and as reflective as I can manage, being me. I rode my bike to our favorite spot, drank in the sunlight and silence on the shore, and wrote her a letter about being the different person I'll now have to be without her here. I know she forgave me and loved me and there is strength in that knowledge. Courage to step further in.
An old Puritan Prayer says: "Break the Dagon of pride in pieces before the ark of thy presence; Demolish the Babel of self-opinion, and scatter it to the wind; Level to the ground my Jericho walls of a rebel heart; Then grace, grace, will be my experience and cry."
Sign up for CT Direct and receive these daily meditations—written specifically for those struggling through the coronavirus pandemic—delivered to your inbox daily.
The Hallway Through the Sea
The Hallway Through the Sea is a series of daily meditations from the president and CEO of Christianity Today, written specifically for those struggling through the coronavirus pandemic. It will address our sense of fear and isolation and also the ways we find beauty and truth and hope—and Christ himself—in the midst of suffering. The title of the column alludes to the passage of the Israelites through the Red Sea. We are a people redeemed from our enslavement to sin, yet we find ourselves living between where we were and where we are meant to be. Danger looms on both sides, but our hope and our faith is that God will deliver us through the sea and into the land of promise.
Timothy Dalrymple is president and CEO of Christianity Today. Follow him on Twitter
@TimDalrymple_
.
Previous The Hallway Through the Sea Columns: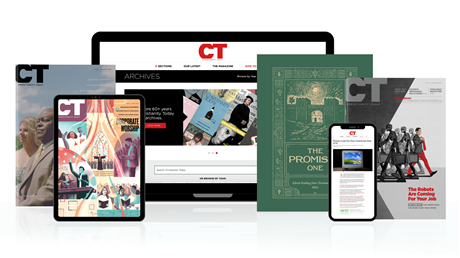 Subscribe to Christianity Today and get access to this article plus 65+ years of archives.
Home delivery of CT magazine
Complete access to articles on ChristianityToday.com
Over 120 years of magazine archives plus full access to all of CT's online archives
Subscribe Now
To Those Who've Lost Loved Ones
To Those Who've Lost Loved Ones