The Hallway Through the Sea
The Hallway Through the Sea is a series of daily meditations from the president and CEO of Christianity Today, written specifically for those struggling through the coronavirus pandemic. It will address our sense of fear and isolation and also the ways we find beauty and truth and hope—and Christ himself—in the midst of suffering. The title of the column alludes to the passage of the Israelites through the Red Sea. We are a people redeemed from our enslavement to sin, yet we find ourselves living between where we were and where we are meant to be. Danger looms on both sides, but our hope and our faith is that God will deliver us through the sea and into the land of promise.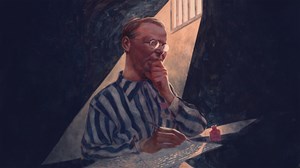 The Cost of Creativity: Bonhoeffer Set Aside Ethics For Art. Did He Choose Well?
The theologian set aside his nearly finished magnum opus while in prison, investing instead in creative writing.
Free Newsletters
Browse our Full Library of online archives, including past issues of CT magazine.
Access the Archives