One of the Best Teachers of the Church: Augustine on Teachers and Teaching
The year after Augustine died, Pope Celestine I pronounced him "one of the best teachers of the church." That assessment, Pope John Paul II said recently, "has been present ever since in the life of the church and in the mind and culture of the whole Western world." Evidence that Augustine deserves such plaudits is abundantly present throughout his works, as well as through all the works he engendered by other authors. He was a teacher's teacher; his life was permeated with education; he drastically influenced much of subsequent education structures.
His life-long vocation was that of a teacher. Before his conversion he was a teacher of rhetoric, and after it he became a teaching bishop. Comments on education appear everywhere in his writings, but are most fully set out in his work On Christian Doctrine. However, to better appreciate this work, one should also read some of his other philosophical and theological works, especially On the Teacher.
He began On Christian Doctrine in 396, around the time he became bishop of Hippo, some 10 years after his conversion. He completed it in 427, more than 30 years later. Yet the work, even though composed over such an extended period, is remarkably coherent and flowing—indicating the extraordinary discipline of Augustine's educational thought and practice.
In it, Augustine outlines the preparations that will equip the would-be interpreter of scriptural truth to properly understand and communicate the message of the Christian church. The purpose of the work is to discuss "the kind of man he ought to be who seeks to labor in sound doctrine, which is Christian doctrine, not only for himself, but also for others." The work defines a methodology for scriptural exposition and catechetical instruction, ...
You have reached the end of this Article Preview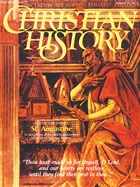 07/01/1987