A Man for All People: Introducing William Tyndale
Sometime in the early 1490s, probably between 1493 and 1495, a son to be named William was born to a Tyndale family that lived near the Welsh border. The Tyndales (who also called themselves Hutchins) were an important family in the west of Gloucestershire, but William, together with at least two brothers, apparently came from a lesser branch of the family.
Around 1512, Tyndale went as a student to Magdalen College at Oxford, which at that time was a sort of prep school attached to the university. At some point after gaining his M.A. in 1515, he moved to Cambridge University for a time. Cambridge was rife with Lutheran ideas around the early 1520s, and it's likely he acquired his Protestant convictions while studying there, if not before.
At a later date he expressed his dissatisfaction with the teaching of theology at the universities: "In the universities they have ordained that no man shall look on the Scripture until he be nozzled in heathen learning eight or nine years, and armed with false principles with which he is clean shut out of the understanding of the Scripture."
In 1521 he left the university world to join the household of Sir John Walsh at Little Sodbury Manor, north of Bath. It's unclear exactly what role he played in the household—he may have been the chaplain or a secretary to Sir John—but most probably he was a tutor to the children.
Many of the local clergy came to dine at the Walshes' manor, which gave Tyndale ample opportunity both to be shocked by their ignorance of the Bible and to become embroiled in controversy with them. To one such cleric he declared: "If God spare my life, ere many years pass, I will cause a boy that driveth the plow shall know more of the Scripture than thou dost."
Here Tyndale ...
You have reached the end of this Article Preview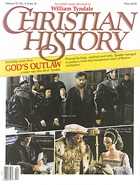 10/01/1987