Caspar Schwenckfeld on Spiritual Growth and Living the Christian Life
Caspar Schwenckfeld was deeply concerned about the development of the personal Christian life; he believed that reformation without reformed lives was meaningless. He also believed that a Christian community, motivated by the direct indwelling of the living Christ, might become an effective agent for change in society.
The focus of Schwenckfeld's life and thought was on the personal experience of the living Christ. For him, God alone is the teacher; He touches the inner life of the seeker by granting experiential knowledge of Christ (what Schwenckfeld called, in German, Erkenntnis Christi).
This teaching on experiential knowledge of Christ is the central concept of Schwenckfeld's theology. It is defined by him in a variety of ways, but in no place does he give a precise definition of it. In general, the term he uses for this experience, Erkenutnis Christi, defines the maturing awareness on the part of a believer that he or she is empowered daily by Christ to live for God and others.
In this process, maturity is not a static goal that can be achieved at some point in this life, but is a goal toward which the Christian constantly moves as the living Christ becomes more and more evident in his or her desires and actions. This goal is achieved only after death and resurrection, when the believer is glorified in heaven.
As Christians in this life, as we gain personal knowledge of God's creation, of sin, and of God's activity in reaching for sinners, God makes us aware that we cannot achieve maturity on our own. Only the Spirit of God, permeating the believer, can give new awareness of God, ears to hear God's Word, new eyes to see God's activity in his creation, and a new desire to seek more knowledge of God's will for his new creation. ...
You have reached the end of this Article Preview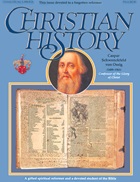 01/01/1989