A Chimaera of His Age
I am a kind of chimaera of my age, neither cleric nor layman. I have long since stripped off the way of life, but not the habit, of a monk. I do not wish to write about myself what I suppose you have heard from others: what I am doing, what I am up to, the crises in the world I am involved in, indeed the precipices down which I am being cast." From a letter by Bernard
Like many a devout Christian saint from Augustine in the fifth century on throughout the entire Middle Ages, Bernard of Clairvaux longed above all else to live a quiet life of monastic prayer and contemplation, free from the entanglement of the surrounding world. And yet, like Augustine six centuries before him, Bernard found himself drawn into most of the major events of his time.
Was there an inconsistency in this, that the outstanding representative of the Cistercian Order (noted for austerity of life and the remoteness of wilderness settlements), combined the life of contemplation with one of the most visible public careers in the 12th century? Bernard, though he was aware of the apparent paradox, would not have thought so.
In one of his famous meditations on the Song of Solomon Bernard gives us the key to his natural movement between action and contemplation: "The nature of true contemplation is such that, while kindling the heart with divine love, it sometimes fills it with great zeal to win other souls for God. The heart gladly gives up the quiet of contemplation for the work of preaching."
The apparent tension between the active and the contemplative life was for him just another example of the many Paradoxes we find in God's universe, comparable, for instance, to the problem of reconciling free-will and predestination. Here, as well, the proper balance ...
You have reached the end of this Article Preview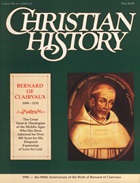 10/01/1989