The Accidental Revolutionary
An adviser to sixteenth-century tourists remarked that people who return from their travels without having seen Martin Luther and the pope "have seen nothing." This man later became a bishop of the Holy Roman Catholic Church and one of Luther's opponents.
Another person read Luther's works and declared, "The church has never seen a greater heretic!" But upon reflection he exclaimed, "He alone is right!" This man became a reformer, and Luther regularly made private confession to him.
How could one friar and professor evoke such conflicting reactions?
The answer is simplicity itself. This man, who continues to speak after half a millennium, either taught the core of the Christian faith correctly or is still leading souls astray. As he himself put it, "Others before me have contested practice. But to contest doctrine, that is to grab the goose by the neck!"
Unspectacular Childhood
Contrary to some romantic speculations, Luther's childhood had almost nothing to do with his becoming a revolutionary theologian. He was born almost in transit on November 10, 1483, at Eisleben (about 120 miles southwest of modern Berlin), where both parents may have worked as domestic servants.
Within the year, the family moved to Mansfeld, where his father, Hans Luder (as it was locally pronounced), found work in the local copper mines. Hans quickly climbed, perhaps with the help of relatives, to ownership or part-ownership of several mines and smelters. He even became a member of the city council. Cranach's painting of the elderly Luder shows him in a fine woven coat with a fur collar.
Luther remembered his childhood in part for (in today's terms) its physical abuse. He was beaten by both his mother and father in truly frightening ways. He became so estranged ...
You have reached the end of this Article Preview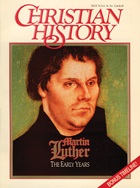 04/01/1992