Dorothy's Devastating Delusions
William and Dorothy Carey and their four sons arrived in Calcutta on November 11, 1793. They soon exhausted their funds and found themselves dependent on others for food and shelter. In the next seven months, they moved five times.
Dorothy struggled with bleeding brought on by tropical diseases. Then the family sustained a cruel blow on October 11, 1794, when their 5-year-old son Peter died. The painful weeks after his death passed slowly, but at Christmas the family made a brief holiday trip to Malda. William wrote in his last journal entry for the year that they were all much refreshed by the trip.
But no one could have predicted what was going to happen in the next three months. At some point before March 1795, Dorothy slipped across the subjective border between sanity and insanity. She was to remain locked in the grip of psychosis for the remaining twelve years of her life.
Murderous Jealousy
The first acknowledgment of a problem comes from a letter Carey wrote to his sisters in England on October 5, 1795. "I have greater affliction than any of these in my family. Known to my friends here, but I have never mentioned it to anyone in England before, is my poor wife, who is looked upon as insane to a great degree here by both native and Europeans.… I have been for some time past in danger of losing my life. Jealousy is the great evil that haunts her mind."
The second major piece of evidence comes from a letter that Carey's colleague, John Thomas, wrote to Andrew Fuller on January 11, 1796. Apparently, Carey and Thomas had planned to wait a number of months before informing the society in England of Dorothy's poor mental state. Perhaps they hoped her delusions would disappear.
When her condition did not improve, Thomas wrote ...
You have reached the end of this Article Preview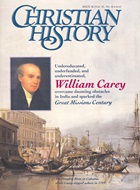 10/01/1992