Father of Modern Evangelicals
For most modern Christians, the names of John Wesley and Jonathan Edwards come quickly to the tongue. Not so the name of George Whitefield. Yet in many ways, Whitefield has had greater lasting significance. Christian History editors Kevin Miller and Mark Galli met with Dr. Mark A. Noll, McManis Professor of Christian Thought at Wheaton (Illinois) College, to discuss Whitefield's impact. Dr. Noll is the author of A History of Christianity in the United States and Canada (Eerdmans, 1993) and a member of Christian History's advisory board.
Christian History: In America, in 1740, Whitefield was a religious phenomenon without equal. Why did he draw such huge crowds?
Mark Noll: Let me suggest a few factors, not necessarily in order of importance.
First, Whitefield was a Calvinist, and the strongest theological tradition in the American colonies was Calvinism. Whitefield drew upon themes (human depravity, perseverance of the saints) that resonated with many colonists.
Second, Whitefield was a spellbinding orator. He was seemingly born with capital-C charisma, and he drew on his natural gifts in drama to enhance his message. He could light up a crowd, several times a day, day in and day out.
Third, people were impressed with Whitefield's spirituality, with his longing for God. That came through in his published journals and in his preaching—especially when he cried, as he often did, for the spiritually lost.
Fourth, he was a social phenomenon. Colonial America was a wilderness; the population was dispersed, and there were few good roads. It was difficult to see anybody except your family and your nearest neighbors. The cities were small: Boston and Philadelphia were only about 20,000 each. There was not a lot of entertainment. When Whitefield ...
You have reached the end of this Article Preview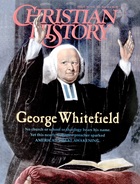 04/01/1993