Heavenly Comet
Perhaps no eighteenth-century religious figure was better known than George Whitefield. He was termed the "marvel of the age"—a preacher capable of commanding mass audiences (and offerings) across two continents, without any institutional support, through the sheer power of his personality. Whitefield wrote best-selling journals and drew audiences totaling in the millions. White and black, male and female, friends and enemies—all flocked in unprecedented numbers to hear the "Grand Itinerant." Wherever he visited, people could do anything, it seemed, but stay away.
Yet time has not been so kind. Today few people have heard of Whitefield, or if they have, they have little sense of his significance. Whitefield founded no movement or denomination. No college or seminary bears his name. Indeed, he deliberately rejected all attempts to found a movement, preferring instead to serve alone as a self-confessed "fool for Christ."
Who was George Whitefield? What was his significance?
Mother and Theater
We begin in the urban center of Gloucester, England, where Whitefield was born on December 16, 1714, the youngest child of Thomas and Elizabeth Whitefield. Whitefield's father died soon after, and his mother remarried. The marriage proved disastrous and culminated in a divorce, leaving Elizabeth with seven children and ownership of the Bell Inn.
Of Whitefield's childhood, two facts stand out: his mother's influence and his infatuation with the English theater.
From his mother, Whitefield inherited a strong ambition to be "somebody" in the world, most likely in service to the established Anglican church. He recalled how his mother "endured fourteen weeks' sickness after she brought me into the world but was used to say, even when I was an infant, ...
You have reached the end of this Article Preview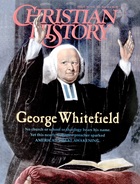 04/01/1993