Religion With a Human Face
Margery Kempe was not a typical medieval lay person. Far from it: few lay people abandoned spouse, children, work, and ordinary life in search of religious perfection, as she did. People in her company often grew tired of her religious talk, vigorous weeping, and unusual religious practices, such as vegetarianism and wearing white garments. Her visions aroused suspicion that she was possessed or epileptic or a hypocrite or a heretic.
But Margery also had admirers, especially among the clergy, who defended her visions and tears as genuine gifts from God.
It's difficult to determine what exactly "everyday faith" was in the late Middle Ages. The vigorous and slack all practiced the same religion. Though there were doubters and dissidents, most men and women, masters and servants, kings and cloth merchants were generally moved by the same religious beliefs and rituals.
In spite of, and maybe because of, her extreme devotion, Margery reveals in sharp relief the everyday faith of the late Middle Ages.
Unsatisfied Hunger
One central yearning had great force in later medieval life: an intense desire for religious experience.
In the 1200s, the church, more than ever before, began successfully reaching people through preaching, art and drama, books and pamphlets, and annual confession and Communion, among other things. In response, there was a widespread hunger for religious experience, a hunger, ironically, the church, which created it, could not satisfy. People found parish life humdrum and spiritually undemanding. In unprecedented numbers, devout lay people began seeking a more intense religious life while staying married and working in their secular vocations.
Margery Kempe was one of those people. She was born about 1373 in Norfolk ...
You have reached the end of this Article Preview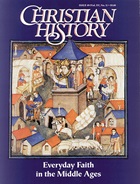 01/01/1996