Western Civilization at the Crossroads
Cars have windshields as well as rearview mirrors. So do civilizations. For the latter, however, windshields are often muddy, and drivers who can peer intelligently through the grime and obscurity are rare. We rightly call them prophets. C. S. Lewis was able to look both ways, forward and back. His imaginative gifts have given readers insight into the past, and at the same time, glimpses into the future.
A Look at History
How did this uniquely gifted writer sift and sort the past in order to preview the future?
First, Lewis was desperately critical of any so-called philosophy of history. Unlike the many historians who presumed to be able to isolate a "meaning" or "spirit" of a particular age, Lewis thought such attempts to be futile.
"I cannot convince myself that such 'spirits' or 'meanings' have much more reality than the pictures we see in the fire," he wrote in the Oxford History. "The 'canals' on Mars vanished when we got stronger lenses." To discern the meaning of history, Lewis argued, one would have to step outside of history, and this no man can do, just as a driver cannot at the same time study the details in the rearview mirror and read a textbook on the principles of reflected light. We simply cannot step out of history to give it an objective look; we cannot examine time and events in a laboratory.
Guidelines to History
Though Lewis rejected the "grand theories" approach to history, he did hold to certain beliefs about the past— about history and human nature—that make him a prophet worth hearing today.
In the last two centuries, most intellectuals have abandoned any notion of unchanging truth, especially in any description of the human person. Human nature is variable, they say, as variable in "spirit" as it is in ...
You have reached the end of this Article Preview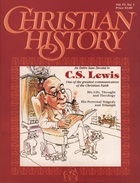 07/01/1985