The Lord's Agitators
Orange Scott (1800-1847): Witness against slavery
Orange Scott's heart bled for the slaves. But when he tried to convince his Methodist denomination that abolition was the only answer, they did not thank him for it.
Born in 1800 into a very poor Vermont family, Scott received only 13 months of formal education before becoming a Methodist preacher. When in 1833 he became convinced of the evils of slavery, he sent copies of William Lloyd Garrison's newspaper, the Liberator, to 100 Methodist preachers in New England. This made abolitionists of most of them and made Scott famous—or infamous—in the denomination.
At this time, many who opposed slavery refused to call for its immediate end—and many Methodists worried that taking an abolitionist stance would hinder the Gospel in the South. Scott, however, preached conversion, holiness, and the end of slavery as one message.
In 1836, Scott stood up at the Methodist Episcopal Church's General Conference to share his passion for abolition. For his trouble, he was labelled a "reckless incendiary" and stripped of his presiding eldership. Unbowed, he continued agitating against Methodist tolerance of slavery until, in 1842, he tired of the fray and made his exit.
Scott soon joined others who had left the MEC in forming the Wesleyan Methodist Connection of America. The Connection barred slaveholders and slavery sympathizers, insisting that slaveholding could not be part of a holy life.
After Scott's death in 1847, the Wesleyans continued to preach sanctification. And when emancipation was finally accomplished, they joined the national holiness revival and turned their attention to saving the souls and purifying the hearts of all Americans.

Benjamin Titus Roberts (1823-1893): Free at last
During ...
You have reached the end of this Article Preview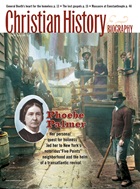 04/01/2004