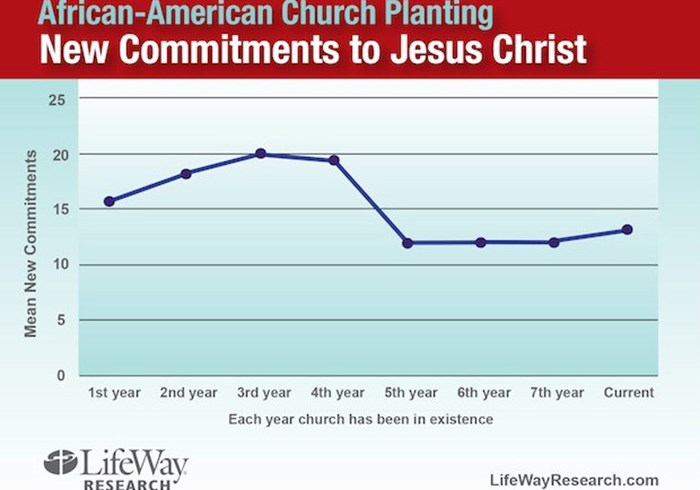 Image: Courtesy of LifeWay Research
The findings of one of the most thorough studies of African-American church planting to date are being shared publicly by its private sponsors.
The new study by LifeWay Research, which surveyed 290 African American church planters from more than 20 denominations, found that most black church plants start small (average Sunday worship attendance: 37) but grow steadily and become financially self-sufficient within four to six years.
What doesn't keep growing: the number of "new commitments to Christ," which peak in the third year of a church's existence. Two standout sources of conversions: door-to-door evangelism (75%) and offering a class for new members (68%).
More than half of surveyed pastors started their churches before 2007, and only 6 percent have had to close their church. The three main predictors of success, according to the survey: delegating leadership tasks to volunteers; training new members in leadership skills; and having a plan of personal spiritual formation for the church planter.
"This research has described in detail African American church planting today," said Ed Stetzer, president of LifeWay Research. "More importantly, this research has begun productive conversations among church planting leaders across the U.S. about how best to train and equip new African American church plants."
Stetzer offers a long list of in-depth results on his CT blog, as well as an explanation from study advisor Carl Ellis on the "increased efforts at church planting" by African American pastors.
Baptist Press also offers more details on the study, which was sponsored by the Presbyterian Church in America's Mission to North America, the Assemblies of God, the United Methodist Church's Path 1, the International Pentecostal Holiness Church, the Southern Baptists of Texas, the Foursquare Church, and the Southern Baptist Convention's North American Mission Board.