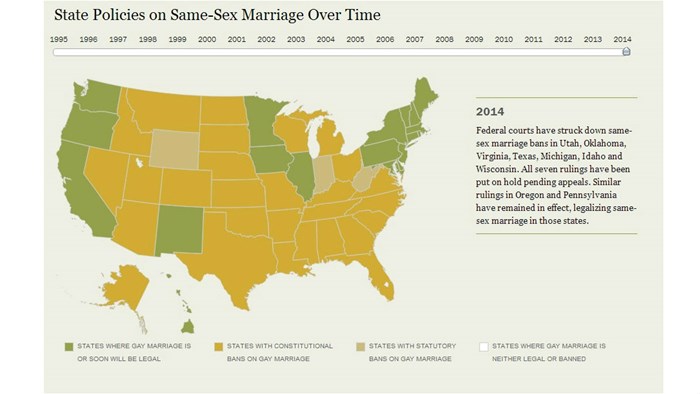 Image: Courtesy of Pew Research Center
In a closely watched court case, a divided three-judge panel ruled yesterday that Utah's ban of gay marriage is unconstitutional, paving the way to a possible Supreme Court battle that may end America's same-sex marriage debate.
Since CT identified evangelicals' favorite same-sex marriage laws and asked whether Jesus would bake a cake for a gay wedding in Arizona (depends who you ask), a tidal wave of activity has legalized the weddings in 19 states plus the District of Columbia.
The landscape is changing: Two months ago, experts proclaimed the legalization of gay marriage "a blue state thing," but the ruling on Utah's same-sex marriage law and similar appeals in Oklahoma and Texas are pushing the issue to red states.
A day before the one-year anniversary of the Supreme Court's decision to strike down the Defense of Marriage Act, which had barred same-sex marriages from federal recognition, a divided three-judge panel of the 10th Circuit Court ruled ...
1