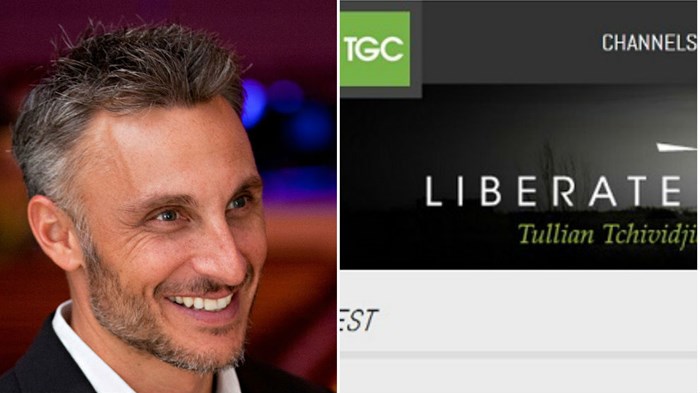 Image: Wikimedia Commons and screenshot of Liberate
Update (June 2): Tullian Tchividjian apologized on Friday [May 30] for his "very public 'break-up'" with The Gospel Coalition (TGC), drawing praise from Russell Moore who connected the social media spat to the recent World Vision controversy.
"This conflict has 'given the world the justification they're looking for to disbelieve the gospel,'" wrote Tchividjian, citing Francis Schaeffer's warning on public divisions among Christians, "and I am sorry for my contribution to this conflict."
Among the reflections shared by the Coral Ridge Presbyterian Church pastor on his personal blog:
I said some things in haste, both publicly and privately, that I regret. I never want anything I say to be a distraction from the mind-blowing good news of the gospel and last week I did. I got in the way. When you feel the need to respond to criticism, it reveals how much you've built your identity on being right. I'm an idolater and that came out last week. Because Jesus won for you, you're free to lose…and last week I fought to win. I'm sorry you had to see that. Lord have mercy…
Tchividjian also affirmed his friendship with TGC co-founder Tim Keller, and emphasized that TGC and his Liberate ministry are "on the same team" because "the harvest is ripe enough for well-meaning brothers and sisters to agree to disagree."
Meanwhile, Russell Moore wrote that he is more in agreement with TGC than Tchividjian on the sanctification debate, but the Ethics and Religious Liberty Commission president praised the apology as "something we all can learn from, and ought to reflect on."
He also compared it to how conservative Christians received World Vision's apology for attempting to hire gay Christians in legal same-sex marriages. "Our attitude should have been, from the beginning, to show faith working itself out in love," wrote Moore. "That means believing the best about another, unless proven otherwise."
-----
[Original deck: 'Holding together a fellowship of evangelical ministers and ministries has never been easy," write TGC founders, as Tchividjian critiques defense of C. J. Mahaney against SGM abuse allegations.]
With a third high-profile pastor now separating from The Gospel Coalition (TGC), founders Tim Keller and Don Carson have publicly explained the departures—and cited one of evangelicalism's biggest breakups for comparison.
On Tuesday, Tullian Tchividjian used his last blog at The Gospel Coalition (TGC) to complain that he was abruptly ordered off the Reformed network by tomorrow (though he was already planning on leaving in August for his own Liberate site).
Tchividjian, senior pastor of Coral Ridge Presbyterian Church in Ft. Lauderdale and Billy Graham's grandson, said he was "disappointed and a bit confused," noting:
I have long admired the original mission of [TGC] to be a hallway where Christians from all denominational backgrounds who may disagree on non-essentials could gather and rally around the Good News (hence, the name "Gospel Coalition"). But, in my opinion, the messaging of [TGC] has morphed over the last seven years and I find myself much more aligned with the very specific message of Liberate. So, now is the right time to pull the trigger. In fact, it's probably over due.
However, he then added to the ongoing debate over how TGC members have publicly responded to allegations of an abuse coverup by Sovereign Grace Ministries (SGM), revived this weekend after TGC council members C. J. Mahaney and Joshua Harris resigned in the wake of the criminal conviction of a former youth worker at SGM's then-flagship church.
In an interview with the Christian Post's Morgan Lee, Tchividjian strongly criticized how fellow TGC members have defended Mahaney, saying it looks like "the good-old boys club covering their own" and "I've just been sort of disgusted by the whole thing." He also alleges that Mahaney knew about the abuse.
In response, Tim Keller and Don Carson have publicly explained why Tchividjian was asked to leave TGC early:
It was obvious to observers that for some time there has been an increasingly strident debate going on around the issue of sanctification. The differences were doctrinal and probably even more matters of pastoral practice and wisdom. Recently it became clear that the dispute was becoming increasingly sharp and divisive rather than moving toward greater unity.
Regarding the resignations of Mahaney and Harris, they write:
C. J. had been considering stepping out for a good while—both a year ago and a month ago he offered to do so for a variety of reasons, including a major move and change in his role, the responsibilities of a new church plant, and other issues. Joshua has spoken publicly about his reasons for resigning. In light of the ongoing civil suit against his church he felt it best for TGC if he stepped down.
"Holding together a fellowship of evangelical ministers and ministries has never been easy," write Keller and Carson, citing the 1960s falling out between British leaders D. M. Lloyd-Jones and John Stott and J. I. Packer.
CT assessed the impact of that dramatic rift within British evangelicalism. In essence:
With the ascendance of the World Council of Churches in the sixties, denominational allegiance to the Church of England became suspect. Some feared that the wcc would become "a 'superchurch' run from Geneva," as Packer puts it, and began advocating "jumping ship" from the denomination to form a separate evangelical alliance. Packer's friend and Puritan Conference partner, Martyn Lloyd-Jones, became the most vociferous spokesman for this position. At a gathering of the Second National Assembly of Evangelicals (October 1966), organized by the Evangelical Alliance, Lloyd-Jones "issued what was widely understood to be a passionate call for evangelicals within the mainstream churches to 'come out' and, in effect, form a denomination of their own," McGrath writes. John Stott, who was chairing the session, feared that the message might spark a mass exodus on the part of the younger, impressionable evangelical leaders in attendance. So he "broke the ordinary rules of procedure," says Packer, and "spoke 'off the cuff.' " Stott intervened to affirm that evangelicals could and should remain within their denominations in order to help bring about renewal from within. ("It started a great row that didn't die down," Packer says.)

This unexpected turn resulted in a rift within British evangelicalism over whether evangelicals should remain within the Church of England. So the gathering that was supposed to "serve the purpose to advance the cause of unity and viable strategies for keeping evangelicalism alive in Britain" had the opposite effect.
CT's 1998 cover story on Packer offers a wealth of details on the split and its aftermath. CT also noted how Packer and Stott later split.
Keller and Carson offer their own reflection:
The division was based on what each side felt to be significant doctrinal principles. And yet, while many of their followers were subsequently hostile to one another, the men themselves never vilified the other—not in public nor, as far as the historical evidence shows, in private. They maintained great respect for each other as Christian men and ministers of the gospel and never tried to undermine the reputations of the others, even when they came to believe they could no longer work closely together, and even when the differences were significant ones.
...
Pray for us that moves and changes like these will be marked on all sides by the startling, visible graciousness that should be present in all saved by grace.