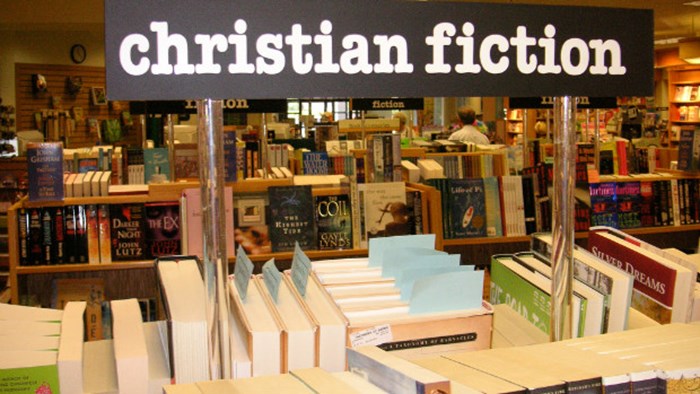 Image: Flickr / BLMurch
Tales of trips to heaven have had a rough 2015.
Four months ago, Alex Malarkey admitted that he made up his story about going to heaven after a car accident when he was 6 years old. Tyndale pulled the book and DVD from production. This month, LifeWay Christian Resources yanked all "heaven tourism" books from their stores, saying they weren't the direction LifeWay wanted to go.
But publishers foresee little impact of Malarkey's admission on sales.
"This is a good category for us, and we're going to continue to publish credible stories," David Lewis, Baker Publishing Group's vice president for sales and marketing, told Publishers Weekly. "As unfortunate as [Malarkey's admission] is for Tyndale, it has had no effect on sales of heaven books that we can see, nor on our decisions to publish them."
That's in part because—despite the recent woes of "heaven tourism" books—religious non-fiction is flying off the shelves. Christian fiction sales, on the other hand, are plunging.
Religious fiction sales, which wobbled in 2013, took a steep dive in 2014, according to Nielsen BookScan. The Harbinger by Jonathan Cahn, The Last Bride by Beverly Lewis and Bridge to Heaven by Francine Rivers topped the list of 2014 best-selling Christian fiction, but sales were down 15 percent last year in one of the sharpest declines in the struggling fiction industry.
In contrast, religious non-fiction—including Bibles—rose 12 percent, lifted in part by Sarah Young's Jesus Calling and Heaven is For Real (both the paperback and the movie edition), which grabbed the top spots for Christian nonfiction last year.
The decline in Christian fiction matched the drop in action/adventure books; the only category that fared worse was occult/psychological/horror, which dropped by 26 percent. (As a whole, adult fiction dropped 8 percent as 10 of the 12 categories lost ground.)
"We know the numbers are true, but we're not in a panic," Karen Watson, associate publisher for Tyndale, told Publishers Weekly. "Tyndale does fiction very well and it is a profitable part of Tyndale's business."
In early 2014, most Christian publishers said they were counting on steady fiction output in 2014, though David C. Cook said it planned to trim its fiction list by almost half and Abingdon Press said it would be retrenching.
Abingdon did pause its fiction acquisitions in August 2014, and B&H Publishing Group pared down its fiction lists to those tied to B&H Films or other cross-platform initiatives, according to Publishers Weekly. At the same time, Moody Publishing's River North imprint released 3 to 5 books in 2014, down from 8 to 12 new releases in 2013.
Part of the challenge is shrinking shelf space. Since fiction is the first category to gain its readers through e-books, the remaining stores are shelving fewer fiction titles, Baker Publishing Group vice president of sales and marketing Dave Lewis told Publishers Weekly last year.
And as readers grow accustomed to cheaper—or free—e-book titles, that expectation "has transferred to print to some degree," WaterBrook Multnomah's Shannon Marchese told Publishers Weekly.
Over at HarperCollins Christian Publishing, with its Thomas Nelson and Zondervan fiction lines, 55 to 60 new titles are still published each year, and revenue grew last year, HarperCollins Christian Publishing fiction publisher Daisy Hutton told Publishers Weekly.
"Print is here to stay, but the category is undergoing a period of reinvention," Hutton said.
Meanwhile, more and more readers are purchasing religious non-fiction, including Bibles. Those numbers leaped up 12 percent in 2014, narrowly beaten by self-help (up 15 percent) and graphic novels (up 13 percent).
In fact, in the last five years, Bible and religious nonfiction sales are up 53 percent, according to Jonathan Nowell of Nielsen Books. That's up dramatically from the previous 5 years (2004 to 2009), during which religious non-fiction and Bibles rose 9 percent.
"Where has the novel of belief gone?" asked Paul Elie in the New York Times after comparing Christian belief in literary fiction to "something between a dead language and a hangover."
His answer: "The obvious answer is that it has gone where belief itself has gone. In America today Christianity is highly visible in public life but marginal or of no consequence in a great many individual lives."
But there is hope for the future of Christian novels, even without C.S. Lewis or John Updike or Flannery O'Connor.
"There are signs of stirring in the evangelical movement," blogged Southern Baptist Theological Seminary professor Owen Strachan on Patheos.com, pointing to N.D. Wilson, Karen Swallow Prior and Dan DeWitt as contemporary authors to know. "We're young, restless, and writing."
CT loves books, and has offered lists of new and noteworthy books, CT blogger Amy Julia Becker's favorite books of 2014, and the top 5 books for reading in the wilderness. CT has also covered the 'Boy Who Came Back From Heaven' story retraction and considered whether buying your way onto the bestseller lists is wrong even if everyone else (including Mark Driscoll) is doing it. Her.meneutics explained how writing fiction mirrors God's creative work and why we love Amish romance novels.