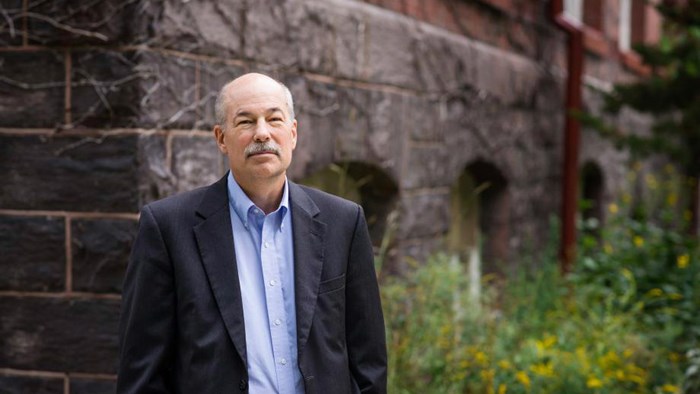 Image: InterVarsity Christian Fellowship
In the midst of moving its national office today, InterVarsity Christian Fellowship dropped some big news: President Alec Hill is leaving, after 14 years at the helm. And he's actually leaving nearly a year earlier than expected—due to cancer.
"We are deeply saddened to announce that [Hill] has been diagnosed with myelodysplasia, a cancer of the bone marrow, which requires rigorous treatment," stated InterVarsity in a press release. "As a result of this news, Alec will enter cancer treatment on June 10.
"The entire [InterVarsity] family laments and joins together in prayer for Alec's complete healing."
In a video released to staff, Hill asked for prayers for a donor match and for his wife and family. "God is not the author of evil. He hates MDS. He hates all cancers even more than we do," he said. "Cancer is but one of the many awful consequences of human action in the Great Fall. And it's okay to say that this really sucks. It really sucks."
InterVarsity has 949 chapters on 616 campuses across America, and is moving its national office in Madison, Wisconsin, to a bigger facility. Trustees will meet in early June to pick an interim president to replace Hill, who also serves as a CT board member.
"Alec had originally planned to announce his departure from the president's role this November and then to stay in office until the selection of a new president in the spring of 2016," InterVarsity stated.
"InterVarsity is deeply thankful for Alec's 14 fruitful years of service. Through him, God has led us to a clarified vision and a more focused strategy to see students and faculty transformed, campuses renewed, and men and women sent into the world to serve God."
"Alec has played a key role in encouraging and shepherding us," stated Ron Williams, InterVarsity's board chair, in the release. "And we pray that he will experience God's shepherding and grace as he faces the unexpected journey ahead. Please join us in praying that God will bring him complete healing."
"I am so grateful for the truly remarkable people—trustees, vice presidents, staff, faculty, students and supporters—that I've had the honor to serve with," stated Hill in the release. "The Lord has blessed our campus mission in ways that I couldn't have imagined possible. I look to a future guided by His hand."
Hill's predecessor as InterVarsity president, Steve Hayner, recently persevered publicly through his own bout with cancer before passing away on January 31. Mark Labberton interviewed Hayner for CT on "following Jesus through cancer."
Other notable evangelical names who have recently faced cancer include Judson Carlberg, Margaret Feinberg, Glen Stassen, Jim Wallis, Dallas Willard, Joni Eareckson Tada, and Carman.
Hill recently wrote for CT on how Jesus' most-troubling parable finally made sense to him.
CT's previous coverage of InterVarsity includes its reinvention of campus ministry after being booted from many California colleges, as well as why it fights for campus access and its plans for a diverse staff.