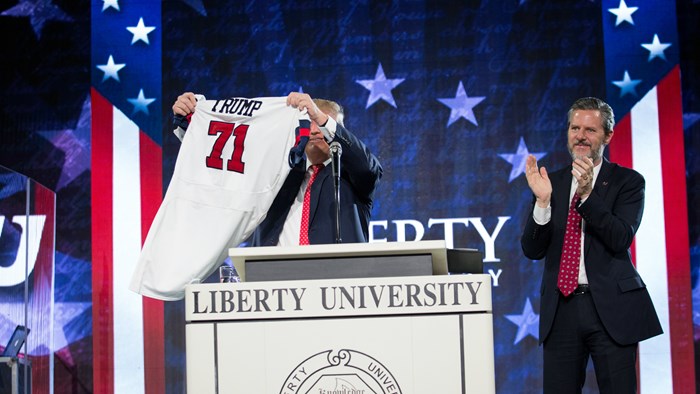 Image: Kevin Manguiob/Liberty University
Update (Jan. 29): A new survey of Protestant pastors found that evangelical pastors prefer Ted Cruz (18%), Ben Carson (8%), and Marco Rubio (8%) for president. Donald Trump was only favored by 5 percent of Republican pastors, LifeWay Research found. Nearly half of all pastors remain undecided.
-----
How does Jerry Falwell Jr. explain his controversial endorsement of Donald Trump for president? In part, he's taking his cue from his Moral Majority-founding father, who supported Ronald Reagan over Southern Baptist Jimmy Carter.
"When [Jerry Falwell Sr.] walked into the voting booth, he wasn't electing a Sunday school teacher or a pastor or even a president who shared his theological beliefs; he was electing the president of the United States with the talents, abilities and experience required to lead a nation," said the Liberty University president during his glowing introduction of Trump at a school convocation. "After all, Jimmy Carter was a great Sunday school ...
1