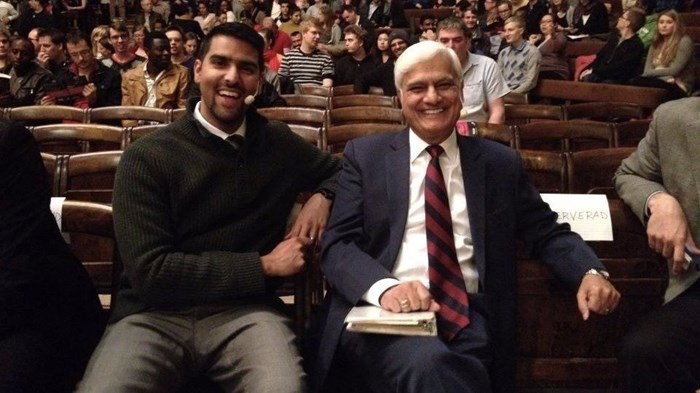 Image: Courtesy of RZIM
At his memorial service Thursday, Nabeel Qureshi was remembered for his unusual passion for Christ and the significant evangelistic impact he made before he died last Saturday at 34.
Hundreds gathered at Houston's First Baptist Church and thousands more online to honor Qureshi, whose life and ministry was cut short by aggressive stomach cancer.
The young speaker and author was eulogized by his mentor, Ravi Zacharias, who compared him to the apostle Paul as well as to other noteworthy Christians who died young. (Zacharias also wrote a tribute to his young protégé.)
"He was a man of incredible, undying energy, and it was a privilege to cover the globe with Nabeel Qureshi," said Zacharias, who recalled stories from their final ministry trip together—to Malaysia—earlier this spring. He said he had recently heard from an employee at the hotel in Kuala Lumpur who remembered Qureshi and had begun to watch his messages after meeting him a single time.
When Qureshi would preach from a favorite text, 1 Corinthians 15 (where Jesus appears to Paul, one "abnormally born"), Zacharias said he'd think, "You're just like that, Nabeel. You're a very abnormal person."
The global evangelist shared with the crowd the unusual distinctives of Qureshi's deep understanding of sin; Qureshi's devotion to his family, who were heartbroken when he left Islam to claim Christ; and his confidence in his evangelism.
Zacharias addressed Qureshi's parents, who are Pakistani Americans and Ahmadi Muslims, greeting them in their native tongue. Their only son had converted to Christianity while in medical school.
"His biggest heartache was the pain the family was going to feel at his commitment to Christ," Zacharias said. "His passion was tearing him apart over his love of his Heavenly Father and his commitment to his earthly father and mother and family."
The evangelist described Qureshi as "fearless" and "a man on a mission" as others attempted to discredit his message or even threatened his life as he preached in areas where Christians suffer persecution.
"He did not care about those who fabricated stories about him; he did not care about those who tried to knock him off," Zacharias said. "He was willing to be an ambassador for Christ right to the end."
After years of understanding sin as a form of blindness, Qureshi can finally see reality as God intended him to, Zacharias told the crowd.
"This abnormally born, abnormally torn, abnormally scorned man is now abnormally gone. Gone at such an early age in life," he said. "So what I say to you is this: He's not the only one who's died young."
He went on to list fellow Christian men who died in their 20s and 30s, including singer Keith Green, Scottish minister Robert Murray M'Cheyne, and theologian Blaise Pascal.
Rice University scientist Jim Tour and Houston's First pastor Gregg Matte also shared stories of their friendship with Qureshi.
A GoFundMe account, created before his death, to support his wife and young daughter has earned more than $775,000.