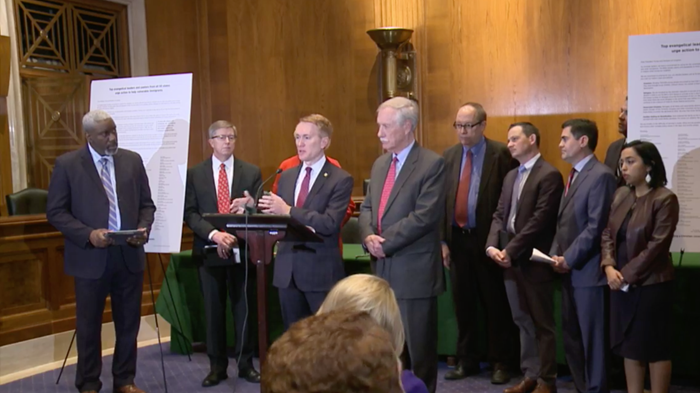 Image: World Relief / Facebook
This time last year, just weeks into Donald Trump's presidency, evangelical leaders spoke out in an unprecedented way against his temporary refugee ban with hundreds signing on to an open letter published in TheWashington Post.
Rallied by World Relief, the humanitarian arm of the National Association of Evangelicals (NAE), the group took out another full-page ad in the newspaper to bring up multiple concerns related to immigration policy in 2018. [The ad appears at the end of this post.]
Yet again, the list contains both vocal advocates as well as pastors not typically known for speaking out on political matters, topped by influential voices like pastor and devotional author Max Lucado, Bible teacher Beth Moore, and Village Church pastor Matt Chandler.
"As Christian leaders, we have a commitment to caring for the vulnerable in our churches while also supporting just, compassionate, and welcoming policies toward refugees and other immigrants," the letter opens, going on to request legal protection for the Dreamers who entered the US as children, an increase in the admittance of refugees and persecuted Christians, and quicker priority for immigrants seeking to reunite with their families.
Also listed among the hundred-plus initial signatories are Jen Hatmaker, Ann Voskamp, Willow Creek's Bill and Lynne Hybels, and Christianity Today president Harold Smith. More than 1,300 Christian supporters have signed the letter online.
"We believe we represent a convergence of evangelical belief that care for [refugees] is a central part of our Christian faith," said Jenny Yang, vice president of advocacy and policy at World Relief.
As CT reported last month, when several Trump faith advisers met with Nancy Pelosi, evangelicals are mostly eager to find a solution for the young immigrants once protected from deportation through the Deferred Action for Childhood Arrivals (DACA) program:
Nearly 70 percent of evangelicals believe Dreamers should be allowed to stay in the country, with 49 percent supporting a path to citizenship and 20 percent believing they should become legal residents but not citizens, Politico/Morning Consult found. (Overall, 75 percent of registered voters want the Dreamers to stay.)
"Our prayer is that these young people would be allowed to continue contributing to our society without fear of deportation," the February 7 letter stated.
The DACA phase-out begins in just less than a month, leaving advocates to push for a Congressional fix before then. Among the 700,000 or so Dreamers are plenty of young church leaders, students at Christian colleges, and even members of World Relief's own staff.
"This is a unique moment that we're standing in. There's a deadline and a requirement to act on a certain issue," said Senator James Lankford of Oklahoma, an evangelical who spoke alongside some of the letter's signatories at a press conference in Washington on Wednesday.
"What I'm encouraging my colleagues to do is not stop the work…. For these families that are waiting for the moment, they need to know what is the decision and what is the law."
Fellow legislator Senator Angus King, an independent from Maine, referred to the ongoing debate over immigration in Congress as "a unique opportunity for us to carry out our moral and ethical responsibilities at the same time as we carry out our legal and political responsibilities." He told evangelical leaders, "If there was ever a time for prayer, it's in the next 24 hours."
Evangelicals have been speaking up for Dreamers in particular since the fall. Dozens of evangelical and Southern Baptist leaders gathered by Ethics and Religious Liberty Commission (ERLC) president Russell Moore signed onto a statement including positions like:
"We believe it is unjust to punish children for offenses they did not commit."
"We believe we should welcome Dreamers of good moral character and who are working hard to contribute to our country."
"We believe our government should provide a pathway to permanent legal status and/or citizenship for eligible Dreamers."
Moore repeated his concern for this group of young immigrants on Wednesday, saying, "As Christians, dreamers are not some abstract category for us. Dreamers are teaching Sunday school … Dreamers are leading churches. When we see Dreamers in jeopardy, we see all of us in jeopardy."
Shirley V. Hoogstra spoke as president of the Council for Christian Colleges and Universities (CCCU).
"We love our DACA students. These students are courageous, they are brave, and they are resilient," she said. "These students deserve an opportunity to pursue an education without fear of deportation."
Today's letter also provided an update on the flow of refugees into the US, which fell from 96,874 in 2016 to 33,368 in 2017.
The number of Christian refugees from Iraq, Iran, and Syria—which have long ranked among the top countries for Christian persecution—dropped by 60 percent last year. (Pew Research Center found that Christians still outpace Muslims—or any other religion—among refugees to America.)
"Over the past decade, more of those admitted to the US have been Christians than those of any other faith background, so the dramatic reduction in refugee arrivals this year means far fewer persecuted Christians will have the opportunity to rebuild their lives in safety in the US," World Relief president Scott Arbeiter said last summer.
Based on the arrivals so far, 2018 is on track to bring in the lowest number of refugees since the resettlement program was formalized in 1980.
"This, at a time when there are more refugees in the world than ever before in recorded history," the letter said. "Our prayer is that the US would continue to be a beacon of hope for those fleeing persecution."
The cap for the 2018 fiscal year, as established by the Trump administration, is 45,000, and some predict arrivals won't even make it close to that. Last year, refugee resettlement agencies reached the 50,000 cap in mid-July, a couple months before the end of the fiscal year on September 30.
Anticipating the drop, World Relief closed five offices and laid off 140 staff members in the wake of last year's refugee ban, which ended up disputed back and forth in the courts. The organization has not been forced to make further cuts since.
The organization's director of church mobilization, Matthew Soerens, wrote last week in The New York Times:
The past year has been a disaster for refugees and for those of us who are deeply concerned — many because of the convictions of our faith — with their well-being. But, because of my Christian faith, I also believe that people can repent, turning from a wrong direction and moving in the right way.

It's not too late for our leaders to examine the facts, apply the values of the faith traditions that inspire many Americans' concern for refugees, and change course.
As the Trump administration has shifted policies on undocumented immigrants and individuals with temporary protected status (TPS), putting more individuals at risk of deportation, Christians have quickly brought up the dilemma of mixed-status families, whose children are US citizens but parents are not.
Last year, World Relief and other agencies saw a spike in inquiries from Christian immigrants concerned about their status and worried about themselves or family members getting deported. CT reported:
Half of all Latino Christians living in the United States are worried that either they or someone close to them will be deported, the Pew Research Center found. This includes 1 in 3 of those born in the US (including Puerto Rico).

Among Latino Christians, the concerns are highest among green card holders (71% worry about deportation) and undocumented immigrants (68% worry). Even among Hispanic Christians who were born outside of America but have become US citizens, more than half (55%) fear deportation for themselves or someone close to them.
The letter also asks politicians to consider families waiting for reunification, such as refugees or other immigrants applying to enter the US to be with their spouses, parents, or kids.

"God ordained the family as the cornerstone of society, and we believe that our country is stronger when our citizens can be quickly reunited with their close family members," it said. "For some US citizens, the waiting period can be years or even decades. We pray you will respect the unity of the family."
Samuel Rodriguez, president of the National Hispanic Christian Leadership Conference (NHCLC) and an adviser to President Trump, has repeatedly pled for policies that allow families to stay together.
Moore's statement in October also included the line: "We believe a just government works to maintain the integrity of families."
CT has recently reported on a ruling on behalf of Indonesian Christians in New England who face deportation, the impact of the end of TPS protections on Salvadoran Christians in the US, and the nomination of an evangelical leader to serve as the next director general of the United Nations's International Organization for Migration (IOM).