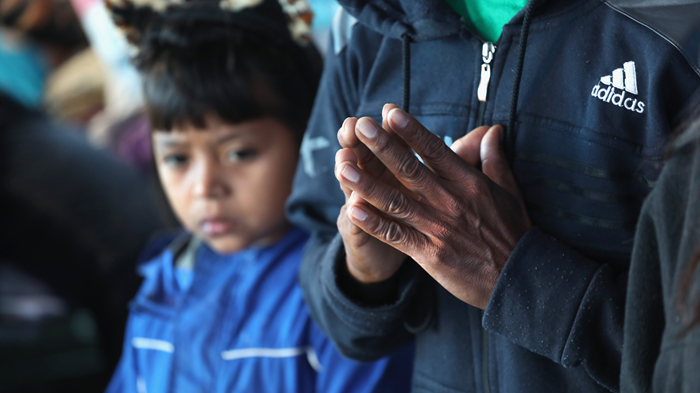 Image: John Moore / Getty Images
The Trump administration's latest change in immigration policy has shaken the believers and converts from El Salvador who fill Spanish-speaking evangelical churches in the United States.
The Department of Homeland Security announced Monday that it would end temporary protected status (TPS) for the roughly 200,000 Salvadorans allowed to live in the US without fear of deportation following a pair of earthquakes in their country in 2001.
After a decade-plus of working, worshiping, and growing families in the States, TPS recipients now have until next September to leave or obtain green card status; if they stay past the deadline, they will face the risks of living in the US illegally.
El Salvador—one of the most Protestant countries in Latin America—represents the largest group of Latin American immigrants to the US outside of heavily Catholic Mexico. So the news hit especially hard at evangelical churches like Casa Del Alfarero in Silver Springs, Maryland.
The Assemblies of God congregation is 90 percent Salvadoran. In the decades since senior pastor José Arce Jr.'s father founded the church in 1974, "there have been so many changes in immigration law," he said. "We just encourage people to trust God first of all. He's going to make a way, because he's always done that."
Arce, the National Latino Evangelical Coalition (NaLEC)'s representative in Washington, also tries to offer practical support to his members. He advised weeks ago that parents get passports for their American-born children to verify their citizenship, and has partnered with area law firms for legal guidance.
With 200,000 recipients, El Salvador makes up the largest share of TPS residents. For comparison, neighboring Honduras has an estimated 86,000 nationals allowed in the US under the program, while Nicaragua has 5,000.
Along with Guatemala, the four nations rank as the most Protestant in Catholic Latin America, according to the Pew Research Center.
Not only is the evangelical population growing in Central America, further pushed by poverty and violence, these countries in particular are sending a growing number of immigrants to America. Pew noted last month that immigrants from El Salvador, Guatemala, and Honduras have increased by a quarter—outpacing other countries.
Immigrants from this region cite work as their top reason for heading to the US, the researchers found. As CT reported in 2017, immigrant pastors and churches channel funds back to ministries in their home countries, such as one Los Angeles pastor from El Salvador, whose father experienced kidnapping and death threats while leading a church back home.
Before this week's news about protections for Salvadoran immigrants, the Department of Homeland Security announced in November that TPS status for Hondurans could end as soon as July, while TPS for Nicaraguans would end in January 2019.
"If actions like this continue, they will have a spiritual impact on the country," said Tony Suarez, executive pastor of the National Hispanic Christian Leadership Conference (NHCLC). Monday's announcement had him thinking of a heavily Salvadoran congregation he pastored in Virginia Beach, Virginia, and how its families would be weighing options for what to do, who stays, and who goes.
While churches may not see an immediate impact to the TPS announcements, "it could eventually lead to churches closing their doors," he said.
The Hispanic Baptist Pastors Alliance, a group of 60 Southern Baptist leaders, reported last March a drop in attendance in Latin American congregations following Trump administration policies that did away with exemptions for certain undocumented workers. In a Pew report, half of Hispanic Christians in the US said they worried about themselves or someone close to them getting deported.
Arce said he doesn't imagine that fear would be enough to keep Salvadorans away from his church, and is hopeful that good news is coming. "Their identity is in Christ. They know their place," the pastor said. "God, he moves our steps. Many of them came to Christ here. God will make a way for them."
Matthew Soerens, director of church mobilization for World Relief, tweeted about Monday's decision, noting that disproportionate number of Salvadorans in evangelical congregations and the high number of TPS recipients who are lawfully employed (over 90 percent of men and 80 percent of women).
"Important to note that, as TPS is withdrawn, it doesn't necessarily mean all 200K people will be deported. They'll be at same risk of deportation as 11 million other undocumented—except that they have all relatively recently provided their addresses to the federal government," he said. "What is more certain is that most will lose their jobs, because employers will be lawfully required to let them go when their currently valid work authorization expires."
For the El Salvador nationals impacted by the TPS change, leaving the country potentially brings double turmoil: first, the difficulty of leaving behind a home, a job, and even their kids (an estimated 190,000, who are now US citizens); and second, the fear of returning to a country dominated by shady gang violence that has resulted in one of the highest murder rates in the world.
After Christmas, a member of Arce's church came to him to say that his uncle, who had returned to El Salvador to celebrate the holiday, had been murdered within 24 hours of his arrival. His Maryland congregation is full of stories of threats and tragedies at the hands of the Salvadoran gangs.
The Evangelical Immigration Table, a national coalition of denominational and ministry leaders, issued a letter last week discouraging the administration from pulling El Salvador's TPS and forcing Salvadorans to go back.
"These individuals are now firmly established parts of our communities, including many who are members of our local churches and students within our colleges," stated the heads of the National Association of Evangelicals, World Relief, and the Council for Christian Colleges and Universities, among others.
"Several of our organizations operate or support ministries in Central America, and our colleagues there are deeply concerned about the impact of a withdrawal of TPS on the country as a whole, which is facing serious challenges of violence and poverty."
The issue of family unity has been a major concern for faith groups lobbying for immigration reform. NaLEC president Gabriel Salguero also opposed the TPS shift, emphasizing that his organization's stance stems from its commitment to family and family unity.
The United States Conference of Catholic Bishops' (USCCB) committee on migration also wrote the Trump administration, advising against removing protections for Salvadorans.
"Attention turns yet again to Congress to try and move forward and hopefully work together to provide protection," Ashley Feasley, a migration policy director for the USCCB, told Crux. "It is a vital moment of decision for our elected lawmakers—the need to act is vital and it's woven with the idea of what type of nation we want to be."
Lawmakers are meeting this week to try to develop a bipartisan plan for immigration reform. Advocates believe that not only could a legislative measure secure a legal path for Dreamers—young adults who came illegally as children—but also for Salvadoran families and others who desire to remain in the US.
"This is one of those 'wait unto the Lord' moments," said the NHCLC's Suarez. "We need God, we need the government, and we need our fellow citizens."