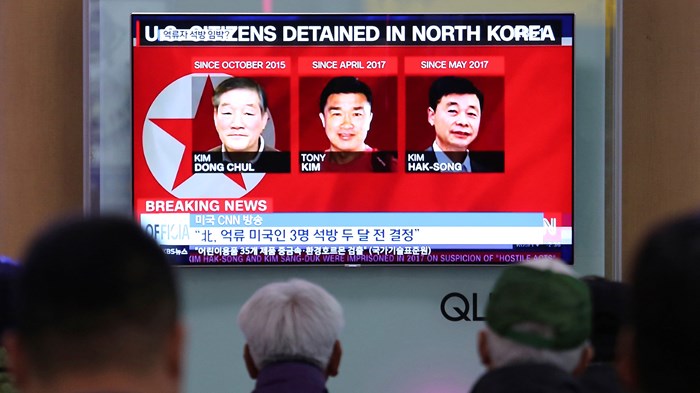 Image: Ahn Young-joon / AP
Three Korean American evangelicals held as prisoners in North Korea for at least a year are now on their way home, President Donald Trump announced in a tweet this morning.
"I am pleased to inform you that Secretary of State Mike Pompeo is in the air and on his way back from North Korea with the 3 wonderful gentlemen that everyone is looking so forward to meeting," the president wrote.
Pompeo was said to bring up the plight of the Christian prisoners—Kim Dong Chul, Kim Hak Song, and Kim Sang Duk—during his initial visit with North Korean leader Kim Jong-un a month ago.
Their release comes as President Trump prepares for a historic meeting with Kim Jong-un as early as this month. Trump also said in his tweet that Pompeo had another "good meeting" and that the date and place had been set for when the two heads of state will meet.
The three Christians spent between a year and three years detained in North Korea, and two previously worked at a private university in the country's capital.
The Pyongyang University of Science and Technology (PUST) is mostly staffed by Christian professors who are forced to keep their faith private due to the dictatorship's severe restrictions on religious expression.
Professors Kim Hak Song and Kim Sang Duk were arrested last May and charged with "hostile" acts against the government, the same erroneous charge levied against missionary Kenneth Bae, who was released in 2014. Kim Dong Chul was arrested in 2015.
Leading up to the proposed denuclearization talks between Trump and Kim Jong-un, Christian religious freedom advocates Open Doors had lobbied for the President to push for the American prisoners' release. "We simply cannot afford to let these Americans stay another day on North Korean soil," Open Doors USA CEO David Curry stated.
Trump hinted at their possible release a week ago and will greet them when they land late tonight.
This morning, Oklahoma Senator James Lankford—himself a Southern Baptist and outspoken advocate for religious freedom—called the release of the prisoners "the key thing North Korea could do to send a good message" prior to the Trump meeting.
This is the first time in six years, since before Bae's arrest in 2012, that North Korea has no US citizens in prison.
Trump tweeted that all three of the released prisoners "seem to be in good health," a contrast to the last American released—college student Otto Warmbier—who was in a coma and died days after arriving back in the United States last June.
Last year, ailing Canadian pastor Hyeon-Soo Lim was also released in poor health.
North Korea ranks as the worst country for Christian persecution on the annual Open Doors World Watch List, and the organization estimates that beyond the foreign nationals detained there, many of the country's own citizens—including around 50,000 believers—are being held in detention centers, prisons, or political camps.
"I want Trump to address the 250,000 prisoners in North Korean prison camps. And the hunger citizens face," one freed North Korean Christian said. "I would like to see Kim Jong-un encouraged to open the door and take on the economic reform process. This is the beginning step to becoming a democratic society."
Christians have been praying for months for the upcoming meeting and the possibility of peace on the Korean peninsula.
A group of Christians including National Association of Evangelicals president Leith Anderson, Sojourners president Jim Wallis, author Eric Metaxas, and Evangelicals for Social Action executive director Nikki Toyama-Szeto released a statement in March addressing the ongoing diplomatic talks with North Korea.
"We pray for wisdom for our political, diplomatic and military leaders as they work across differences toward a goal of peace, security and freedom," it said. "We pray that God will bless the efforts of citizens who seek to bridge the vast differences between our countries."
In a Politico/Morning Consult poll from mid-March, about half (48%) of self-identified evangelicals were confident in the negotiations, compared to 40 percent of US voters overall.
Christianity Today has covered ongoing ministry efforts in North Korea; interviewed missionary Kenneth Bae, who spent more time detained in the country than any other American; and featured the testimony of a Christian who escaped with the help of the Chinese church.