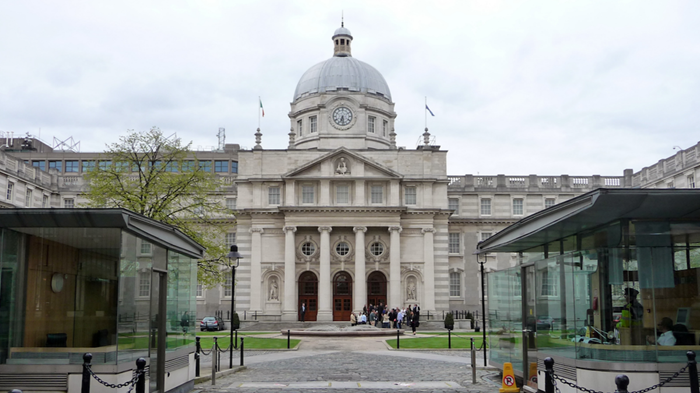 An Irish law that could fine individuals up to 25,000 euros (about $28,500) for "the publication or utterance of blasphemous, seditious, or indecent matter" will be amended to remove the crime of blasphemy.
In a referendum on the old blasphemy law, which came alongside the country's presidential election last Friday, nearly two-thirds of Irish voters decided to revoke the controversial policy.
Even though no one had been prosecuted for blasphemy under the law, Irish evangelicals joined religious groups and fellow nonprofits campaigning to remove it from the books so that dozens of countries who do enforce such bans can no longer cite their homeland as an excuse.
The change is also seen as another move toward the largely post-religious context of its European neighbors. "Today's vote is another important step towards a human rights compliant Constitution," said Ireland's Amnesty International executive director Colm O'Gorman. "It follows the massive support for the constitutional referenda allowing marriage equality and ending the abortion ban."
Neither the Catholic Church nor the Church of Ireland opposed the repeal vote. The executive director of Evangelical Alliance Ireland had previously stated that blasphemy bans hurt religious dialogue and religious freedom, particularly for religious minorities. "Those who truly believe in God should realise that He is big enough to look after Himself without needing any assistance from the Gardaí (Irish state police)," he wrote.
At their Autumn General Meeting, the Irish Catholic Bishops' Conference said the law was "largely obsolete, and may give rise to concern because of the way such measures have been used to justify violence and oppression against minorities in other parts of the world."
"There is a fundamental human right to freedom of religion, but also the freedom of expression (within limits)," said the Church of Ireland's Church and Society Commission in a statement last week.
Officials and nonprofits alike indicated that the international landscape, where dozens of countries still target individuals under blasphemy bans, was a major motivation for abolishing blasphemy in the Emerald Isle.
"By removing this provision from our Constitution, we can send a strong message to the world that laws against blasphemy do not reflect Irish values," said Charles Flanagan, Ireland's justice minister, prior to the vote.
Following exit polls, O'Gorman said, "Now, states like Pakistan can no longer justify their own severe anti-blasphemy laws by pointing to Ireland's Constitution."
After Ireland's repeal, 68 countries still maintain blasphemy laws. While in some nations those laws are functionally obsolete, others still enforce them, even extending death penalties to blasphemy charges.
"Blasphemy laws are a way for governments to deny their citizens—and particularly those of minority religions—the basic human rights of freedom of religion or belief and freedom of expression," said Tenzin Dorjee, chair of the United States Commission on International Religious Freedom (USCIRF). "These are very dangerous laws and we hope that Ireland and other countries will eliminate them entirely."
Countries with state religions like Iran and Pakistan have the harshest blasphemy penalty—death. But Sudan can sentence blasphemers to corporal punishment, and Russian and Kazakhstan laws warrant a punishment of "compulsory or correctional labor."
In Pakistan, considered one of the harshest places for those accused of blasphemy, Christian mother of five Asia Bibi is threatened with execution if found guilty of 2010 accusations that she insulted Muhammad. A ruling was set for earlier this month, but security concerns and reviews of the country's blasphemy laws have prolonged the high-profile case.
Even if Bibi is found innocent, her life will be in danger as radical Islamists have threatened to kill her, along with Pakistani Supreme Court justices, if she is not convicted.
"She cannot be released openly," Sheheryar Gill, senior litigation counsel with the American Center for Law and Justice, told the Baptist Press. "If she is, there's no doubt, no question about it, that her life will be in jeopardy. They feel proud of killing somebody like this."
According to Open Doors USA, "at least 150 Christians, 564 Muslims, 459 Ahmadis and 21 Hindus have been jailed under blasphemy charges" since 1986, when a clause punishing blasphemy of Muhammad was added to Pakistan's criminal code.
Indonesia, too, drew attention to its blasphemy laws last year when the country's most powerful Christian politician, Basuki Purnama (widely known as Ahok), the former governor of capital city Jakarta, was convicted of blasphemy and sentenced to two years in prison.
Christians in the archipelago still have raw feelings about that and other episodes of what they view as injustice and persecution in the 90-percent Muslim country. But they're not the only ones; members of the Indonesian Ahmadiyah religious community, whose July petition to overturn the state's blasphemy code was dismissed (marking the third failure to repeal the law in less than eight years), are also vulnerable to discrimination for their teachings that deviate from orthodox Islam.
The World Watch List, which reports on the most dangerous places to be a Christian in the world, this year ranked Indonesia 38 on its list. Pakistan was ranked 5, and other countries with the most severe blasphemy laws like Iran, Yemen, Somalia, and Egypt, rank 10, 9, 3, and 17, respectively.
And, lest one think blasphemy cases are reserved exclusively for more theocratic provinces like Iran and Saudi Arabia, a case in Spain is still unfolding after a Spanish actor and activist, Willy Toledo, offended Christians via crude comments on Facebook. His insults about God and the Virgin Mary from July 2017 turned into a court case filed by the Spanish Association of Christian Lawyers.
Spain's penal code provides monetary penalties for those convicted of offending people by "publicly disparaging their dogmas, beliefs, rites or ceremonies."
This sort of vague wording is common across blasphemy laws, about a quarter of which are found in Middle East and North African countries, a quarter in the Asia-Pacific region, more than 20 percent in Europe, 15.5 percent in Sub-Saharan Africa, and 11.2 percent in the Americas, according to detailed 2017 USCIRF report.
Cloudy as most of the laws are—only one-third identify intent as en element of the crime—the potential consequences are steep. "The most common punishment among blasphemy laws is imprisonment, with 86 percent of all states imposing a prison penalty (and a few laws imposing lashings, forced labor, and the death penalty)," stated the report authors.
Back in Ireland, few will miss the national blasphemy law. Only a small number of Irish voters wanted to hang onto the clause, and though the policy found itself woven into the 1937 constitution, it had never been used to prosecute anyone.