No Refuge: Persecuted Christians Entering US Dwindle to Record Low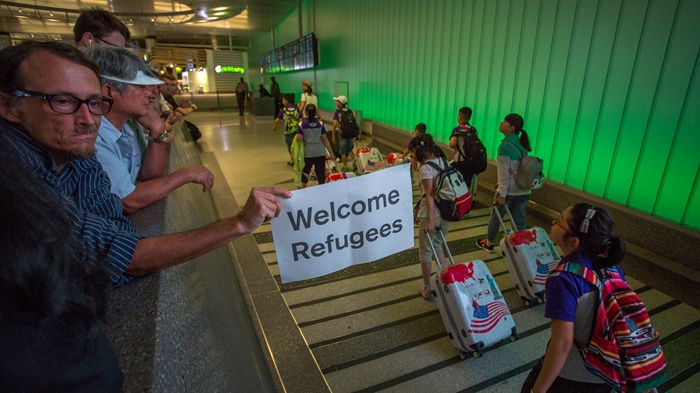 Image: David McNew / Getty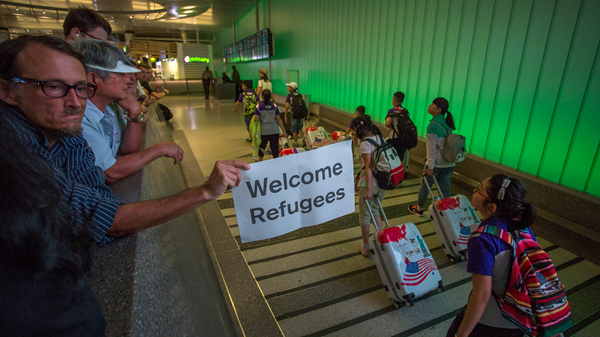 No Refuge: Persecuted Christians Entering US Dwindle to Record ...
Refugee resettlement hit a record low over the past year, with the United States taking in fewer than half the amount permitted under a reduced refugee ceiling of 45,000.
While the number of displaced people and persecuted Christians continues to rise around the globe, US refugee figures have plunged under the Trump administration.
The 2018 totals—just 22,491 refugees in the fiscal year ending September 30—indicate a disturbing trend for advocates, following recent news that the govement plans to further restrict the resettlement cap by a third, to 30,000 next year.
Though most of the refugees welcomed over the past year are Christians, the overall drop means far fewer believers are finding refuge in the US than in prior years. In the 2018 fiscal year, 15,748 Christian refugees entered the country, a 36.4 percent decline from the previous year and a 55 percent decline from fiscal year 2016.
The reductions are even more dramatic among Christian refugees escaping persecution for their faith. Only 1,215 Christians were resettled from the 11 countries cited by Open Doors USA as the worst for Christians, down nearly 75 percent from the previous year.
Just 20 believers from Syria, 23 from Iran, and 26 from Iraq were give refuge in the United States in the past year, a huge drop from historic levels despite ongoing risk and conflict in these areas. Many who were told they would be resettled are now stranded in third countries, disallowed from continuing to the US, but unable to return to their homelands for fear of persecution.
"It's simple math that, with far fewer slots for refugees overall, Christians—who over the past decade have accounted for the plurality of all refugees admitted to the US—would be kept out along with those of other faiths," said Matthew Soerens, US director of church mobilization for World Relief.
The past year was both the worst on record for persecuted Christian refugees and for refugees overall.
Soerens, who provided analysis on resettlement breakdowns drawing from State Department data, says the situation is even worse for other persecuted minorities. Muslim refugees have been kept out of the United States at a much higher rate. Fewer than 3,500 Muslims found refuge in the US in the past year, down 85 percent from 2017 and more than 90 percent from the year before.
"While refugees of nearly every religious group are impacted by the overall decline in refugee admissions, it certainly seems that Muslims have been particularly singled out," said Soerens. "That suggests a governmental disfavor toward a particular religion that is inconsistent with our constitutional principles of religious freedom."
Jewish, Yazidi, and refugees of other minority faiths have also been almost entirely shut out, said Soerens.
Overall, asylum-seekers from the Middle East have been largely abandoned. During the past 12 months, just 249 people (total, of all religions) from the Middle East made it to the US as refugees. During the same period last year, 64 times as many refugees came from that region—16,144 in all—and in 2016, more than a 100 times as many—26,325.
The past year was both the worst on record for persecuted Christian refugees and for refugees overall.
For the first year in recent memory, Canada resettled more refugees than the United States, despite having roughly one-ninth of the population.
Surveys this year from the Pew Research Center have found as few as a quarter of white evangelicals believe the US is responsible for accepting refugees, compared to 43 percent of white mainline Protestants, 50 percent of Catholics, and 63 percent of black Protestants (most of whom identify as evangelical).
But vocal evangelical advocates continue to defend refugee admittance and have questioned how the current policy's direction fits with broader efforts to promote religious freedom.
"This decision contradicts the administration's declared commitment to helping persecuted Christians and religious minorities in dangerous and oppressive countries," said World Relief president Scott Arbeiter. "Evangelicals should be concerned by this assault against our call to support 'the least of these.'"
Politicians like Vice President Mike Pence and the US ambassador-at-large for international religious freedom Sam Brownback have touted an agenda supportive of persecuted minorities abroad. President Trump insisted he would help persecuted Christians in particular, especially from areas of conflict like Syria, where a brutal war has waged for much of the last seven years.
Yet refugee policy has not reflected those priorities; only 70 Christians from places like Iran, Iraq, Lebanon, Palestine, Syria, Turkey, and Yemen were resettled in the US in the last fiscal year, compared to more than 3,000 Christians from the region who came in fiscal year 2017. (Some religious freedom advocates believe it is best to support refugees by keeping them close to their homelands.)
Jen Smyers, director of policy and advocacy for Church World Service, called the declining figures "shocking" and "appalling." "It certainly contradicts the administration's sentiments when it comes to religious minorities," she said.
She recounts the story of a refugee living in Columbus, Ohio, whose wife and child were supposed to be resettled in January 2017. Due to the resettlement spiral, however, he's still waiting for them. He has never met his son.
"This dismantling of refugee resettlement is really tearing to shreds what people of faith have spent decades building," Smyers said. "This is them tearing apart what it has taken churches decades to build."
"To say we're disappointed is an understatement," said Chris Palusky, president of Bethany Christian Services.
Caring for refugees is "a Matthew 25 issue," he says. "We believe that these refugees are 'the least of these,' so we're advocating for what we believe Christ would want us to do."
Politicians on both sides of the political aisle have joined numerous evangelical leaders in speaking out against the sharp downturn in the country's resettlement program. Last week, in an editorial in USA Today, former Secretary of State Madeleine Albright and senator Bob Menendez called the new policy "repugnant" and spoke of the nation's strong bipartisan history of resettlement as "a point of pride, a reflection of our fundamental values, and a service to our strategic and humanitarian interests."
The policy shift continues to hurt advocacy and resettlement organizations, forcing layoffs and shutdowns across institutions. World Relief shuttered five offices and laid off 140 staff last year. Caritas, the Catholic relief agency, is joining the scores of resettlement groups closing offices because of a lack of incoming refugees.
Resettlement workers and other agency staff—case workers, legal aids, English teachers—are forced to find other jobs, so even if resettlement numbers rise again, the infrastructure will no longer be there to support it.
Smyers said Church World Service's numbers of incoming refugees are drastically down. All of the group's offices have seen staff layoffs and slashed programming.
At Bethany Christian Services, Palusky said international programs are actually on the rise, as are projects related to unaccompanied minors from Central and South America. But refugee programs are shrinking.
The organization anticipated hundreds of new refugees last year in states like Pennsylvania and Michigan but received substantially fewer.
Numerous agency leaders told CT they have more churches asking to help than there are new refugees. "We have to tell them, 'We don't have anyone for you to welcome,'" said Smyers.
Palusky also emphasized how communities suffer from slowing refugee entry since he sees their cultural and entrepreneurial contributions to American life. "We've seen the benefits of [resettlement] for families and for the community," he said. "When we push them away, it's not only a loss for them; it's a loss for us."
The refugee reduction has also raised legal concerns. While the 1980 Refugee Act gives the president power to determine the annual refugee ceiling, the administration is required to consult in-person with Congress before making its determination. Since the inauguration of the Trump administration, that hasn't happened.
"For the second year in a row, the administration has willfully ignored its statutory mandate to inform and consult with Congress," said Senate Judiciary chairman Chuck Grassley, "... despite significant bipartisan and bicameral outreach from Congress to the Departments of State, Homeland Security and Health and Human Services."
As the number of refugees entering the country continues its rapid decline, Soerens believes the US is further "forfeiting the moral credibility to diplomatically insist that our allies do more to resettle refugees" and is harming its long-term ability to integrate refugees in the future.
"I'm deeply troubled by the tens of thousands of persecuted brothers and sisters in Christ whom we would, in any other year, have expected to have been resettled to the US, but who did not arrive this year and, it seems, will not arrive next year either," said Soerens. "But I'm also concerned that this shift in US policy could have broader, longer-lasting effects."

10/02/2018