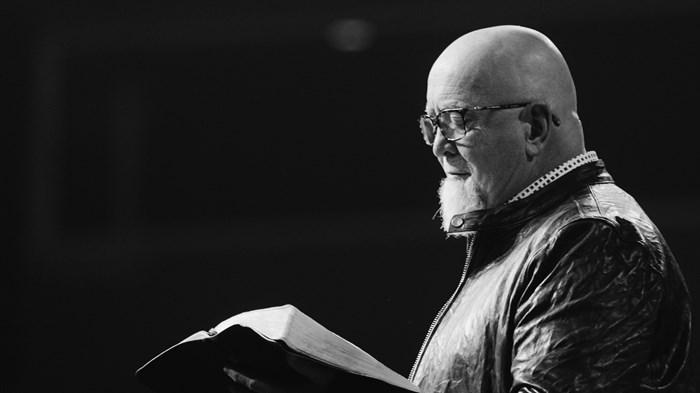 Image: Courtesy of Harvest Bible Chapel
Harvest Bible Chapel announced today that James MacDonald will step away from the multisite church he founded and pastored for over 30 years while the congregation undergoes a "peacemaking process" to improve its organizational structure and reconcile with concerned members both past and present.
In the wake of mounting criticism, MacDonald has taken an "indefinite sabbatical from all preaching and leadership" at the Chicago-area megachurch.
"I am grieved that people I love have been hurt by me in ways they felt they could not express to me directly and have not been able to resolve," he said in a statement sent to Harvest members. "I blame only myself for this and want to devote my entire energy to understanding and addressing these recurring patterns"
In recent years, MacDonald had seen the "hard times at Harvest"—the title of an investigation published about the church last month—as behind them.
He repeatedly said that past issues over leadership accountability, disgruntled former members and staff, and even his own temperament had improved over the years, and the church had repented of its mistakes dating back as far as 12 years ago.
The fact that the church was "happier and healthier," Harvest elders said, was part of why they opted to file a lawsuit against their critics in the fall, citing a desire to protect their congregation from further concerns raised by The Elephant's Debt, a critical blog run by two former members, and Julie Roys, who investigated the church for World magazine.
But the lawsuit and subsequent reporting brought more issues to the forefront and rallied Harvest critics, who raised allegations of financial and organizational mismanagement. After the church dropped its legal fight last week, Roys called on him to "confess, repent, and resign."
"We have tried a variety of different strategies to address external criticism over the past several years," according to an update from church elders released today. "It has become apparent that these efforts have failed to fully identify and address our personal failures, sins, and errors in leadership, thus perpetuating the criticism."
Harvest said it plans to partner with a pair of reconciliation ministries to review church processes in hopes of resolving any outstanding "organizational, financial, management, or leadership" issues.
Additionally, the church will be "reaching out to individuals who have left our fellowship or have complaints against us, listening carefully to their insights and correction, and asking God to make needed changes in our leadership."
MacDonald's role at Harvest had been shifting already. At the start of 2019, the elders wrote that his "primary focus has transitioned from building our ministries to securing a healthy succession that sets all our ministries up to flourish in the next generation."
He had recently announced that his long-running radio broadcast Walk in the Word would be moving digital-only.
Harvest is one of the biggest churches in Illinois, with about 13,000 attendees across seven locations. Founded in 1988, the church began affiliating with the Southern Baptist Convention in 2015. Harvest elders reported that even in the wake of the lawsuit fallout, December 2018 marked the highest levels of giving in the church's history.
MacDonald, author of several books including Vertical Church and the Bible study Act Like Men, was a former member of President Trump's evangelical advisory board, but left following Trump's controversial comments about women. He also previously served on advisory boards for The Gospel Coalition and Mark Driscoll's Mars Hill Church.
Last month, he withdrew the Southern Baptist Convention's 2019 Pastor's Conference as well as any other forthcoming speaking engagements. Though he will no longer be involved in the Chicago-area Harvest Bible Chapel while on sabbatical, he mentioned possibly preaching at Harvest Naples in Florida. His statement to the church reads:
For a long time I have felt unequal to all but the preaching task at Harvest. I have battled cycles of injustice, hurt, anger, and fear which have wounded others without cause.

I have carried great shame about this pattern in certain relationships that can only be called sin. I am grieved that people I love have been hurt by me in ways they felt they could not express to me directly and have not been able to resolve. I blame only myself for this and want to devote my entire energy to understanding and addressing these recurring patterns.

I have long known and taught it is not about the messenger, it is about the message and I am grateful for a time of extended sabbatical, during which Harvest will be in capable hands. I may continue preaching at the Naples Campus through some of the winter season and have postponed all writing and leadership to begin in earnest now. I will continue this focus as long as it takes and participate wholeheartedly as requested in the process shared above.

Please pray that this welcomed time of sabbatical rest will lead to needed changes in me and a fresh opportunity to reconcile with others in God's time.

Christ is all He promised to be and more … "He makes me lie down in green pastures. He leads me by still waters. He restores my soul" (Psalm 23:2-3). Please pray for me and Kathy as we step away from the work, so God can do all He wants to do in the worker."