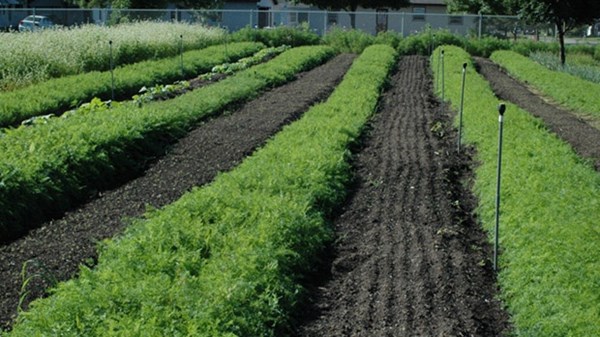 Tilling among the Tulips: Christians Sow Hope at a West Michigan Farm
Eighth Day Farm's founders believe local food will restore the land and bless its inhabitants.
8.14.12
Tulip season has just ended in Holland, Michigan. I drive slowly through the suburbs and into the city center, marveling at the flower's ubiquity, a festive frame to a poster-perfect community in West Michigan. I understand now why so many tourists make the same drive each spring for "Tulip Time" and other cultural events. The city of 40,000 between Chicago and Detroit looks like a happy city. In fact, a 2009 Gallup poll rated Holland the second happiest city in the nation.
But that was three years ago. Today, three farmers working in the middle of an empty parking lot in the Holland suburbs set me straight. An empty mall horseshoes around them as they shovel compost into wheelbarrows. An acre and a half of asphalt had recently been removed, now replaced by fresh topsoil.
Though I had heard about the farmers' project before driving to Holland, I'm still taken aback. I arrive full of questions. Why grow a garden in the happy city of tulips? And why here in a parking lot? Why work so hard to cultivate a paradox? The men, who are part of an enterprise called Eighth Day Farm, answer my questions while they work.
"In this town, everything looks really pretty on the outside, with all the tulips," says Josh Hauch, a 30-ish man in a blue plaid shirt tells me as he gestures to some vague location beyond the mall. "But there are a lot of issues of poverty and need right in our neighborhood. People don't have jobs. They want to work but there is no work."
The hollow storefronts confirm his words. Unemployment and economic need are good enough reasons to start a public garden/farm, which bring locally grown, inexpensive vegetables to those with falling incomes. In 2010, already 38 percent of Americans were growing some of their own food, a number that's much higher today. The new passion for gardening is evident in rural, urban and even suburban areas, as community and church groups reclaim vacant lots, create shared community gardens, grow containers full of produce on rooftops, bringing food out of former wastelands and into "food deserts," where fresh produce can be hard to find. But Holland, Michigan, is not New York City. It's solidly within the country's breadbasket. Acknowledging this, Eighth Day Farm—whose mission statement is "joining the restoration of land for food and the flourishing of Holland's residents"—calls itself a "quasi-urban farm."
Even here, Hauch tells me, "People don't know where their food comes from. Kids in my daughter's class think watermelons grow on trees. And even though there are farms on the outside of the city, some in the city don't have access to good food. There are food deserts even here."
The 10 Christian families who lead Eighth Day Farm are addressing these needs. Begun in 2010 by Jeff Roessing originally as a for-profit CSA (Community Supported Agriculture), the farm recently became its own nonprofit organization, is in the process of obtaining 501c3 status, making it tax exempt. The families sell their produce at farmer's markets, which are well attended by people of all incomes and social status, and boxes of fresh produce are delivered weekly to 50 subscribing households. But this is only part of the harvest. Throughout the process, they offer free classes on gardening as a community outreach, inviting neighbors and church groups to join together in a common pursuit.
But even this doesn't quite explain the absurdity of a plot in the center of an asphalt no-man's land, a place built to assure that nothing grows and nothing—vehicles or people—stays for long.
Hauch and Roessing, the masterminds behind the parking lot farm, walk me around the complex and explain. The owner of the lot was planning a revitalization project for the area. Green-oriented, he wanted to blend green spaces with businesses and residential areas. In addition to new housing, there will be a pasture for lamas and sheep alongside the 1.5-acre garden. "Mike [the business owner] contacted us and asked if we wanted to be part of this project," Josh recalls. "Initially they were going to put us on the tree line on the edge of the parking lot at first, but then he changed his mind and moved us to the center."
What better way to display the deeper calling of Eighth Day Farm, which is, finally, about restoration? "The whole Bible is about restoration and redemption: restoration of the land, of the earth, restoration of community, restoration of health," says Hauch. "We see God's redemption and restoration of his people throughout the Old and New Testament."
But the theological underpinnings of Eighth Day Farm do not compete with its market savvy. "A garden is not only a good thing to do, it's also good for business," says Hauch. The vegetables will be sold right on site. "Between the residents of the new condominiums and those shopping at the mall, we expect to be able to sell everything we grow," says Roessing, who notes that business owners at the mall next door are equally excited about " 'the farm' being here."
The group originally thought they should all leave their city and suburban neighborhoods to move out to the country, but they realized they could farm nearby and even within their own neighborhoods.
As we converse, we're standing next to a dozen boxes of less-than-prime produce donated by local grocers—lettuce, strawberries, oranges, mushrooms—all items that will feed the compost pile instead of a landfill. Yet another image of redemption, I note.
In the next four hours, as I alternate between shoveling compost and talking with Roessing and intern Gary Benson, I hear more of their intent and their hopes. Josh, a communications major, "got tired of sitting behind a computer doing digital media." Farming feels real to him, like a better way to connect with people. "The biggest draws for me to do this is how Jesus lived. He was with people all the time. The lives Jesus changed were mostly in casual conversation, not in church. So we have to position ourselves to be with people."
Hauch has found that farming and gardening bring together groups who otherwise wouldn't interact—at least not on equal terms.
"It doesn't matter where people come from. People who can't speak English, wealthy people all come together to plant the garden. Farming and gardening creates an even deeper connection than people eating together. It's beautiful thing to see."
In discussing our mutual admiration for Wendell Berry, Jeff and I both confess to disappointment that Berry is not more openly theological. As we talk, Jeff towers over me, his lean frame in working jeans, a ripped flannel shirt that's seen some accidental bleach. A husband and father of two with a third child on the way, Jeff is sacrificing much to spend his working hours digging dirt and planting seeds. He's rooted in the value of this endeavor, yet farming and the new agrarianism present some concerns, too.
"Tim Keller says something like, 'You are lost, even in your goodness.' When I talk to Christian farmers in the green movement, it's really encouraging that we're all trying to live out our faith in a real way, but as the pendulum swings, I'm seeing more silence on the theology part of it. Yeah, we're restoring the land, but our hope is not in farming. I don't want to lose sight of the fact that God is going to make all things new. In all of this work, people are vitally important, and Christ has to be central."
When the day ends, I park my shovel and wheelbarrow by the compost pile and climb into my rented car next to it. If I'm able to come again, I hope I come when people of all kinds are happily gathered to harvest and purchase food grown out of asphalt, food that brings restoration, body and soul.
Leslie Leyland Fields, a regular contributor to Christianity Today magazine, has taught creative nonfiction in Seattle Pacific University's Master of Fine Arts Program, and she'll be returning to Covenant College this fall as writer-in-residence. Her memoir is titled Surviving the Island of Grace: Life on the Wild Edge of America.
MORE FROM CHRISTIANITY TODAY