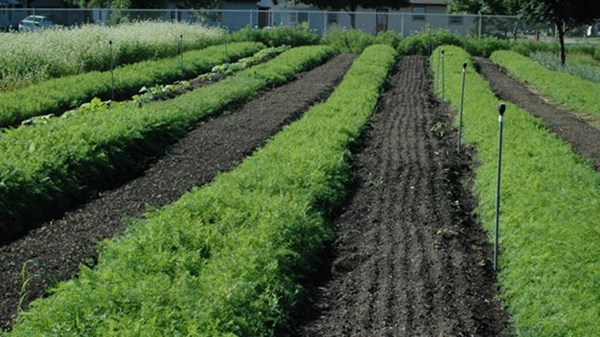 Tilling among the Tulips: Christians Sow Hope at a West Michigan Farm
Eighth Day Farm's founders believe local food will restore the land and bless its inhabitants.
8.14.12
Tulip season has just ended in Holland, Michigan. I drive slowly through the suburbs and into the city center, marveling at the flower's ubiquity, a festive frame to a poster-perfect community in West Michigan. I understand now why so many tourists make the same drive each spring for "Tulip Time" and other cultural events. The city of 40,000 between Chicago and Detroit looks like a happy city. In fact, a 2009 Gallup poll rated Holland the second happiest city in the nation.
But that was three years ago. Today, three farmers working in the middle of an empty parking lot in the Holland suburbs set me straight. An empty mall horseshoes around them as they shovel compost into wheelbarrows. An acre and a half of asphalt had recently been removed, now replaced by fresh topsoil.
Though I had heard about the farmers' project before driving to Holland, I'm still taken aback. I arrive full of questions. Why grow a garden in the happy city of tulips? And why here in a parking lot? Why work so hard to cultivate a paradox? The men, who are part of an enterprise called Eighth Day Farm, answer my questions while they work.
"In this town, everything looks really pretty on the outside, with all the tulips," says Josh Hauch, a 30-ish man in a blue plaid shirt tells me as he gestures to some vague location beyond the mall. "But there are a lot of issues of poverty and need right in our neighborhood. People don't have jobs. They want to work but there is no work."
The hollow storefronts confirm his words. Unemployment and economic need are good enough reasons to start a public garden/farm, which bring locally grown, inexpensive vegetables to those with falling incomes. In 2010, already 38 percent of Americans were growing some of their own food, a number that's much higher today. The new passion for gardening is evident in rural, urban and even suburban areas, as community and church groups reclaim vacant lots, create shared community gardens, grow containers full of produce on rooftops, bringing food out of former wastelands and into "food deserts," where fresh produce can be hard to find. But Holland, Michigan, is not New York City. It's solidly within the country's breadbasket. Acknowledging this, Eighth Day Farm—whose mission statement is "joining the restoration of land for food and the flourishing of Holland's residents"—calls itself a "quasi-urban farm."
MORE FROM CHRISTIANITY TODAY