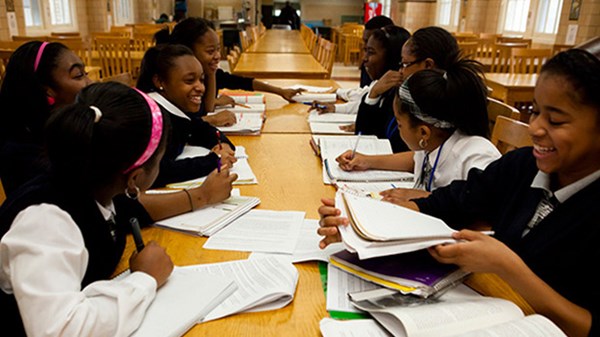 A Detroit School Where Jesus Is Head of the Class
Ernestine Sanders and Clark Durant attribute their school's success to its Christ-centered focus.
3.6.13
When Adam Maida, the former Archbishop of Detroit, spoke in 1990 to the Detroit Economic Club, he had no idea that he would spawn an entire school system in a city where today only 30 percent of children graduate from high school. In his talk, Maida referenced the Book of Revelation and the gospel call "to make all things new." Clark Durant, then a lawyer, read the talk—and then heard the divine call to create Cornerstone Schools. "I was beginning to see the power of the person of Jesus to change people and [institutions]," says Durant, a 2012 candidate for the U.S. Senate.
In a city with heated debates about education, Cornerstone decidedly does not call itself a charter school or a private school. Rather, its leaders—chairman Durant and president Ernestine Sanders—simply call it a school whose culture is centered on the person of Jesus. Since 1991, Cornerstone has grown from 165 to 1,500 children—90 percent of whom go onto college or the military—and has earned attention from CNN to George W. Bush to several accrediting bodies.
Dwight Gibson, a Detroit native and friend of the City project, naturally wanted to understand the success behind Cornerstone. Gibson, the Chief Explorer for The Exploration Group, recently met with Durant and Sanders at Cornerstone's central building to find out.
Why were Cornerstone Schools started?
Clark: I worked in the Detroit News offices because I was running for Supreme Court in Michigan at the time. The editor, Tom Brey, mentioned to me a talk that the new Catholic archbishop had given to the Detroit Economic Club. The cardinal's talk was [about] making all things new, drawing from the Book of Revelation. He presented the idea of creating a new kind of school.
"Making all things new": How does this happen at Cornerstone Schools among students?
Ernestine: When you look at all the things Jesus talks about, it's always the opposite of what you think he would do. So for Cornerstone to say that we're going to bring young people into the community and not be daunted by what they can and can't pay—that's the opposite of what everyone else would say. We want to transform lives for good and create a new city for all.
MORE FROM CHRISTIANITY TODAY