Sally Morgenthaler
Get to know Sally Morgenthaler, one of our Gifted for Leadership editorial advisors and regular contributors.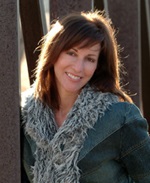 Sally Morgenthaler is recognized as an innovator in Christian practices worldwide. Since 1992, she has been pioneering new worship forms characterized by both cultural relevance and worship faithfulness. Her prophetic role among church leaders and local congregations continues to increase in denominational scope and impact, as her work now broadens into new forms of leadership and the untapped potential of women.
Known best for her book Worship Evangelism (Zondervan, 1998), Morgenthaler became a trusted interpreter of postmodern culture and a guide to the crucial shifts the North American church must make if it's to have a transforming presence within pre-Christian communities. She also has been a contributing author in eight books. Her latest collaborative effort is An Emergent Manifesto of Hope, released in April 2007 by Baker Books. Morgenthaler's chapter, "Leadership in a Flattened World: Grassroots Culture and the Demise of the CEO Model," has been hailed as a prophetic work - a clear alternative to the ego-driven ministry leadership paradigms of the 1980s and 1990s.
For the past 12 years, Morgenthaler has taught both graduate and undergraduate courses. Academic venues include Yale University, Asbury Seminary, Bethany Seminary, Claremont Institute for Continuing Ministry Studies, Denver Seminary, Fuller Theological Seminary, George Fox University, Gordon Conwell Seminary, Mars Hill Graduate School, Baylor University, Oral Roberts University, Regent University, Texas Christian University, The Conservatory for Praise and Worship, Hesston College, Malone College, and Covenant Bible College.
Morgenthaler has been a featured speaker at numerous worship conferences, including Injoy's Catalyst, The American Society for Church Growth, The Beeson Institute, The Emergent National Conference, Net Results, Integrity Hosanna's Seminars4Worship, and The National Pastors Convention.
Morgenthaler lives in her native state of Colorado, where she runs SoulPix, a card company featuring her intimate photography of the Rocky Mountains.
Read Sally's Gifted for Leadership articles:
– "RetroWomen: The Rise of Gender Fundamentalism" (January 4, 2008)
– "A More Soulful Religion" (December 7, 2007)
– "Questions about Sex, Difference, and Leadership" (November 16, 2007)
– "A New Conversation about Gender" (November 2, 2007)
– "The Rise of the Postmodern Feminine: Part II" (October 19, 2007)
– "The Rise of the Postmodern Feminine: Part I" (October 5, 2007)
– "Becoming Enough" (September 22, 2007)