Church Leader: Unplugged
Just put down your phone and walk away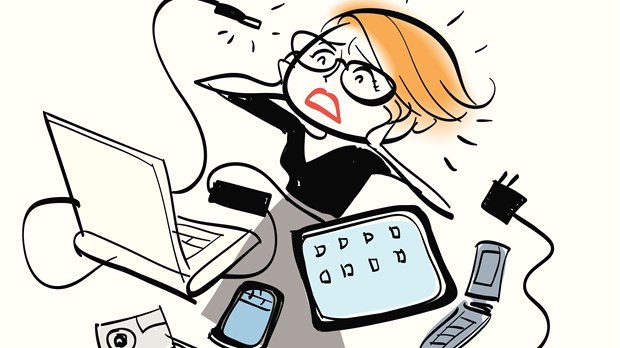 Shunda shares the pastorate of a mid-size church in upstate New York. Her responsibilities span preaching, the youth group, evangelism, and community activism. A multi-talented single woman (she sings, plays guitar, writes, and even paints from time to time), Shunda works unending hours.
Maybe it's because she loves her sheep. Maybe it's because people contact her, rather than her married colleague, during "off peak" hours. Maybe it's because she's a night owl. Maybe it's a combination.
Like many church leaders, Shunda "sabbaths" on a weekday. She and I chatted online one afternoon on her sabbath day. At one point her response rate went from immediate to delayed.
"Sorry," she typed after about 10 or so minutes passed. (This is an eternity on instant messaging.) "My social media is blowing up. A couple of peeps are poking me on Facebook, and another person is texting me—all about church stuff. Don't they know it's my day off?"
"Perhaps you might consider silencing or turning off your phone? Ignoring Facebook messages?" I returned.
"Hmm..." was her vague, and likely snarky, reply.
Filmmaker Alex Moore of the Official Saturday Night Live YouTube Channel fame recently released a documentary on how social media has changed the world. Scott Ross, one of the interviewees, described social media as a "machine that just sits there."
"People have a habit, I think nowadays, of talking through these machines almost 24 hours a day," Ross says. "They've got mobile phones switched on all of the time, talking to friends. And I think in a way that is difficult because it means they can't ever get away from people" (emphasis added).
Constant chatter, information, updates, pop-ups, and notification dings demand our attention. (Squirrel!) Ubiquitous Wi-Fi and hotspots ensure connection to anyone, anywhere, even when we're (supposed to be) on vacation. Smartphones, laptop computers, and tablets keep us in the know when we're on the go. We're always a mere click or send-button away from touching people and being touched by them. The hamster wheel never stops spinning.
Hyper-connection is a recipe for burnout, at best.
Everybody needs a break from people and the "machine," church leaders included. Jesus himself withdrew at times. Lest we not forget, it "was his custom," as Scripture relates, for him to remove himself to pray: in a solitary place (Mark 1:35), in the wilderness (Luke 5:16), on the Mount of Olives (Luke 22:39), on a mountain (Matthew 14:23), and of course, in the garden of Gethsemane (Matthew 26:36).