God Is on Facebook
Experience has assured me that he uses social media—and we can do ministry there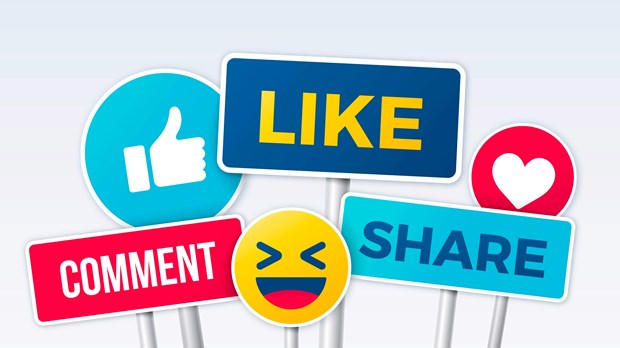 The first day of the conference, I checked in on Facebook: "@Synergy Women's Network Conference, Orlando! Keynote: Sheryl WuDunn of Half The Sky! Yah!" It's what we leader-types do to get the word out for the organizations we support. (And in my case, a ton of obnoxious exclamation marks are needed.)
After I pressed "post," I got the hoped-for 23 "likes," the 6 or so coveted "So jealous," and even a few "I'm here too, let's connect!"
Then I received an unexpected Facebook message from Kathy. She said she lived about two hours away and would love to drive in to have dinner. I hadn't seen Kathy in more than 30 years.
At the time of the conference, I was in a rough place spiritually—feeling like God was displeased with Leader-Type Lesa and so he had decided to be silent.
I was seeing a spiritual director who was exploring whether my view of God had gotten skewed back in my childhood. In our discussions, I shared how I was sure that my rebellious youth had caused my dad to step down as an elder in our church. The scene was cemented in my brain. I had shamed my family, and Kathy, a fellow pothead, was a part of that bad memory.
Reluctantly I said yes to Kathy's offer. "For heaven's sake," I thought, "I'm a workshop speaker at a Christian conference and I'm about to reminisce about sneaking out and getting high!"
And yet, my spiritual director advised, "Look for God in everything." So I had become open to the bizarre ways God might choose to reveal himself. Sitting across the table at Buca Di Beppo restaurant, Kathy and I began talking about the good old days. It was not at all what I had described to my spiritual director.
When I told Kathy that I was a preacher's wife, she smiled and said she thought I would do something like that because my family had been so involved in church. Kathy was an elementary school art teacher; it was the perfect fit for her—I remember drawing together all the time. Kathy also reminded me that my "sweet dad" had come to visit her family when her father had passed away suddenly and how much that had meant to her even as a teenager.
Kathy and I talked and laughed for hours and yet the shaming drug days never came up. They didn't seem important.
After my unexpected encounter with Kathy, I started viewing my "e-relationships" differently. I began to look for where God might be working and determined to be more intentional, especially when someone reached out to me.