God Is on Facebook
Experience has assured me that he uses social media—and we can do ministry there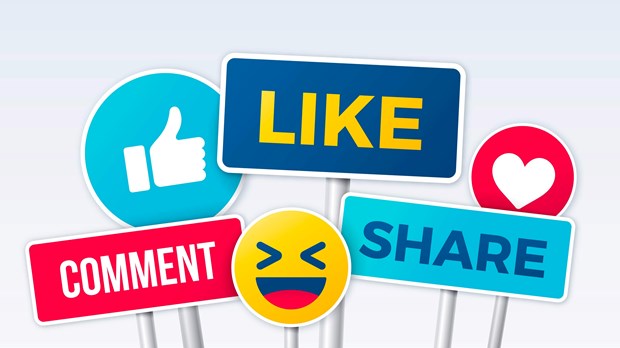 The first day of the conference, I checked in on Facebook: "@Synergy Women's Network Conference, Orlando! Keynote: Sheryl WuDunn of Half The Sky! Yah!" It's what we leader-types do to get the word out for the organizations we support. (And in my case, a ton of obnoxious exclamation marks are needed.)
After I pressed "post," I got the hoped-for 23 "likes," the 6 or so coveted "So jealous," and even a few "I'm here too, let's connect!"
Then I received an unexpected Facebook message from Kathy. She said she lived about two hours away and would love to drive in to have dinner. I hadn't seen Kathy in more than 30 years.
At the time of the conference, I was in a rough place spiritually—feeling like God was displeased with Leader-Type Lesa and so he had decided to be silent.
I was seeing a spiritual director who was exploring whether my view of God had gotten skewed back in my childhood. In our discussions, I shared how I was sure that my rebellious youth had caused my dad to step down as an elder in our church. The scene was cemented in my brain. I had shamed my family, and Kathy, a fellow pothead, was a part of that bad memory.
Reluctantly I said yes to Kathy's offer. "For heaven's sake," I thought, "I'm a workshop speaker at a Christian conference and I'm about to reminisce about sneaking out and getting high!"
And yet, my spiritual director advised, "Look for God in everything." So I had become open to the bizarre ways God might choose to reveal himself. Sitting across the table at Buca Di Beppo restaurant, Kathy and I began talking about the good old days. It was not at all what I had described to my spiritual director.
When I told Kathy that I was a preacher's wife, she smiled and said she thought I would do something like that because my family had been so involved in church. Kathy was an elementary school art teacher; it was the perfect fit for her—I remember drawing together all the time. Kathy also reminded me that my "sweet dad" had come to visit her family when her father had passed away suddenly and how much that had meant to her even as a teenager.
Kathy and I talked and laughed for hours and yet the shaming drug days never came up. They didn't seem important.
After my unexpected encounter with Kathy, I started viewing my "e-relationships" differently. I began to look for where God might be working and determined to be more intentional, especially when someone reached out to me.
It has been a redemptive and lively adventure! For example, I met a rapper friend of my son and started following her on Twitter. She writes, among other rapper-ish-type subjects, about the struggle to be heard, stage fright, and being a woman. I began tweeting encouraging messages to her, and now we lob back and forth #womanpower tweets.
A seminary student in California googled the word "mentor" and found my name from the women's mentoring ministry I lead at my church. She sent me a message on Facebook but because we were not "friends," it went to the Other pile—you know the one with the creepy messages, "Your smile is so beautiful…" So I did not see it for quite some time—but as I said, I look for God in the unusual now. From the California coast to Texas, we have discussed our mutual passion to mentor women.
I now keep up with an uber-talented poet coed I met randomly in Nicaragua on a mission trip. As we chatted in the hot Nicaraguan sun, she was interested in learning more about prose and I wanted to get my dormant poetry juices flowing. We have had fun e-tutoring one another on writing.
The craziest e-ministry experience came from an article I wrote in which I referenced Thomas Merton. A Virginian rose gardener, who was a former priest and was actually mentored by Merton, e-mailed me to thank me for continuing Merton's legacy. I e-mailed back and asked how in the world he had found me. He said he has a Google Alert that tells him when something new pops up on Merton.
These natural connections over common interests feel like the kind of ministry God calls us to—and I wouldn't have had these encounters without social media.
Shortly after the Synergy conference, my friend Kathy was diagnosed with breast cancer. She messaged me to ask if I would pray for her and if I'd also ask my "sweet dad" to pray. The redemptive comedy of heaven: God is on Facebook.
Lesa Engelthaler is a senior associate for Victory Search Group, assisting nonprofit organizations to recruit executive leaders. She serves on the board of Synergy Women's Network. Friend her on Facebook: Lesa Shackelford Engelthaler or follow her on Twitter: @lengelthaler.