A Royal Response to Tragedy
The Boston Marathon bombing reminded me what it means to be a daughter of the King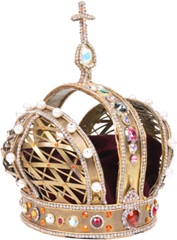 When I read the Bible, I often feel inspired to leap over the highest mountains. The story of David defeating Goliath, Moses parting the Red Sea, Jesus defying the tomb with the resurrection, fill my heart with courage to face any enemy head on.
But then I find myself shaken by news flashes of tragedy, as I did with the news of the Boston Marathon bombing. For a few seconds the scenes seem surreal, like something out of a make-believe movie. And then, like a ton of bricks, I was confronted with the daunting reality that tragedy can strike me, my children, my loved ones any day, any time, and destroy my world.
Years ago, I wanted to build my life on a foundation where I could never be shaken. I found a new identity in the title "daughter of the King" and settled in a secure place of belonging in God's family tree. But more than just a feel-good title, I longed to put teeth to the concept of being the King's daughter and respond to life accordingly. In every family, there is an expected code of behavior. And so it is with God's family. As his daughter, I am to learn the royal family's code of behavior. I do this by following Scripture that speaks directly to my situation or looking at Bible characters not just as characters, but as my faith siblings. I am to look for parallel situations they went through and learn from their right choices. Every time I respond to life according to Scripture or the right choices of my faith siblings, I assert my identity as the King's daughter in following the royal family's code of behavior.
With regard to the Boston bombing tragedy, what faith sibling in the Bible can I learn from to get through the wrong decisions others make that impact my life? My attention was drawn to my faith brother Moses.
Moses was in such a predicament when he set out to take the children of Israel out of Egypt, only to find the Egyptian army descending upon him. I wanted to learn from Moses' response to a decision Pharaoh made that was out of Moses' control. Moses could not control Pharaoh and keep him from changing his mind and coming after God's people.
Exodus 14:15-16 reads, "Then the LORD said to Moses, 'Why are you crying out to me? Tell the Israelites to move on. Raise your staff and stretch out your hand over the sea to divide the water so that the Israelites can go through the sea on dry ground'" (NIV).
What's interesting to me in these verses was how God showed Moses the solution was something Moses already possessed. God told him to stretch over the sea the staff that was in his hands. Common sense tells me there was nothing magical about stretching a staff over a sea. The power was not in the staff. The only reason the staff had power was because God gave it power.
Whatever God puts in our hands has the power to fulfill what God has called us to do. Our faith then comes in trusting what God has already given us. Our staff may be a talent or our energy or creativity. God has already given us the resourcefulness to solve the problem. So instead of being in a panic, we must stop and look at what's already in our personal inventory. If we are obeying God as Moses was, and we find ourselves in a crisis inflicted on us by decisions beyond our control, then we must simply ask ourselves, "What is the staff that is already in my hands?" We must begin building with our strengths and go from strength to strength.
As I was thinking about the bomb explosions in Boston, I was especially drawn to the losses of two brothers who were hurt in the bombing. This story touched me more than any other because I have two boys. What would I tell them if they had been the ones hurt in the marathon? My two sons are in their early twenties. They are 19 months apart. They are best friends journeying with each other past the many milestones of their lives. I rejoice to see them so involved with each other as brothers, confidantes, best friends.
My older son has said, "My brother has been there through all the firsts in my life." Each brother was there through the first time we transferred to a new school, through having a girlfriend, through that first breakup, through getting that first job, through setting up their own residence.
As a mother, when I watch them take off on their adventures, I pray that God will keep them safe. I cringe to think of getting a phone call informing me they've been hurt.
It was, therefore, with deep empathy that I read the story about a mother learning that her two sons were hurt in the bombing. The boys were close in age. They had gone to watch the marathon together and as a result of the bombing, both were in the hospital and both would lose their legs. Oh, that they could turn back the clock. Oh, that they would not have been there at the scene.
As a mother, I wrestled with what I would do or say to help my sons get through such a nightmare. And then this thought hit me: They carry their strength inside them. They have a history of journeying together and must use that as their greatest asset. They shared the best of times together and now they will carry each other through the worst of times. That is what I would say to my sons. They would curse, they would get angry, they would wrestle with dreams that must be altered under the circumstances. But they would emerge together. And this is what I pray for the two young men in Boston. That they will draw upon their staff, which is expressed through the strong relationship they have with each other.
As a daughter of the King, I will express the royal family code of behavior by following the right choices of my faith sibling. Moses used the staff that God had put in his hands. And so must I. My staff could be the connections God has already put in my life to find a new job. My staff could be the tenacity God has given me to recover every time I am knocked down. My staff could be a friend God wove into my life years ago but I need to have the boldness to call her up and ask for help. I must trust that if God allowed a situation, he has already prepared me for it.
Though I may still tremble, at least I have a plan for how to proceed as the King's daughter. My compass is in following the royal family's code of behavior. And in my choice to act as the King's daughter, I take back control of my life and fulfill my father's purpose on earth.
Anita Carman is the founder and President of Inspire Women, a ministry that reaches thousands of women every year through citywide conferences, leadership programs and mentorship focused on awakening God's purpose in their lives and helping them find their spark. She is also a popular speaker and author of multiple books, including Making Sense of Your Life and Transforming for a Purpose. Learn more at www.inspirewomen.org.