Embracing Gay People at Church
Sometimes Christians have trouble acting as we say we will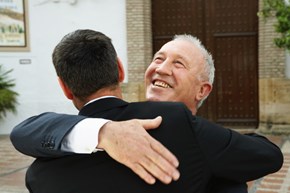 Norman approached my husband, Brad, who spoke at an interdenominational Good Friday service. Brad learned that Norman had been involved heavily in the gay lifestyle and was now suffering from AIDS. In further conversations, Brad found out that Norman's mother was a Christian and had been praying that he would come to Christ before he died. He did.
Never was a man more radically changed. From the outset, Norman told Brad that he didn't know if he could change his orientation, but he knew he could change his behavior. My husband said that was good enough for him. At that moment, Norman became a part of our family. He came to a Bible study in our home each week and sang worship songs with the vigor of a man who knew he would soon be meeting the one he sang about. He soaked in Scripture as if it were his last drink of water before entering a long desert journey. We visited him frequently in his ever-increasing hospital stays.
However, we were surprised to find that not everyone at church responded to Norman as enthusiastically as we did. Older men, particularly, kept their distance—although moms with young children were a close second. Through our experience with Norm, we learned some things that I would like to have put into a sermon for our church.
Affirm a person's choice to follow Christ, even if you don't understand that person.
The older men, it seemed, just didn't know what to do with Norman. He was different from the kind of man they were used to relating to. Granted, that may have been more because he taught theater than that he was gay, but it was clear they felt very awkward around him. Men who had always been particularly warm to newcomers kept their distance from Norm.
At the time, my husband and I didn't know what to do about that. If I could have pulled them aside to talk to them about this, I would have encouraged them to find a way to affirm Norman's radical, life-changing decision. They didn't have to be best friends with him, but they should reach out and let him know he is a welcome and valued member of our congregation. Also, they could consider going the extra mile and learning a little about theater and why he loved it. It may not be as easy as talking about sports, but it would show they care about his life and what made him tick.
Children learn love when they see us embrace those who are repentant.
Young moms in our church, however, seemed to be frightened that whatever Norm had was catching—and not just AIDS. They were completely unprepared to talk to their children about embracing a person whose lifestyle had been so radically different from what they approved. In their desire to protect their children, they made sure they and their kids kept their distance. They didn't want to take the chance that Norm might influence them to become gay and, worse, they feared he might be a pedophile.
But knowing Norm was a rich experience for our children. Because Norm had full-blown AIDS, he spent a lot of time in the hospital with secondary diseases. Our children had never been around anyone who was very ill. They learned compassion for one who was slowly, painfully letting go of this life and preparing for the next. It helped them evaluate what was important as they saw him gradually let go of all the trivial things in his life. Our kids also saw Norm's love for God's Word, his concern for other people, and his grace in the midst of suffering.
Our children were young at the time, so we didn't try to explain what it means to be gay. Instead, we talked about how to help him as he struggled with illness. But if they'd been older, we would have used this as a teachable moment to explain what it means when a person says they are gay, why we don't believe a person should engage in sex with a person of the same gender, and how to lovingly come alongside someone who is struggling in a new faith that often doesn't seem very welcoming.
No matter what a person has been through, we are commanded to love. That doesn't mean we excuse sinful behavior, but it does mean we listen, understand, and sacrifice our own comfort and preconceived ideas to represent Christ well. Through Norman and our relationship with him, I discovered the importance of listening before condemning and of offering the same grace that Christ shows me in spite of all my faults and foibles.
JoHannah Reardon has been involved in church leadership for more than 30 years. She blogs at johannahreardon.com and is the author of numerous novels and two devotional guides.