When Family Pressures Threaten Your Ministry
It took a crisis in our home to make me stop and wake me up to reality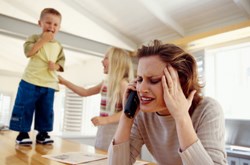 "Does your family demonstrate a spirit of peace?" I heard the preacher say. "No!" I yelled inside myself. Little did anyone know, our family was in a state of crisis. Our oldest son's behavior was getting worse every day; he was finally diagnosed with oppositional defiant disorder, ADHD, and depression; and our three-year-old was picking up on our older son's negative behavior and attitude. Having the diagnosis was a relief, but we still had no idea how to deal with our son's mental state and bring love and peace back to our home. Our marriage was suffering as a result of exhaustion in dealing with it all. To say our home was void of peace would be an understatement. It was in shambles.
All of this was happening while I would be traveling to speak at various conferences and events, writing articles, and producing shows in my city on social justice issues. Projects that usually would energize me were exhausting me of all I had, leaving me wanting to avoid family issues when at home.
There's a great ending to this story. Let me tell you how God is restoring peace back to our home. I wouldn't want to give the impression that we have it all together at present. We are still very much in this even as I write, but I have a whole new perspective and action plan that have put us on a path back to health.
Questioning Our Ministry Culture
Here's the problem: how do you know when you need to focus on your family's health? How do you balance ministry tasks with family? What are the signs you can respond to before it gets out of hand? In my situation, it was obvious we needed to regroup when our son's behavior started to spiral downward, but it's not always clear.
Upon discovering our son's mental issue, I started reading all I could about it. Through my readings, I discovered an interesting thread running through them: our children's need for connection and the disconnect we create through busy lives. I could relate instantly with this.
Now if you ask me if I make time for my kids on a regular basis, I would say, "Yes, of course!" I'm a "doer," so connecting with my kids usually includes "doing" something: an activity I have chosen like visiting the homeless, going to a play place so they can burn off energy, or going on some outing. I realized the connection time was rarely led by them. In the book The Connected Child, Karyn B. Purvis mentions children's need for us to enter their world for child-led play. Time taken each day to sit down and interact with the child in their world is important for them to feel connected.