3 Temptations of Leadership: Pride
Watch out for the many faces of this destructive sin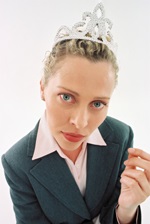 In an op-ed column in the New York Times, Frank Bruni had these admiring words to say about Pope Francis on the heels of the pontiff's interview with Fr. Anthony Spadaro, S.J.: "It was the sweetness in his timbre, the meekness of his posture. It was the revelation that a man can wear the loftiest of miters without having his head swell to fit it, and can hold an office to which the term "infallible" is often attached without forgetting his failings…Instead of commanding people to follow him, he invited them to join him. And did so gently, in what felt like a whisper. What a surprising portrait of modesty in a church that had lost touch with it. And what a refreshing example of humility in a world with too little of it."
Bruni speaks well of Pope Francis even though he opposes the Holy Father and Roman Catholic Church on several key issues. It's the pope's kindness and humility that have drawn Bruni, and so many others, to him. Those who were previously unwilling to listen to what the Roman Catholic Church had to say find themselves waiting in anticipation for whatever proceeds out of Pope Francis's mouth. It would behoove more protestant leaders to take the pope's humble posture instead of vainglorious and prideful ones.
"Vainglory" is an old word, old-fashioned—seldom used these days. Rebecca Konyndyk DeYoung notes that vainglory is "the excessive and disordered desire of recognition and approval from others." According to Father Luke Dysinger, the sins of vainglory and pride tend to overlap.
The Holman Bible Dictionary provides these synonyms for pride: "arrogance, presumption, conceit, self-satisfaction, boasting, and high-mindedness." Pride eschews humility. It's the opposite of humility.
How do these sins manifest themselves within Christian leaders? Here are a few ways:
We think there are very few people around us who can teach us anything new. Oh of course, we'd never dream of saying that. We wouldn't say, "Who are you, to teach me about the ways of God and of the church?" We wouldn't say, "Who are you to teach me about politics?" But we can often find these sentiments dwelling within us.
Perhaps we assume that because we have more theological education than most, or are more experienced than most, that we are indeed wiser. If we are honest with ourselves, we might discover that within us lies an air of superiority.
On the flip side there's a different kind of pride.
We're glad that we haven't been corrupted by a "cemetery" education. I mean, a seminary education. We presume that seminary educated leaders, or those leaders who are better educated than we are, are book smart but not street smart. We presume that we are full of the Spirit and that they are not. After all, they're the frozen chosen.