Top 10 in 2013
A list of our most popular reads last year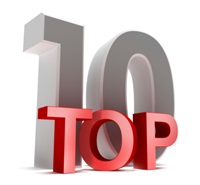 Happy New Year!
Let me be among the first to welcome you to 2014. This year, God has plans and purposes for you, works he has long planned for you to do (Ephesians 2:10). I trust you will dedicate this new year to God and resolve to do life and ministry in his name, through the expected and the unexpected.
As I look ahead to a fresh year, I pause as usual to tell you which of our blog posts and downloads were most popular in 2013. If it's been a while since you read these resources, or if you haven't seen them yet, follow the links to check them out. These are the ones this community of women read and downloaded most frequently during the last year¬—so they must be worth a look, right?
Top 10 Blog Posts
By Amy Simpson
2. When Clergy Fashion Goes Wrong
By Margot Starbuck
3. Does the Bible Really Say I Can't Teach Men?
By Jill Briscoe
4. Women Leaders Are Tempted by Adultery
By Connie Jakab
5. How Should the Church Handle Adultery?
By Domeniek L. Harris
6. Are You Wearing the Wrong Clothes?
By Natasha Sistrunk Robinson
By Angie Mabry-Nauta
8. The Ministry of Passion in Marriage
By Saleama A. Ruvalcaba
9. Who's Holding up Your Arms?
By Halee Gray Scott
10. Banishing Spiritual Loneliness
By Keri Wyatt Kent
Top 10 Downloads
1. Fresh Ideas for Women's Ministry
2. The Theology of Women in Leadership
5. Staying in Community When You Are an Introvert
6. Are You Living Your Calling?
7. Using Social Media in Women's Ministry
8. Loneliness in Women Leaders
9. How to Help a Family in Grief
10. How to Help Those with Addictions
As we're making plans for 2014, we'd love to hear from you. If you have ideas for how we can serve you better, please drop us a line by email.