Support for Women Church Planters
How the Exponential Conference made me feel part of a tribe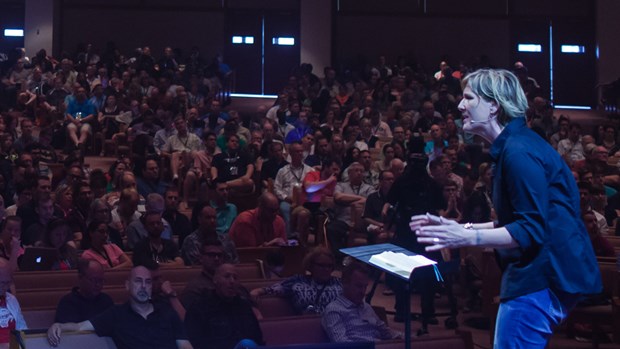 Image: Exponential
Loneliness is one of the greatest challenges church planters face.
Seven Key Issues Church Planters Face, a report prepared by Exponential, begins with these words: "Church planting is hard. Church planting is discouraging. Church planting is lonely. It is not for the faint of heart."
For a woman church planter, those things are multiplied by ten. I should know: I planted a non-denominational church over 11 years ago in Upstate New York that continues to thrive and grow today.
The journey has been harder than I ever imagined, and one of the most difficult parts has been the loneliness I've experienced. Though I've searched, I've found few other women church planters. Worse, I've found minimal support for women in this role.
For my husband and me, there was no sending church or financial support in the beginning. My husband often worked 16 hours of overtime at work each week so we'd have enough money to keep the church's doors open. There was also very little emotional or spiritual support in those early years except for that which came from above. There simply was nowhere for a woman church planter to turn for help or encouragement of any kind.
Recently, though, I have seen a great light on the horizon for women leading church plants. Just a few months ago, I experienced an event so monumental that I consider it to be a historic event in the life of the church. At this year's Exponential Conference, the largest gathering of church planters in the world, female church planters were made to feel welcomed and wanted. Exponential made it clear that women were truly accepted as a peers.
I thank God that I was there to witness it. For the first time in almost 12 years of church planting, I felt like I belonged to a tribe! At similar gatherings in the past, I've felt treated like an outcast, an unwanted participant.
In fact, four years prior, at Exponential 2011, I actually left feeling more alone and discouraged than when I'd arrived. Christianity Today editor Kevin Miller described this dynamic after he attended Exponential 2010:
I just came back from the Exponential Conference, the nation's largest conference for church planters. I loved it. Nearly 2,700 church planters, apostles, cultural missionaries, entrepreneurs, and crazy people—the kind who take "It's never been done that way before" as a dare. But where are the women? Are there no women engaged in church planting? Their absence was conspicuous.