How Churches Benefit from Co-Pastors
One couple's story of leaning into their unique gifts and callings as they lead together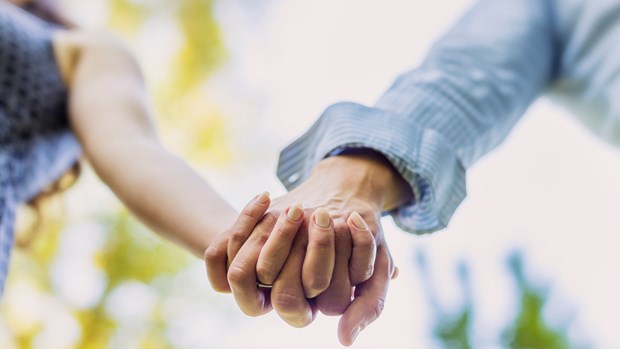 Many churches choose men for their lead pastor. More and more are choosing women. And some churches are opting for the best of both.
A growing trend termed co-pastoring, has churches hiring husband-wife pairs to lead together equally as pastors. To better understand the benefits and challenges that come with this emerging movement, I spoke with Robin and Marty Anderson, the first co-pastor team of Alexandria, Virginia's Commonwealth Baptist Church.
"Most job descriptions for a pastor are a full page long," said Robin. "They want to find someone who's extroverted enough to spend time with people, and introverted enough to write really deep sermons." Not surprisingly, finding one person who can do everything in the typical job description for a pastor is tough.
More than three years ago, Robin and Marty each applied for Commonwealth Baptist's lead pastor position. They were open to being considered individually, but also asked the church to consider calling them as a team. "I don't think we are at a place where churches start out with this concept as they begin a pastoral search," said Robin. "You have to give them the idea."
"During the interview process, the church leaders asked questions to help them understand what a co-pastorate would look like. We kept waiting for them to tell us which one of us they wanted to pursue, but they never chose," said Robin.
Clear Benefits
While not every couple complements each other in work as well as they do in marriage, Robin and Marty have always had a passion for supporting each other's ministry, and each has a clear view of their personal mission and calling. Their dynamic has played well in their church. Marty explained, "We understand it doesn't work for everybody, but it works for us because we balance each other out." Balance seems to be the key to co-pastoring success. The two are clear about their strengths and weaknesses, and when to lead and when to supportively follow the other's direction.
The benefits to their church are evident. Robin spends more time with senior citizens. Marty works more with young adults. Marty says, "I don't mind the spotlight, preaching and stuff, but I look at pastoring as loving on people, so being on stage is not really something I need to love on people." That works out well because Robin also likes to preach. The two trade off preaching duties every other week.
Their leadership styles are different, too. Robin tends to be more of a kick-things-into-gear leader, and brings momentum to get ideas started. Marty weighs decisions and builds teams that makes ideas sustainable.
The congregation's approach to ministry also helps make co-pastoring successful. "If something happens in the evening, our church is respectful of the fact that it'll be one of us, not both who attends, and one of us will be home with the kids," said Robin. The duo also sits with their 9-year-old daughter and twin 6-year-old sons in the front row at church, rather than in the pulpit seats.
Obstacles to Face
But every setup has its setbacks, and co-pastoring has a unique set unto itself. Robin and Marty have had to get comfortable with living out their marriage while on stage before a congregation. They rotate working from home each day, which offers a double benefit of one parent handling bus duty while two pastors avoid being on top of each other all day in the church office. They have also learned not to talk church talk all day and all night.
Other issues are more specific to female pastoring, but they still tackle them as a team. In a previous church where they both served as pastors, they had to help the church leaders think through a maternity policy for the first time. "The church wound up being extremely generous," said Robin, but the process was hard to navigate.
Along those lines, assumptions have been made about Robin's career trajectory that have not been raised regarding Marty's leadership. When Robin became pregnant in her last position, the church's finance committee put together a proposed budget that wrote out her job for the following year, assuming she would be staying home with the baby. Robin and Marty had to inform the church that she would not be staying home, and asked that her position be written back into the budget.
"We express these as concerns rather than saying, 'You gotta fix this,'" said Marty. "You always have to take the high road as the pastor. That's for sure. You can't let your emotions affect how you respond to the situation." As co-pastors, Marty and Robin strive to model both the grace and iron-on-iron grit required for these situations.
Woman as Pastors
Robin's advice to women pastors is simple: be yourself. Whether working with a spouse or not, women need to discover how to lead a church without striving for masculinity. It takes time but, according to Robin, it has been important for her to get comfortable being guided by her femaleness, rather than equating strong leadership with something outside of her own strengths.
Robin had good role models from whom she learned strength and perseverance. Her mother worked full-time while raising Robin and her brother through a season of single motherhood. Her grandmother was college-educated at a time when few women were getting degrees.
Marty also had strong mentors who demonstrated women in leadership and a shared division of male-female labor. For instance, Marty's mom, who worked full-time, taught him to iron when he was young and would leave simple notes for him and his sister regarding household chores she expected done.
Robin and Marty have needed that strength, as the overall church culture acclimates and normalizes the still-new co-pastoring dynamic. "I've been in places where there's the half-hearted joke, 'Oh that was a good sermon … for a girl,'" said Robin. On the other hand, "We are shown a lot of grace from our congregation." Robin cites the charitable attitude her congregation presents in response to her natural family ups and downs, like when their kids misbehave in church. "This church is a special place," said Robin. "We've deepened relationships over time, but the church was really quite open to both of us from the very beginning. They see us walking together in faith as an important task of the church."
As their church has grown accustomed to having co-pastors, Robin and Marty have grown in their own comfort level. "Early on, you want to prove yourself, and I no longer feel like we have to do that," said Marty.
Today, the congregation they serve is thriving under their leadership, and Marty and Robin have settled into doing the good work that is made better with two. Despite negative statistics about the church in America, Robin and Marty are optimistic. As Robin put it, "Where we are right now is forcing us to think creatively and reimagine what church might be." Co-pastoring is part of that. "There is simply more creativity to go around with two leaders instead of one," said Robin. "There's more creative energy. Even God is a Trinity and not a solo CEO."
"From the beginning, we thought this would be the dream," said Marty, and it's proven true. They've found an ease with which to carry out their unique gifts and callings, and the congregation is benefitting in great ways.
Janelle Alberts' writing shines a lighthearted spotlight on Bible character plotlines and trending pop culture train wrecks. Prophets and prime time could not look further apart, until things get personal, in which case, we all have a lot more in common than we thought. Alberts tackles this concept for parenting and faith publications, and can be found at www.janellealberts.wordpress.com