We Are Free Indeed
Sojourner Truth used her God-given freedom to set others free—and we can too.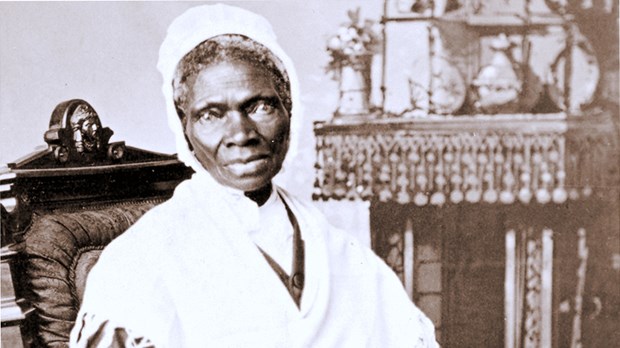 Powerhouse is not a word often used to describe women of the 19th century, but Sojourner Truth is not like most of our spiritual mothers. An itinerant preacher turned abolitionist, and an early voice in the fight for women's rights, Truth poured out her life for the marginalized and the oppressed.
Born into slavery in 1797, Isabella Van Wagenen—as she was called at birth—was separated from her parents at nine years of age. She was sold on an auction block for $100, with six sheep thrown in to "sweeten the deal." Over the years, she faced sexual, physical, and emotional abuse at the hands of her masters, but somehow persevered. Many saw her as the lowest of society—not only black, but also a woman—but she overcame unfathomable adversity. From birth, the cards were stacked against her, but she retained a steady faith in the God who sees and hears every single one of his children.
When she was 29, Sojourner's life began to take a positive turn. Although she couldn't read or write, Truth escaped slavery with her infant daughter in 1826. A year later, the New York State Emancipation Act declared her a free woman. She soon learned that her five-year-old son, Peter, had been illegally sold into slavery in Alabama; so, in 1828, with the help of the Quakers, she sued the owner and became the first black woman to win a case against a white man in court. Some say this series of events gave Truth the gumption to step further into the life she was meant to live.
Isn't it the same for those of us whose hearts beat wildly for the marginalized and the oppressed? We have encountered the God of the underdog, and now we can't help but fight for the same. So we teach the children in our churches to have a heart for the poor, and we invite the adults in our communities to fight with and for those who can't always fight for themselves. We build awareness of the Goliaths the under resourced face and help people see how they can make a difference. And maybe, along the way, we help people discover the deeper lives they too were meant to live.
If Christ Sets You Free . . .
When it comes to Sojourner Truth, many observers say that it wasn't until 1843, after a true encounter with Jesus, that she began to soar. According to Olive Gilbert, this was the first time, "God was no longer a terror and a dread to her." Instead, Jesus was her savior. He had been an intercessor for her and for her people all along.