The Legacy of Women in the Black Church
I stand on the shoulders of the strong black women who have gone before me.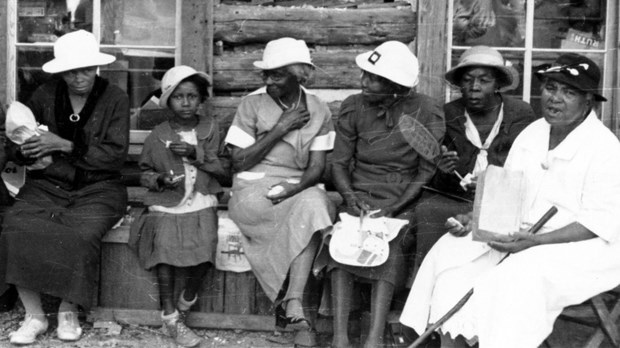 I am a pulpit preacher. I do not come down to the floor in an effort to connect better with the congregation. I do not wander around the sanctuary with anxious energy meandering through my sermon, like a child in a corn maze. No, I stand firmly in my pulpit. Because when I am preaching from the pulpit, I am standing on the shoulders of women who are the propagators of the black church.
Black women have a long and intricate history with the church. Women, making up 70 to 90 percent of black congregations, have always found the institution of the church a place of refuge, of solace and hope. As far back as African American history begins, during a time when their bodies were bound by the violence of slavery, black women gathered to worship communally a God who gave freedom and liberation in the salvific power of Christ.
The Civil Rights Movement, a movement that is inextricably bound to the African American church was primarily a movement of black women. While the great male leaders like Martin Luther King Jr. typically get the credit, it was women like Rosa Parks and Fannie Lou Hamer, and the tens of thousands of unnamed women who were at the March on Washington in 1963 who planned, participated, and even died for the movement.
Even in small local churches around the country, it is women teaching Sunday school, leading children's programs, organizing fundraisers, scrubbing down the sanctuary, ushering in visitors, singing hallelujah in the choirs, donning white gloves and skirts in holy preparation of Communion, and raising a hand of praise from the pew. The black church is primarily an institution of women.
Women like the late Shirley Glenn, a member of my community who passed on a few weeks ago. At her funeral everyone in her massive family—children and grandchildren and great grandchildren and community members of all sorts—stood teary eyed and attested that it was Miss Shirley who taught them who Jesus was. She taught them how to pray. She taught them how to hope.
The church has been sustained by women like Miss Shirley who may not have had the highest education, who may not have been ordained or licensed to preach, yet have taught and testified about the goodness of Jesus to all who will listen, changing the lives of all whom they reach.
Women like my mother, Pinkie Thomas, who has spent her life serving the poor as a ministry of the church. She ran a soup kitchen in the basement of a little church in Columbus, Ohio, every Saturday for more than 20 years. My earliest memories are being at church early on Saturday mornings handing out bread to the men and women as they came through the food line. That was the only job I was big enough for, yet I can still remember the great sense of purpose I felt handing bread to those who hunger. To this day, I feel that great sense of purpose that a woman—my mother—introduced to me.