Why I See a Counselor
Counseling helped me discover my dual nature: the put-together leader and the afraid and ashamed woman.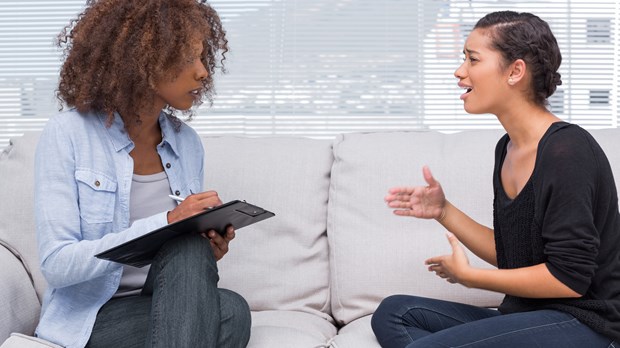 "There is no greater agony than bearing an untold story inside you," wrote Maya Angelou in her novel, I Know Why the Caged Bird Sings. In over 25 years in ministry, I've seen this to be true in the lives of so many, including my own. It is why I see a counselor.
One of my very favorite passages in Scripture is the story of a woman who is invited by Jesus to share her untold story. You may know her as the woman with the issue of blood. In Mark 5:21, Jesus steps off a boat onto the shore and is met by a crowd of people. Jairus, a leader in the local synagogue comes through the crowd, right up to Jesus, falling at his feet. He shares about his dying daughter and begs Jesus to heal her.
Then a woman who has been suffering with constant bleeding for 12 years silently works her way through the throngs of people. She comes up behind Jesus and reaches out to touch the edge of his robe to steal some healing as Jesus and the crowd rush to Jairus' home.
This is a story of two people and their encounters with Jesus. But it is also reflects two sides of myself: a woman and a leader.
One side of me is well-developed. I've worked hard to get to a place of leadership where I am known by name, have a title, and am afforded enough regard and respect to move through the crowd. That part of me doesn't have much trouble coming face to face with Jesus and asking for help on behalf of others whom I care about. That part of me knows the hurts and needs of others and can use my presence and voice as a ministry leader to advocate for Jesus' compassion and care.
The other side of me, however, is like the woman: alone, outcast, and unclean. This side of me isn't known by name and is only identified by my weakness. This is the part of me that bears the agony of secret wounds and fears, feels broken and exhausted, and is losing hope. I try to fix her on my own, but the hope for a full, rich, passionate life keeps draining away. This side of me longs for healing, but is afraid and ashamed.
Everyone, including myself, responds to, values, and regards the Jairus in me. Who cares about the woman with the issue of blood?
Jesus does.
When Jesus realizes the healing power has gone out of him, he stops everything and looks for the woman. He makes space for her to come forward to be seen and heard. Several translations of Mark 5:33 say she came before him and "told him the whole truth" or "gave him the whole story." Jesus responds by calling her "daughter." He blesses her act of faith in coming forward and says, "Now you're healed and whole. Live well, live blessed!" (5:34, MSG). This is the sacred space of counseling.