Why I See a Counselor
Counseling helped me discover my dual nature: the put-together leader and the afraid and ashamed woman.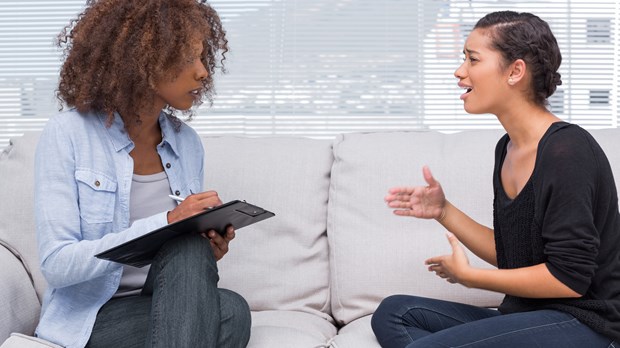 "There is no greater agony than bearing an untold story inside you," wrote Maya Angelou in her novel, I Know Why the Caged Bird Sings. In over 25 years in ministry, I've seen this to be true in the lives of so many, including my own. It is why I see a counselor.
One of my very favorite passages in Scripture is the story of a woman who is invited by Jesus to share her untold story. You may know her as the woman with the issue of blood. In Mark 5:21, Jesus steps off a boat onto the shore and is met by a crowd of people. Jairus, a leader in the local synagogue comes through the crowd, right up to Jesus, falling at his feet. He shares about his dying daughter and begs Jesus to heal her.
Then a woman who has been suffering with constant bleeding for 12 years silently works her way through the throngs of people. She comes up behind Jesus and reaches out to touch the edge of his robe to steal some healing as Jesus and the crowd rush to Jairus' home.
This is a story of two people and their encounters with Jesus. But it is also reflects two sides of myself: a woman and a leader.
One side of me is well-developed. I've worked hard to get to a place of leadership where I am known by name, have a title, and am afforded enough regard and respect to move through the crowd. That part of me doesn't have much trouble coming face to face with Jesus and asking for help on behalf of others whom I care about. That part of me knows the hurts and needs of others and can use my presence and voice as a ministry leader to advocate for Jesus' compassion and care.
The other side of me, however, is like the woman: alone, outcast, and unclean. This side of me isn't known by name and is only identified by my weakness. This is the part of me that bears the agony of secret wounds and fears, feels broken and exhausted, and is losing hope. I try to fix her on my own, but the hope for a full, rich, passionate life keeps draining away. This side of me longs for healing, but is afraid and ashamed.
Everyone, including myself, responds to, values, and regards the Jairus in me. Who cares about the woman with the issue of blood?
Jesus does.
When Jesus realizes the healing power has gone out of him, he stops everything and looks for the woman. He makes space for her to come forward to be seen and heard. Several translations of Mark 5:33 say she came before him and "told him the whole truth" or "gave him the whole story." Jesus responds by calling her "daughter." He blesses her act of faith in coming forward and says, "Now you're healed and whole. Live well, live blessed!" (5:34, MSG). This is the sacred space of counseling.
Don't get me wrong. Counseling is not an hour that magically transforms your life overnight. But it can be an ongoing relationship that invites the heart of Jesus into the places in our lives where we feel guilt and shame. It can be a therapeutic alliance that fights for freedom in the places where we feel bound or stuck. It can be safe place to speak the unspoken and grieve the hurt and harm that we've endured. It can also be a space where imagination, dreams, and desires are encouraged and hope grows.
I saw my first counselor in college. The Jairus side of me was thriving. I was at a good school, surrounded by good community, and heavily involved in campus ministry. I had a reputation for having a heart for women and found myself in many intense conversations trying to offer care to confused, angry, hurting, and afraid female peers. I was making a name for myself, but I was also depressed, insecure, anxious, and profoundly fatigued. I was suffering from headaches and stomach issues and not sleeping well. This dual dynamic has been a theme throughout my adult life, and counseling has been the place where I've come to discover, name, and own it.
Is Counseling Right for Me?
People often ask me, "Why do you have to go to a counselor? Don't you have good friends or a church community?" Here is my not-always-popular but honest answer: Good friends and the church are not always willing or able to offer me what a counselor does. Like the disciples, we can get caught up in the urgency of where we're going and what seems important in the moment. When we do this, we may not see, hear, or sense the presence, let alone the need, of someone like the woman with the issue of blood.
Also, I recognize that excavating parts of my story will require tools and skills that not everyone has. I believe all our stories have unclaimed treasures buried within them, but the path to that gold can be twisty and tangled and pass through dark valleys and false summits. Good counselors are like gifted Sherpas. They know the terrain and how to guide you through. They know what to pack for this specific part of the journey, what you can leave to the side, and what you might have to pick up later. They can sense when you should push a little further ahead and when you absolutely need to sit down and catch your breath. They know this path holds winds that howl but that the next one circles around a bend that opens up into sunshine.
I've seen several different counselors in different settings and at different stages of my life. There is not an expected or "right" way to receive help and care. Some people go see a counselor for a specific reason, and short-term counseling that focuses on working through that particular problem or circumstance may be all that's needed. But many times, women silently bear things over a long period of time, and we feel both lost and at a loss. It may take some time not only to tell our story, but also to find ourselves in it. In this case, counseling may be more of long-term process. Some women who just feel "off" or "bad" may be hesitant to get help because there isn't something exact they can point to or articulate. Partner with a counselor to develop what works best for you.
Difficult Yet Beautiful
Let's be honest: It's so hard to make that call and show up. Every time I go to counseling, especially that first visit, I am kind of a wreck. Several translations of the Mark 5 story say that when the woman comes before Jesus, she falls at his feet trembling with fear. The Greek word used to describe her is one that depicts what happens to the female body in childbirth. There is the shaking of both pain and anticipation as a new life is born. What a messy, accurate, glorious picture of what it's like to be in counseling. It can be difficult, scary work to examine what has been marred, stolen, or even destroyed in your life. It can be as difficult and scary to explore the goodness, gifting, and glory of what was meant to live and thrive. I cringe at the belief that seeing a counselor means you don't have enough strength, smarts, or spirituality. Jesus blessed the faith of the woman who came forward—and oh what incredible hope, courage, and integrity she had to have in order to share the truth of her story.
This is not to say that Jairus didn't have hope or courage or integrity. Jairus is not better or lesser than the woman. He is just different. Honoring the woman with the issue of blood in us doesn't mean disparaging the parts of us that are like Jairus. When I first started to see a counselor, I went with the belief that I needed help to "fix" my woman with the issue of the blood so that I could be more like Jairus. Now I see a counselor so I can be more like Jesus.
I have been so grateful for Steve, Rob, Dan, Rachael, Cathy, and Josette. They are counselors who have reflected the wisdom, kindness, and strength of Jesus in my life. I know what it's like to be a Jairus. I know what it's like to be the woman with the issue of blood. I know the agony of bearing untold stories, and with the help and support of counseling, I also know what it's like to share my story and hear Jesus say, "Daughter, you took a risk of faith to be healed and whole. Live well and be blessed."
Jen Oyama Murphy is a former small group director and support and recovery ministry director. She loves working as a lay counselor and bringing care into stories of trauma and harm. She is currently working on a master's in clinical psychology.