A Conductor of Community
Gail Song Bantum turned a love of music into a life of ministry.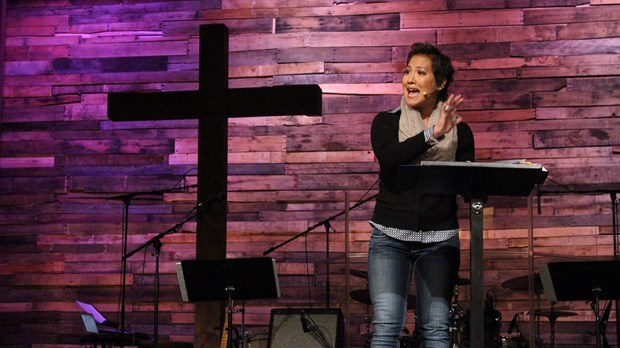 She is a phoenix, rising up out of the ashes.
Try as I might, I can't get this picture out of my mind. I close my eyes. I attempt to quiet my thoughts. Eventually, I turn to Google to expand upon the greater idea of life stemming from death, but still the phoenix appears. Still, she rises, over and over again.
I suppose some people are like this. When faced with the seemingly impossible obstacles of life, they carry on, trusting that these are the spaces God enters in. Here, life explodes. Here, the phoenix rises. Here, as Paul writes to the church at Ephesus, we experience more than we could ever ask or imagine (Ephesians 3:20).
Gail Song Bantum, executive pastor of Quest Church in Seattle, Washington, is a phoenix rising from the ashes. The daughter of Korean immigrants, Bantum dreamed as a child of becoming the first Asian American female orchestra conductor. She was a musician, through and through, but when she was eight years old, a couple of older women in the Pentacostal Korean Immigrant Church she attended spoke a prophetic word over her: "You are called to ministry."
Their words went in one ear and out the other. Ministry was neither an alluring nor appealing option in her mind, so she fought the call until her mother unexpectedly passed the summer after her freshman year of college. This catalytic event rocked her world, as anyone who's walked through the ebbs and flows of grief and loss can understand.
"It's amazing to me how our desires and perspectives can change so radically when we find ourselves in the midst of desperate spaces," Bantum wrote in an email, citing how her mother's untimely death led her to say a hearty "yes" to God, rising out of the depths of grief.
Isn't that how it happens for all of us? From death, comes life. From the grave, resurrection. A cycle of newness burgeons out of the depths of sorrow, again and again.
During this time, a friend connected Bantum to a young man with a "listening and understanding ear," whose father had passed a year prior. Their friendship soon evolved into a long-distance relationship, and in the midst of each of them rising out of their continued grief, Gail and her future husband, Brian, simultaneously entered one of the most difficult season of their lives: they began to learn and understand what it meant to navigate an interracial relationship. Faced with the hardship of losing a relationship with her only remaining parent because her boyfriend was black, Bantum chose to stand her ground, believing true love honors love at all times, even over irrational fears, even above cultural and familial obedience that exist for the sake of obedience alone. From the ashes, she rose, once again.