A Conductor of Community
Gail Song Bantum turned a love of music into a life of ministry.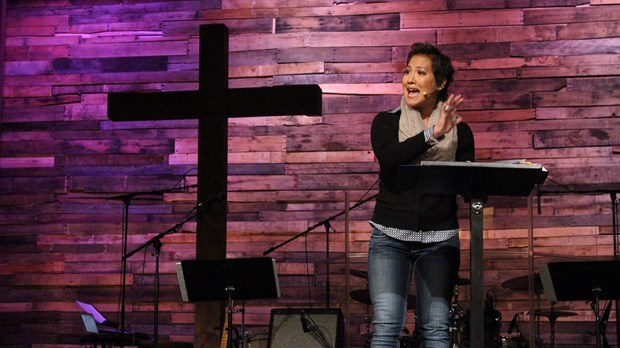 She is a phoenix, rising up out of the ashes.
Try as I might, I can't get this picture out of my mind. I close my eyes. I attempt to quiet my thoughts. Eventually, I turn to Google to expand upon the greater idea of life stemming from death, but still the phoenix appears. Still, she rises, over and over again.
I suppose some people are like this. When faced with the seemingly impossible obstacles of life, they carry on, trusting that these are the spaces God enters in. Here, life explodes. Here, the phoenix rises. Here, as Paul writes to the church at Ephesus, we experience more than we could ever ask or imagine (Ephesians 3:20).
Gail Song Bantum, executive pastor of Quest Church in Seattle, Washington, is a phoenix rising from the ashes. The daughter of Korean immigrants, Bantum dreamed as a child of becoming the first Asian American female orchestra conductor. She was a musician, through and through, but when she was eight years old, a couple of older women in the Pentacostal Korean Immigrant Church she attended spoke a prophetic word over her: "You are called to ministry."
Their words went in one ear and out the other. Ministry was neither an alluring nor appealing option in her mind, so she fought the call until her mother unexpectedly passed the summer after her freshman year of college. This catalytic event rocked her world, as anyone who's walked through the ebbs and flows of grief and loss can understand.
"It's amazing to me how our desires and perspectives can change so radically when we find ourselves in the midst of desperate spaces," Bantum wrote in an email, citing how her mother's untimely death led her to say a hearty "yes" to God, rising out of the depths of grief.
Isn't that how it happens for all of us? From death, comes life. From the grave, resurrection. A cycle of newness burgeons out of the depths of sorrow, again and again.
During this time, a friend connected Bantum to a young man with a "listening and understanding ear," whose father had passed a year prior. Their friendship soon evolved into a long-distance relationship, and in the midst of each of them rising out of their continued grief, Gail and her future husband, Brian, simultaneously entered one of the most difficult season of their lives: they began to learn and understand what it meant to navigate an interracial relationship. Faced with the hardship of losing a relationship with her only remaining parent because her boyfriend was black, Bantum chose to stand her ground, believing true love honors love at all times, even over irrational fears, even above cultural and familial obedience that exist for the sake of obedience alone. From the ashes, she rose, once again.
A Reluctant Pastor
A couple of years later, Gail put two and two together: her calling could be fulfilled through music in the church. After marriage and college graduation, she served as a musical worship leader at a church outside Philadelphia, Pennsylvania, and then as a worship director at a multi-ethnic church in Durham, North Carolina. She and her family had landed in the South, so Brian (who's now a theologian, professor, and author at Seattle Pacific University) could attend Duke Divinity School. Along the way, though, many people began asking Gail if she might consider going to seminary as well.
She refused their sentiments. She felt she was too social to sit at a desk, and she couldn't imagine years of lectures, reading, and writing. But God had other plans. After ten years in local church ministry, she wondered if it might be her time to step back into the classroom as a seminarian. So, she decided to tell the heavens how it was going to happen.
"Lord, if you really want me to go to seminary," she remembers saying, "then I need to get into Duke, because this is where we live. And I'm certainly not moving to study! I'm also not going to pay for it, so if you want me to be there, you have to provide."
And God did. Although she dragged her feet and turned in her application on the very last day, Bantum was accepted into Duke's prestigious program, with a full-ride Dean's Scholarship to boot.
A Practical, Prophetic Pastor
A decade later, Gail Song Bantum is certain of her calling, not only to the local church, but also to recognizing that we've all been given a particular story, with unique gifts and passions that exist for a specific reason and purpose. This plays out in a variety of ways at Quest, a large church in the Pacific Northwest that embodies values of compassion and justice, mystery and diversity, and deep and authentic Christian community. As executive pastor, Bantum oversees all of this, believing herself a conductor. She strives to help make other people their best. Because she is passionate about helping others flourish, thrive, and be all that God has called them to be, she seeks to live it out herself every day.
Lead pastor Eugene Cho believes likewise. Three qualities, he says, encapsulate Gail's leadership. First, she's a pastor at heart, a shepherd who desires to care for people, particularly those on the margins. Second, her prophetic spirit balances with the aspects of her pastoral side for a most holy and lethal combination. She speaks prophetically about issues of racial inequity—particularly when it comes to the realities of black and brown congregants—yet doesn't forget to actually care for them either. Third, she's practical; the church cares about formation and discipleship, which directly affects them on the ground, especially in a city like Seattle. Bantum constantly asks questions like, "How does this impact one's daily living?" "How does one embody what they think or believe?" And, "How does a community embody those convictions?" It's no wonder that Bantum's leadership, vision, and giftedness has helped bring explosive growth to the Quest community.
For Bantum, the Christian church still has a long way to go, particularly when it comes to conversations of racial healing and true reconciliation, the lack of women in positions of executive leadership, and an inability to develop leaders of color. It's easy to see the innumerable gaps that still exist inside the intersection of both race and gender within the church.
But I can't help think that this reluctant pastor will only continue to rise in the future.
So, I'll end with what she loves to say to emerging leaders, especially leaders of color: "Resist the powers that would try to keep you from being the fullness of who you were created to be, and persist after your own thriving—your joys, your gifts, and your loves! Your thriving, after all, is your greatest protest."
Amen.

Cara Meredith is a writer and speaker from Seattle, Washington. She is a member of the Redbud Writers Guild and co-host of Shalom in the City's monthly book club podcast. She holds a Master's of Theology (Fuller Seminary), and can be found on her blog, Facebook, and Twitter.