Discomfort Clarified My Calling
Tense conversations about race led Riana Shaw Robinson to become a bridge-builder.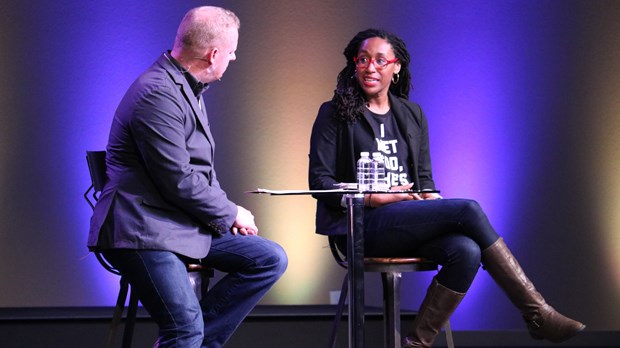 Sometimes God makes himself most known in the in-between moments of our lives—in times of uncertainty, tension, or waiting. This has certainly been true for Riana Shaw Robinson, a mother, wife, pastor, and seminary student from the San Francisco Bay Area. And my guess is that you've experienced this, too.
Born in Richmond, California, Robinson grew up in the church, but met God for the first time as a pregnant 15-year-old. Although she experienced intense feelings of fear, guilt, shame, and isolation, she felt God telling her to trust him. And it was there, in the depths and darkness of the in-between, that Riana was restored by the love, acceptance, and care of her family and community.
"Each year on my daughter's birthday," Robinson told me, "I am overcome with emotion as I remember all of the ways that I have [experienced] and continue to experience God's grace, mercy, love, and provision." Not only did the Spirit provide her with unexplainable peace during that uncertain time, he also changed the trajectory of her life by giving her a heart for coming alongside people who feel disconnected and unworthy.
Standing in the Gap
As minister of city engagement at Oakland City Church (OCC), Robinson identifies and supports opportunities for service and community engagement. But on a broader level, Robinson finds herself a bridge-builder in the multi-ethnic church, particularly when it comes to conversations of racial healing, justice, and reconciliation. In both of these roles, Robinson continues to experience waiting in the in-between—there's a constant focus on the way things are, the way they should be, and the work it takes to move in that direction.
Raised with strong roots in her African American heritage, Robinson holds strong ties to the black community of faith that raised her: Faith Presbyterian Church in Oakland, California. For her—and for her brothers and sisters of color—the church was one of the few places that felt safe. Sometimes, Robinson explained to me, racial separation in a faith context offers something very special for people who may struggle to thrive in the majority culture.
When Robinson's time at Faith Presbyterian Church ended and she started attending the multi-ethnic OCC, she struggled. In a recent Q Commons talk, Robinson stated that the multi-ethnic church model initially "felt like an attack on a place that for so many oppressed people was a place of refuge."