The Most Important Thing to Do When You Start with a New Team
Don't skip this critical first step.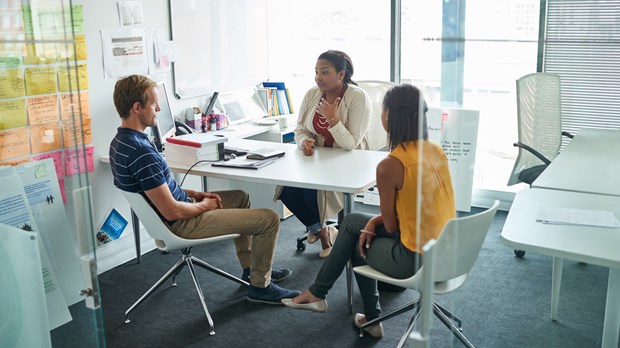 Stepping into a new leadership role can bring a rush of excitement. When God provides an opportunity, my natural inclination is to jump in full force. In my eagerness to get started, however, I may overlook the critical first step—developing an atmosphere of trust within the group.
Have you ever been appointed to a leadership position, only to be met with opposition? Maybe you're leading a small group in your home or a women's Bible study at church. Maybe you're heading up a committee or organizing an event. Whatever the role, leaders must gain the group's trust. When my members know they can trust me, God can accomplish great things through us. So how do we inspire trust in our teams or groups?
In the book of Joshua, God gives us instructions on the importance of building trust. God called Joshua to lead the Israelites at a crucial time in history. Moses led God's people for 40 years, and now Joshua would direct them into the Promised Land. From Joshua's story, we can learn four important things that will help us develop trust.
1. Understand you are appointed by God.
After the death of Moses the servant of the Lord, the Lord said to Joshua son of Nun, Moses' aide: "Moses my servant is dead. Now then, you and all these people, get ready to cross the Jordan River into the land I am about to give to them." —Joshua 1:1–2
The Lord gave Joshua his charge, saying "the time has come." Joshua heard the clear voice of God. He understood the part he would play in God's divine plan. Can women have this same confidence when God gives us our charge to lead?
Oftentimes our inclination as women is to try to win the approval of others. We feel the need to establish ourselves as strong leaders, so others will respect us. In an attempt to earn trust, we fall into the trap of people-pleasing. Trying to gain the trust of the group with our works, however, takes our focus away from God.
Keeping our attention on the one who brought us to the position in the first place, will help us have confidence in our role. God reassures us as he did with Joshua, "I will be with you as I was with Moses," (Joshua 1:5). If God places us in a position, he will give us what we need to do his work.
2. Delegate responsibilities to your team.
So Joshua ordered the officers of the people: "Go through the camp and tell the people, 'Get your provisions ready. Three days from now you will cross the Jordan here to go in and take possession of the land the Lord your God is giving you for your own.'" —Joshua 1:10–11
Joshua went on a long, arduous journey with his people. He knew who the officers were, and he knew who he could count on to fulfill important responsibilities. Whenever there is a change in leadership or new positions are added, however, we are faced with important task of getting to know one another.
Once I accepted a leadership position where I didn't know anyone. I was unfamiliar with each person's unique gifts and how they contributed to the group's dynamics. Though I desired to delegate tasks, I wasn't able to without first getting to know the people on my team. I slowly started to meet with people to learn their gifts and strengths, and I postponed delegating for a bit too long. This gave the wrong impression about my leadership style. Several of the ladies thought I wanted to do everything myself, and this created tension between us.
As leaders, there will be times when we need to be patient in delegating, slowly getting to know our teammates and fellow staff members. But we also need to delegate as much as possible, knowing that groups are stronger when we all play a part. So, quickly get to know each person, talking with them about their gifts, talents, and passions. Ask them how they'd like to contribute. Then delegate appropriate responsibilities. Delegating will build stronger comradery on your team and ease your workload. It's a win for everyone.
3. Carry on the vision.
But to the Reubenites, the Gadites and the half-tribe of Manasseh, Joshua said, "Remember the command that Moses the servant of the Lord gave you after he said, 'The Lord your God will give you rest by giving you this land.'" —Joshua 1:12–13
Joshua understood the vision given to the previous leader. He knew God directed him to carry on that vision to completion, and he made this clear to the people of Israel when he began, "Remember the command that Moses the servant of the Lord gave you."
We may not know why our predecessor left his or her position, but we must always respect the person as the former leader. We are each a link in the chain, accepting our part in working to see God's plan fulfilled. It's important to remember that God has already been at work on this team or in this ministry. Rather than throw everything out and start fresh, explore the vision God has already established first.
4. Serve faithfully before becoming a leader.
The Israelites no doubt knew of Joshua's faithfulness. They knew his reputation as a willing servant. Exodus 17 shows how much Moses trusted Joshua. The Amalekites attacked them, and Moses commanded Joshua to gather warriors together and fight. Verse 10 says, "So Joshua fought the Amalekites as Moses had ordered."
We may be meeting a new congregation, or we may have served the same women's group for many years. Either way, our reputation will follow us. God is developing and preparing us through our experiences. While we wait for God's timing, let's be known for our faithful commitment. It is through years of steadfast serving that we learn the skills needed to be effective leaders.
Developing trust takes time. Several years passed between Joshua's charge against the Amalekites and his call to lead the Israelites into the Promised Land, and we may find that it takes years for us, too. But women leaders have God's assurance that he is with us every step, just as he was with Joshua. When we follow Joshua's example, we will create an authentic atmosphere of mutual trust. Through our unity, God will guide our group into the good work he called us to do.

Kristine Brown is a communicator at heart who teaches about God's powerful, relatable Word. She is the author of Over It. Conquering Comparison to Live Out God's Plan and founder of the non-profit organization, More Than Yourself, Inc. Kristine writes about her God-story and helps others discover their own at www.morethanyourself.com.