Jumping with God into Children's Ministries
Ministering to children as the fully spiritually aware, intuitive thinkers they are.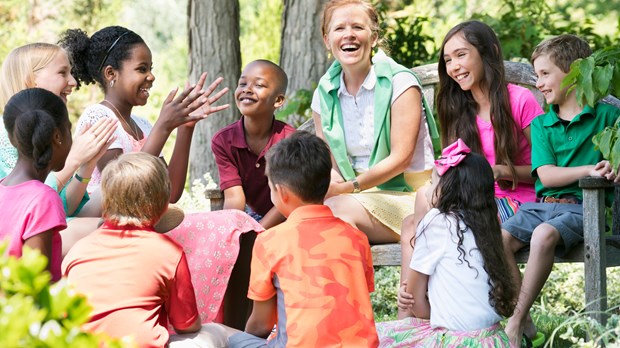 Much can happen when we learn to equip and empower the children among us. For one woman in ministry, it's not so much about children learning from grown-ups, but it's about grown-ups learning from children. Samantha Trimble, Director of Children's Ministry at The Creek Covenant Church in Walnut Creek, California is a denominational coach for the Evangelical Covenant Church and ambassador for Faith@Home Ministries International. She has experienced firsthand the benefit of approaching each member of the body of Christ as valuable and vital.
"Children are fresh eyes and hearts," she states in an interview. "They are born fully capable and spiritually aware, but unsullied by our own ideas of how things 'should' or 'must' be done. They are intuitive thinkers that can make connections that we linearly-thinking grown-ups would not."
Trimble equates the capability of children to having "lantern-like focus," a concept coined by U.C. Berkeley developmental psychologist Alison Gopnik. Soaking in everything of the world around them (seemingly all at once), young minds learn to experiment with how things connect. This is in direct opposition to adults who, with their tendency to exhibit "flashlight focus," oftentimes miss what kids naturally see because they fixate on a single spot.
I am one of those guilty of fixating on a single spot, but it's something Trimble never seems to have succumbed to—which made me all the more eager to hear the rest of her story. After all, who doesn't want to glean a little bit of a childlike, lantern-like focus?
Trimble met Jesus when she was seven years old. Working out her faith in playground friendships eventually led to kitchen table talks in the home of a trusted spiritual mentor as a teenager. By the time she graduated from college, the formative moments of her youth made her wonder if God might be calling her into full-time ministry. Immediately following a cross-country move from Chicago, Illinois back to the San Francisco Bay Area, Trimble continued her work in full-time children's and family ministries.
"God is jumping with me, just as he's already waiting for me on the other side," she said, remembering the moment when she decided to move forward in raising full-time support, while also working part-time for the local church. For Trimble, there wasn't another option, mostly because she couldn't imagine doing anything else with her life. She had always had a love for children and for ministering to them, which included a deep-seated drive to speak out against injustice or misinformation, particularly in the realm of children's ministries.