Jumping with God into Children's Ministries
Ministering to children as the fully spiritually aware, intuitive thinkers they are.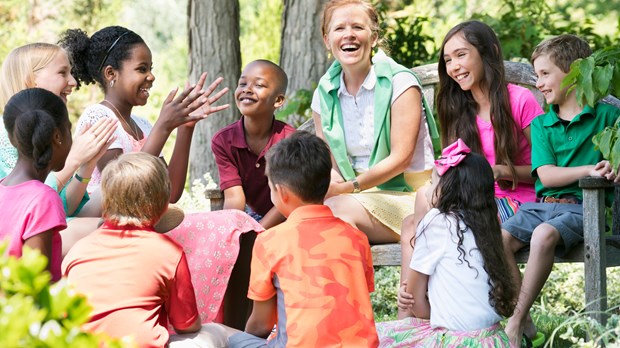 Much can happen when we learn to equip and empower the children among us. For one woman in ministry, it's not so much about children learning from grown-ups, but it's about grown-ups learning from children. Samantha Trimble, Director of Children's Ministry at The Creek Covenant Church in Walnut Creek, California is a denominational coach for the Evangelical Covenant Church and ambassador for Faith@Home Ministries International. She has experienced firsthand the benefit of approaching each member of the body of Christ as valuable and vital.
"Children are fresh eyes and hearts," she states in an interview. "They are born fully capable and spiritually aware, but unsullied by our own ideas of how things 'should' or 'must' be done. They are intuitive thinkers that can make connections that we linearly-thinking grown-ups would not."
Trimble equates the capability of children to having "lantern-like focus," a concept coined by U.C. Berkeley developmental psychologist Alison Gopnik. Soaking in everything of the world around them (seemingly all at once), young minds learn to experiment with how things connect. This is in direct opposition to adults who, with their tendency to exhibit "flashlight focus," oftentimes miss what kids naturally see because they fixate on a single spot.
I am one of those guilty of fixating on a single spot, but it's something Trimble never seems to have succumbed to—which made me all the more eager to hear the rest of her story. After all, who doesn't want to glean a little bit of a childlike, lantern-like focus?
Trimble met Jesus when she was seven years old. Working out her faith in playground friendships eventually led to kitchen table talks in the home of a trusted spiritual mentor as a teenager. By the time she graduated from college, the formative moments of her youth made her wonder if God might be calling her into full-time ministry. Immediately following a cross-country move from Chicago, Illinois back to the San Francisco Bay Area, Trimble continued her work in full-time children's and family ministries.
"God is jumping with me, just as he's already waiting for me on the other side," she said, remembering the moment when she decided to move forward in raising full-time support, while also working part-time for the local church. For Trimble, there wasn't another option, mostly because she couldn't imagine doing anything else with her life. She had always had a love for children and for ministering to them, which included a deep-seated drive to speak out against injustice or misinformation, particularly in the realm of children's ministries.
In a way, it was also a fulfillment of Deuteronomy 6, the chapter in the Bible she hasn't been able to shake. There, God speaks through Moses to the Israelite people, "so that you, your children and their children after them may fear the Lord your God as long as you live by keeping all his decrees and commands that I give you, and so that you may enjoy long life" (6:2). With a directive to hear and to obey, Moses breathes holy words: "Love the Lord your God with all your heart and with all your soul and with all your might,"—his command one for your own heart and one to impress upon your children (6:5-7). For Trimble, the chapter is a call back to the most central, guiding scripture for how Christians are to live their faith, its prescriptions also the healing balm for broken and failing churches. Just as God pressed a message of love for him and his children into the mouth of Moses, God put this message into Trimble's heart as well—even if it's a message seemingly counterintuitive to modern church culture.
"Unfortunately, church culture in the past few decades has tended to infantilize our children spiritually, despite the fact that even secular studies show our children are born with fully-formed spiritual awareness," Trimble says in an email. Oftentimes, children's ministry is reduced to "a sweet, token ministry, despite the fact that most people who come to saving faith make that commitment between the ages of four and fourteen. We water down Jesus for our kids and patronizingly call kid's ministry 'childcare' without thinking." When this happens, children are dismissed from intergenerational worship and seen as a distraction, instead of as an essential part of the church body.
My head nodded vigorously as I read Trimble's words, remembering the numerous times other adults had turned to me disapprovingly in the middle of a church service: my two young sons had not acted the way they were "supposed to" act in the presence of God, or so their stares communicated. Seen as a nuisance instead of as a necessary, beneficial component, I only wish I would have carried Trimble's perspective during those times. But maybe my path intersected with Trimble's now so I might make a difference in the lives of my sons and their classmates moving forward.
After all, Trimble models a ministry of advocacy of spiritual growth for children and their families, as she juggles two vastly different—yet undeniably complementary—roles. Similar to many women in ministry, no day in her schedule ever looks the same. Like many of her peers in children's ministry, her role at The Creek Covenant Church involves curriculum development, volunteer recruitment, staff meetings, teaching, safety training, as well as pastoral care for local church families. By creating a worship-focused (instead of an education-focused) environment for children to encounter God, she hopes to provide both parents and kids with opportunities for connection, empowerment, and growth.
Meanwhile, Trimble's work with Faith@Home furthers the groundwork she's already doing at the local level. As a denominational coach, she considers herself primed to meet the needs of church boards and ministry teams, as they "dream and vision, create customized events and materials, lead relevant workshops for ministry leaders and parents in their ministry, and generally, just be a comrade-in-arms." The support she gives them also manifests itself by leading cluster groups of local ministry leaders, gathering parents into intentional Parents' Leadership Huddles, and working with families one-on-one. Unbelievably, she provides these services free of charge because of the generosity of financial ministry partners.
Here, at the intersection of her vocational roles, Trimble finds connection for the staggering attrition rates of what she calls "our most captive audience and the people God has entrusted us to steward"—the children among us. In Church+Home, Mark Holmen suggests six to nine out of every 10 children raised in the church are walking away from their faith. Additionally, 73 percent of those who are claiming "no religion" have been raised in the church, according to Jen Hatmaker in For the Love. But hope is not lost; additional statistics from Holmen offer that any faith formation that happens in the home is two to three times more effective than anything that happens in the church—which means that Trimble's work with coaching faith formation in the home is far from ending any time soon.
But Trimble wouldn't have it any other way. After all, the various roles she juggles only serve to strengthen her role as a Christ-follower, as a woman in ministry, and as a single parent to her foster-adoptive son. In this way, following the directive of loving God and loving God's children, Trimble shines a lantern of light everywhere she goes, just as she has learned from the children she loves and cares for in ministry.
Might all of us, no matter our position in church leadership, remain teachable as we learn to do the same.
Cara Meredith is a writer and speaker from the greater San Francisco Bay Area. Her first book, The Color of Life, released in February. You can connect with her on her website, Instagram, Facebook, and Twitter.