true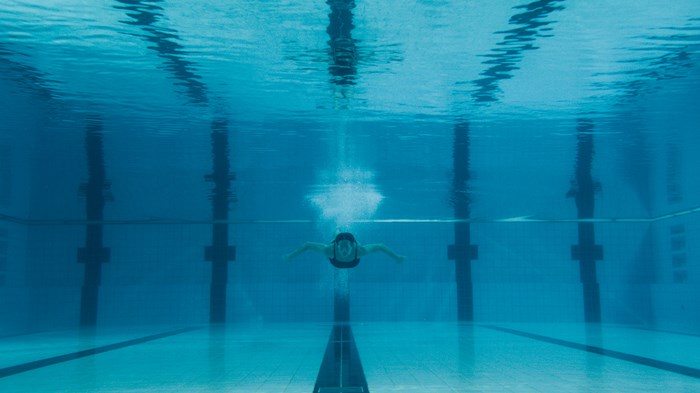 Image: Govinda Van Maele
Right about now, the fatigue starts to settle in for everyone. I've only seen 9 films, which is paltry compared to some of my friends (who can be pushing 15 or more by now), but I'm beat.
Yet the feeling is the same every time you settle into a new theater to see another film: that feeling of excitement and discovery. This film might be transcendent. You never know.
Love & Friendship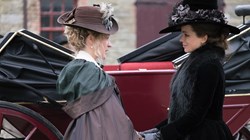 Image: Bernard Walsh
That was my experience this morning, when I trekked over to the Eccles Theater to see Love & Friendship, Whit Stillman's adaptation of a novel by Jane Austen that was unpublished at her death.
I wrote a dispatch about it. It's great. You should see it. Bring your whole family.
Certain Women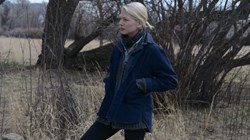 Image: Nicole Rivelli
After yesterday's River of Grass, I was ready for the premiere of Certain Women, Kelly Reichardt's latest film, adapted from short stories by Maile Meloy. The hum in the air, I realized as I stood in line, may have had more to do with the fact that Kristen Stewart was in the film than that the American filmgoing public had finally grown an appreciation for Reichardt, but nevertheless, there we all were, buzzing with excitement.
Certain Women is the story of four women, played by Laura Dern, Michelle Williams, Kristen Stewart, and—in an undersold but outstanding performance—relative newcomer Lily Gladstone. The connections between their stories are very loose, making this feel more like a triptych than one coherent story. (It shares some structural elements with Robert Altman's Short Cuts, if you pulled apart the threads that connect that universe constructed from Ray Carver stories just a little.)
Set in Montana, the film is hard to pin down. In one section, a lawyer tries to help a man whose life has gone very badly since he incurred a workplace injury. In another, a woman is having a hard time connecting with her teenaged daughter while also trying to acquire sandstone to build a house. And in the final section, a woman working on farm for the winter develops an attraction to a young lawyer who is teaching a course on educational law in her town.
Certain Women is about unfulfilled desires, but it's about it so quietly that you can barely detect it. Quite a portion of the crowd seemed to think the film had no plot—but that's nonsense. The plot is in everything implied—in everything people aren't saying. And all the pieces connect.
Reichardt fans will notice connections with Old Joy, particularly the background radio, and will notice that the film is dedicated to Lucy, Reichardt's dog who played herself in Wendy and Lucy, alongside Michelle Williams. It feels right at home in Reichardt's canon.
Mammal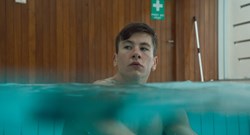 Image: Govinda Van Maele
Finally, I saw Mammal, an Irish film starring Rachel Griffiths (who plays Brenda on SixFeet Under) as a loner, a woman who has purposely removed herself from most connections, including her son, who was an infant when she left.
Now, though, he is a teenager and has disappeared, and her ex-husband reconnects with her in their efforts to locate him. Meanwhile, a young man about her son's age (Barry Keoghan) practically shows up on her doorstep and she offers him a place to stay while she looks for a new lodger. As their relationship grows closer, things get complicated.
I can't say I loved watching Mammal. It starts out a bit difficult and continues in that vein. It's an unsettling and sometimes upsetting film. One thing it does well is depict the difficult boundaries between grief and desire, love and sex, care and manipulation. Still, it's not for everyone.
It did remind me, though, that there's a strong connection in our culture between water, grief, and loss, something that has been increasingly turning up in shows and movies about characters who lose loved ones and react in unusual ways: The Leftovers, River, The Returned, and more. It shows up here again, with showers, baths, swimming pools, and the ocean forming important pivot points for the narrative progression. I'm not sure what that link means, but it can't be insignificant.
Caveat Spectator
Love & Friendship includes a bit of sexual innuendo that will likely sail over younger viewers' heads. Certain Women includes a scene with the aftermath of an extramarital affair, some profanity, and a storyline in which one female character develops a crush on another (probably). Mammal includes nudity, profanity, a few scenes in which characters beat up other characters, and some sex.
Our Sundance Coverage:
Alissa Wilkinson is Christianity Today's chief film critic and an assistant professor of English and humanities at The King's College in New York City. She tweets @alissamarie.