Grant, we beseech thee, Almighty God, that like as we do believe thy only-begotten Son our Lord Jesus Christ to have ascended into the heavens; so we may also, in heart and mind thither ascend, and with him continually dwell, who liveth and reigneth with thee and the Holy Ghost, one God, world without end."
So reads the Collect for Ascension Day in the Book of Common Prayer. The Westminster Shorter Catechism asks: "Wherein consisteth Christ's exaltation?"; the answer proceeds: "Christ's exaltation consisteth in his rising again from the dead on the third day, in ascending up into heaven, in sitting at the right hand of God the Father, and in coming to judge the world at the last day." Yet despite acknowledgment of the importance of the Ascension, non-liturgical churches are often notable for their neglect of the subject. There are doubtless vast numbers of Christians who have never heard a sermon fully devoted to the topic, though it is the culmination of those forty wonderful days which followed the Resurrection. Our Saviour's transition to the glorified life began with the Easter event and was perfected in his Ascension. Christ's human nature was thus taken into heaven, and "according to the workings" of that "glorious body" he is "able even to subdue all things unto himself."
The Apostle Paul in one of his several references to the Ascension makes it climactic in his description of the mystery of the Christian religion: "God was manifest in the flesh, justified in the Spirit, seen of angels, preached unto the Gentiles, believed on in the world, received up into glory." The Epistle to the Hebrews begins by setting forth some of God's mighty works through Christ: creation, preservation, redemption, after which the Son "sat down on the right hand of the Majesty on high, being made so much better than the angels, as he hath by inheritance obtained a more excellent name than they." Paul writes to the Ephesians of Christ's exaltation by God's power when he "raised him from the dead, and set him at his own right hand in the heavenly places, far above all principality, and power, and might, and dominion, and every name that is named, not only in this world, but also in that which is to come: and hath put all things under his feet, and gave him to be the head over all things to the church, which is his body, the fullness of him that filleth all in all." For Stephen the veil was pulled aside as he was being martyred, and he saw "Jesus standing on the right hand of God."
What then does the Ascension say to us? God's acceptance of his Son to glory declares his acceptance of the Son's sacrifice for our sins. Thus Christ's Ascension anticipates our own glorification, and he leaves us with the assurance that he has gone to prepare a place for us. But his priestly work yet continues as at the Father's right hand he intercedes for us. His prophetic work endures, for he guides and teaches his followers through the Word and Holy Spirit, that his Gospel be proclaimed to the whole world. "When he ascended up on high, he led captivity captive, and gave gifts unto men." He told his disciples to wait in Jerusalem for the promise of power, which was to be so dynamically fulfilled at Pentecost. And what of his kingship? Calvin has well said that the statement that Christ was seated at the right hand of God is equivalent to saying "that He was installed in the government of heaven and earth, and formally admitted to possession of the administration committed to Him, and not only admitted for once, but to continue until He descend to judgment."
Well could Charles Wesley write: "Hail the day that sees him rise, glorious to his native skies.…" And let no man speak of "his days of Incarnation" as if they were past. He remains man as well as God … for us. He ascended near Bethany, traditionally from the Mount of Olives. On its lower slopes was the garden of terrible memory, of agony and of betrayal. The hands he raised in blessing as he was parting from his disciples were scarred hands. Yet this was the King of Glory, and the gates were opening to receive him. A cloud took him from their sight. Nevertheless, he had promised to be with them even unto the end of the age. In ten days he would be closer to them than ever before, for he would send the blessed Paraclete and thus would live within them—and us. For thus we of the twentieth century may yet walk with him on the road to Emmaus, that heavenly Emmaus which is the destination of all those who love his appearing.
Have something to add about this? See something we missed? Share your feedback here.
Our digital archives are a work in progress. Let us know if corrections need to be made.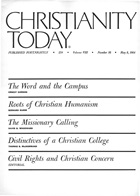 This article is from the May 8 1964 issue.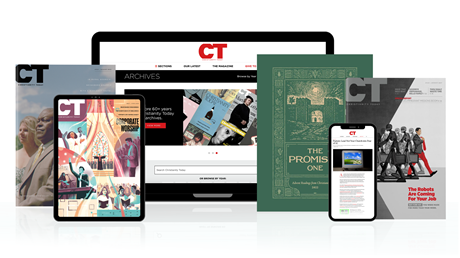 Subscribe to Christianity Today and get access to this article plus 65+ years of archives.
Home delivery of CT magazine
Complete access to articles on ChristianityToday.com
Over 120 years of magazine archives plus full access to all of CT's online archives
Subscribe Now
'He Ascended into Heaven'
'He Ascended into Heaven'